Two German Artists Claim Brooklyn Bridge Flag Stunt
@AFP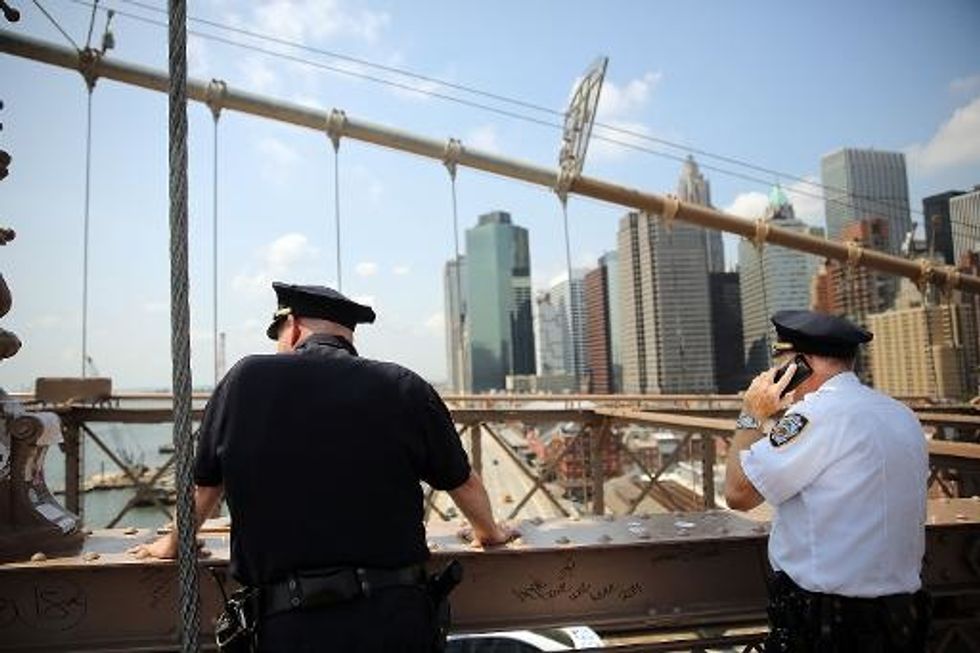 Washington (AFP) – Two German artists are claiming responsibility for a stunt that baffled New Yorkers last month: two big white flags placed atop the Brooklyn bridge in place of the U.S. stars and stripes, the New York Times reported Wednesday.
Artists Mischa Leinkauf and Matthias Wermke told the Times their prank was aimed at honoring "the beauty of public space" and celebrating the iconic span designed by a German-born engineer who died in 1869 on July 22 — the day the flags appeared.
To back up their claim the German artists provided video footage apparently shot at night from atop the mighty bridge.
"This was not an anti-American statement," Wermke, 35, told the Times .
"From our Berlin background, we were a little surprised that it got the reaction it did. We really didn't intend to embarrass the police," Leinkauf, 37, added.
"We saw the bridge, which was designed by a German, trained in Berlin, who came to America because it was the place to fulfill his dreams, as the most beautiful expression of a great public space," Leinkauf said. "That beauty was what we were trying to capture."
They staged the stunt between 3 and 5 am of July 22, lugging the white flags in backpacks as they used the climbing cables that workers and the police use to reach the towers. They did not see security cameras.
The pair made the white flags themselves using two kinds of fabric to depict the stars and stripes.
They removed the real U.S. flags respectfully, and plan to return them, they said.
AFP Photo/Spencer Platt