Two Killed As Car Plows Into Crowd At SXSW Music Festival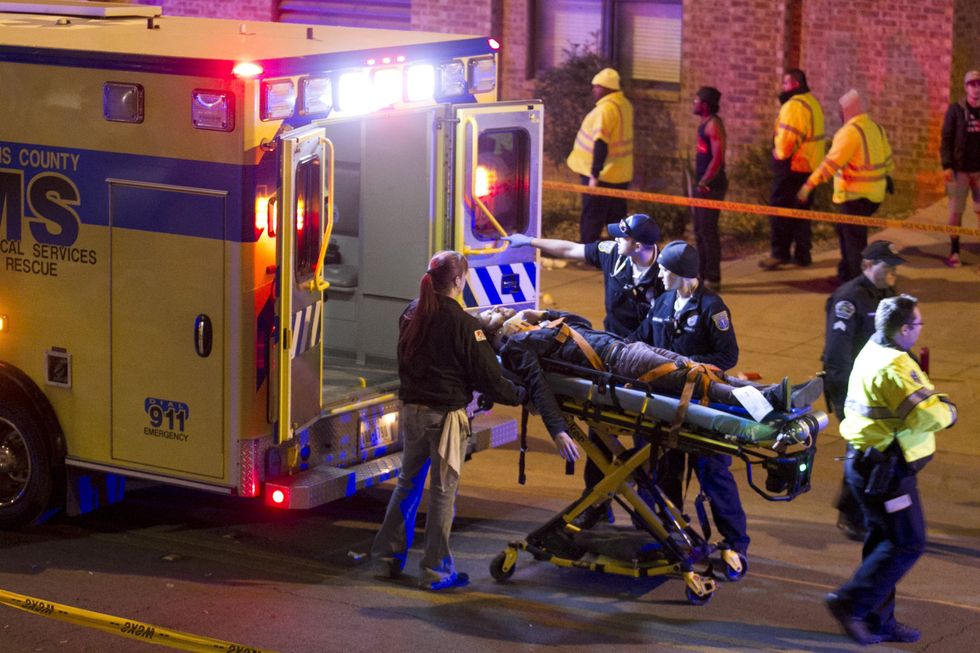 By August Brown and Andrea Chang, Los Angeles Times
AUSTIN, Texas — A speeding car drove into a packed crowd of pedestrians outside a busy downtown Austin nightclub during the South By Southwest music festival early Thursday morning, killing two bystanders and injuring at least 23.
The incident began shortly after midnight when a motorist being stopped on suspicion of driving while intoxicated sped away from police, broke through a barricade and headed the wrong way down a one-way street crowded with music revelers, police said.
The car slammed into a crowd standing near the Mohawk nightclub, striking two people on a motorized scooter who were killed immediately, then hit a number of other bystanders. At least 10 people were taken to the hospital, five in critical condition.
Police hit the suspect with an electric stun gun and he was taken into custody at the scene.
"There is only one person responsible for this, someone with no regard for the sanctity of life," Austin Police Chief Art Acevedo told reporters in a hastily called briefing. "Our focus is on gathering evidence and seeking justice for the people who lost their lives."
The incident happened at the height of the evening's festivities during the South By Southwest festival, with a number of musical performances under way at clubs up and down the area near Red River Street and 10th Street.
The street was instantly transformed into a scene of bloody mayhem, as emergency medical technicians rushed to aid the victims and police took the suspect into custody.
Jayda Luna, 21, said he was waiting in line hoping to score free tickets to see Tyler, the Creator when the car plowed through the crowd and slammed into the person standing next to Luna.
"I saw bodies fly into the air, and there was blood and it was unbelievable," said Luna, a junior at Texas State. "It was the most horrific thing I've ever seen in my entire life."
Luna said the impact was so great that it knocked the side mirror off the car and the man who was struck was thrown into Luna's girlfriend, 19-year-old Jasmine Rodriguez.
"We were inches from getting hit. Seriously, the car was right there," Luna said. "I didn't even have to extend my arm the whole way to touch that car, that's how close it was. It's a blessing we didn't get hit."

Luna, who lives in Austin, said the car seemingly came out of nowhere and was "going at a crazy speed."
"I don't know how anyone didn't hear it," he said. "We were right there and all of a sudden, boom, a car hit several people. It was going so fast."
"There was a guy a couple of feet away, he was hit and bleeding from his head. There was a guy behind me, I think his legs got hit," he said. "I was trying to comfort my girlfriend — she was in tears, crying. I was trying to make her not look at it, but we had to walk through all the stuff to get to our car and there were bodies blocks away from the Mohawk."
Colin Kerrigan, 25, was leaving an assignment at Stubb's BBQ, just down the street, moments after the accident occurred.
The freelance journalist raced over to Mohawk and found emergency rescue workers scrambling to help victims as police sirens blared and a helicopter circled overhead.
"As I'm walking up I see one person down and another person down and then I see more and more as I'm looking down Red River Street," Kerrigan said. "People on the sidewalks — the people who witnessed the whole thing — were crying and in shock. It was a scene that I did not expect to see at SXSW. I know things get crazy, but nothing like a tragedy."
Kerrigan, who was attending SXSW from Philadelphia, quickly shot photos of the chaos and posted them on his Twitter account.
"I looked down and there's bodies," he said. "Some people were able to limp off to the side and other people were literally laying there not moving while people were keeping them calm. I walked farther down Red River to see what was happening and I saw bodies that were unattended and I believe they were part of the deceased, but I'm not 100 percent sure."
Fire officials said the emergency responders were already geared up for the festival and were able to respond quickly.
"We had resources for events just like this," fire chief Harry Evans said.
Jay Janner/Austin American-Statesman/MCT