U.N. Wrangles On Syria As Obama Urges Action
@AFP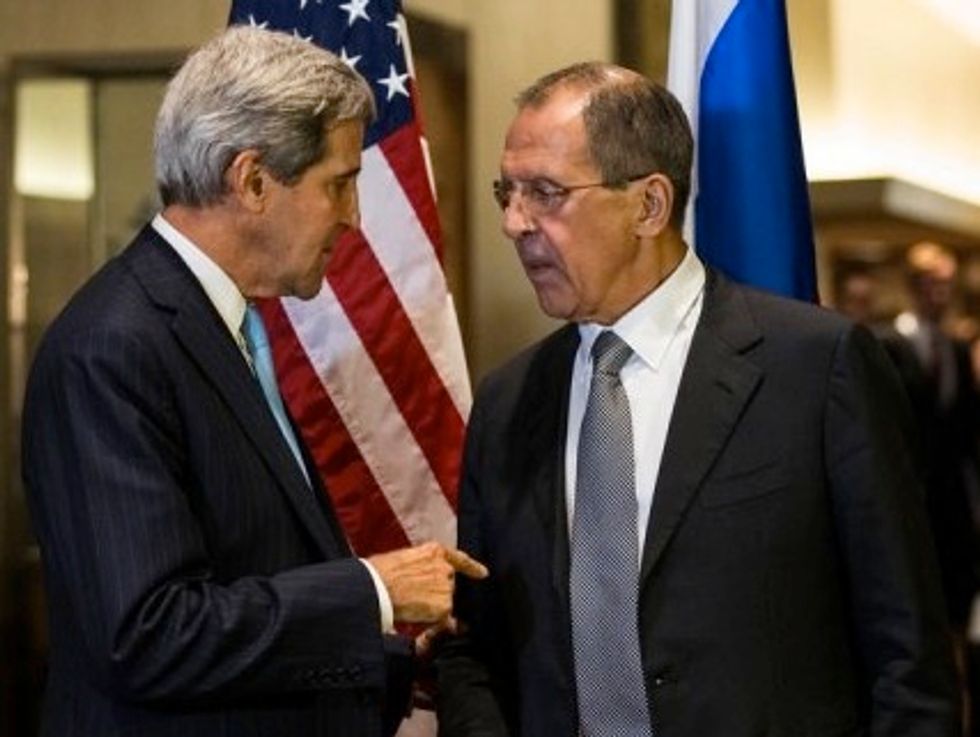 UNITED NATIONS, United States (AFP) – U.S. President Barack Obama demanded the U.N. Security Council take tough action against Syria, as Russia wrangled with the West over how to strip Bashar al-Assad of chemical arms.
Syria dominated debate at the U.N. General Assembly summit as the United Nations confirmed inspectors will return to Syria on Wednesday to pursue an investigation of alleged attacks with banned poison gas.
Obama told world leaders the United States was ready to "use all elements of our power, including military force" in the Middle East to defend "core interests" such as ensuring oil supplies and eradicating weapons of mass destruction.
And he insisted international credibility was at stake after the August 21 chemical weapons attack near Damascus, which western nations have blamed on Assad.
Russia and the United States have agreed a plan to destroy Syria's chemical weapons, which Assad has accepted, and which they are now translating into a U.N. resolution.
"There must be a strong Security Council resolution to verify that the Assad regime is keeping its commitments, and there must be consequences if they fail to do so," Obama said.
France's President Francois Hollande also said there had to be a threat of eventual "coercive" measures to make Assad stick to the plan.
Obama and Hollande insisted Assad was behind the August attack. U.S. intelligence says more than 1,400 people died, most of them civilians and many of them children.
Obama had threatened a punitive strike over the Damascus attack. But Russia stepped in with a plan for Assad to surrender his chemical arsenal.
In order to give the plan teeth, Western and Arab powers want a U.N. Security Council resolution to enshrine it in international law.
Russia, however, is at loggerheads with U.S., French and British envoys over the exact wording of the draft.
U.S. Secretary of State John Kerry met for 90 minutes Tuesday with his Russian counterpart Sergei Lavrov in a bid to hammer out a draft resolution and told reporters afterwards the meeting was "very constructive."
But U.S. officials admitted there were "three or four conceptual hurdles that had to be bridged" and the U.S. and Russian envoys to the United Nations will now continue drafting a text.
"What we need is a binding, enforceable, verifiable regime that stands the very, very best chance of implementing the framework agreement and removing the chemical stockpiles from Syria," a senior State Department official said, asking not to be named.

The U.S. side did not want leave any "loopholes" or "any ambiguity in the text about that goal, so that if there is non-compliance with it we all agree on next steps."
The U.S. side wants a U.N. resolution which includes reference to Chapter VII of the U.N. Charter, which sets out various measures if the agreement is violated. Article 42 of Chapter VII threatens the use of military force, but that is not forming the basis of the draft resolution.
"The debate is not about use of force. It's about … we want it to be binding and forceable and verifiable that's our basis. So we're not having a debate about that kind of term," another senior State Department official said.
"There are a range of consequences that can be had," the official added.
They want to use another Chapter VII article that would make the Russia-U.S. plan mandatory under international law. In Hollande's account, the Security Council could meet again to decide sanctions if the accord violated.
In his speech, Obama said the United States would provide another $340 million in humanitarian aid for the Syrian crisis, which has produced some two million refugees, and left some 110,000 dead.
The State Department said the aid brings the U.S. contribution to nearly $1.4 billion and includes support for food, clean water and shelter.
But the U.S. and its Arab allies are also providing equipment for the Syrian rebels — just as Moscow remains Damascus' main armorer.
Without singling countries out, U.N. chief Ban Ki-moon declared: "I appeal to all states to stop fuelling the bloodshed and to end the arms flows to all parties."
He urged Assad, his opponents and "all those in this hall with influence over them" to press for a peace conference to end a war that has left more than 100,000 dead.
But in a meeting with Kerry, the leader of the Syrian opposition Ahmad Jarba voiced "disappointment" that the U.S. did not go ahead with the threatened military strike on the Syrian regime.
The new leader of Qatar, Sheikh Tamim bin Hamad Al-Thani, a top backer of the Syrian rebels, said the civil war was raging due "to the inability of the Security Council" to take action as well as Assad's "continued intransigence."
And in another complication, 13 key Syrian Islamist groups said they did not recognize any foreign-based opposition group, including the main Syrian National Coalition.
Photo Credit: AFP/Andrew Burton