U.S. Attorney General: Let Ex-Convicts Vote
@AFP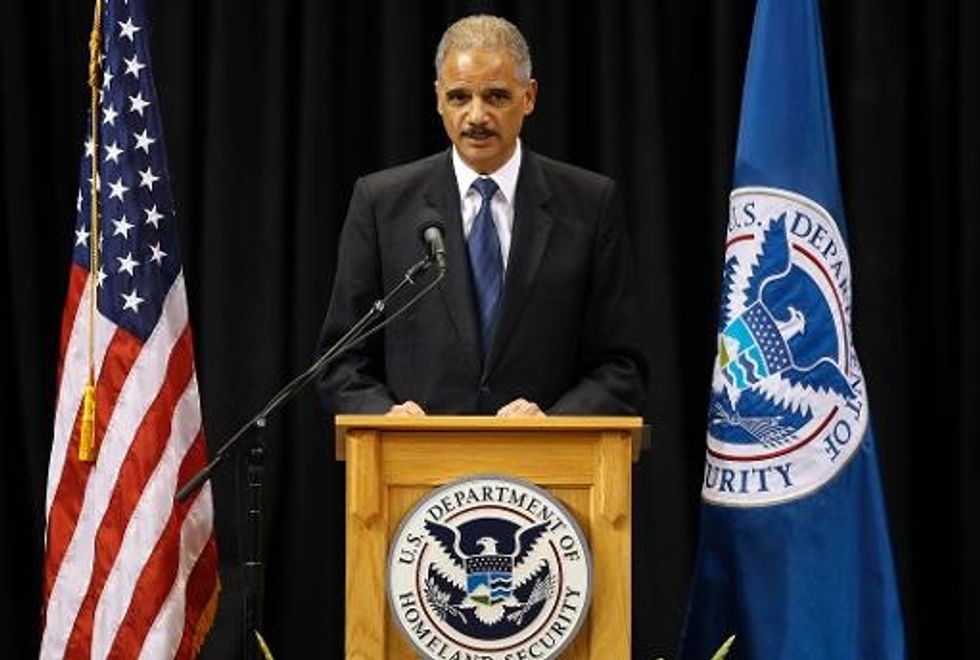 Washington (AFP) – U.S. Attorney General Eric Holder campaigned Tuesday for broader reforms to the U.S. penal code, including allowing ex-convicts to regain the right to vote after serving jail terms.
Reiterating his goal of reducing the population of crowded U.S. jails, Holder called for an overhaul of laws restricting the civic rights of people who have served prison time, which he said only made it more likely these people would find themselves back behind bars.
"Across this country today, an estimated 5.8 million Americans, 5.8 million of our fellow citizens, are prohibited from voting because of current or previous felony convictions," Holder said, in a speech to Georgetown Law School.
"These restrictions are not only unnecessary and unjust, they are also counterproductive," he said.
"By perpetuating the stigma and isolation imposed on formerly incarcerated individuals, these laws increase the likelihood they will commit future crimes. They undermine the re-entry process and defy the principles — of accountability and rehabilitation — that guide our criminal justice policies," he added.
Laws governing voting — for convicts and others — differ from state to state.
Since 1997, Holder noted, 23 states have reformed their policies towards former prisoners. But another 11 states continue to restrict those rights, to varying degrees.
He called on lawmakers to rethink these "profoundly outdated" laws that were created at "a time of post-Civil War discrimination," and were "too often based on exclusion, animus, and fear."
"The impact of felony disenfranchisement on modern communities of color remains both disproportionate and unacceptable," Holder, the first African-American attorney general, lamented, emphasizing that as a result, nearly one out of 13 African-American men are banned from voting.
And "in three states — Florida, Kentucky, and Virginia — that ratio climbs to one in five."
Holder's latest salvo in his push for what he calls a "smart on crime" reform to the U.S. penal code aims to reduce "overly burdensome collateral consequences" on people who have served their jail terms.
The U.S. prison population has increased by a third since 1980 and one percent of adults are incarcerated — at a cost of $80 billion nationwide in 2010 alone.
Holder notes that nearly all of these prisoners will eventually be freed, but the recidivism rate — the number who will commit new crimes and be jailed again — is "unacceptably high." A Pew Center study put the figure at 43 percent.
That's why, Holder said, he has proposed reforms aimed at getting rid of policies that make it harder for released prisoners to get jobs and become "productive, law-abiding members of society."
In the first phase of his reforms, Holder proposed reducing the use of mandatory sentences for non-violent drug offenders, in a reform he said would maintain strictness but be "smarter."
In August last year he asked federal prosecutors not to overwhelm small-time criminals with charges requiring heavy minimum sentences.
Last month, his deputy James Cole announced the second phase of this reform: early release for convicts with a low risk of recidivism.
Cole called on defense lawyers to help identify inmates who do not present a threat to public safety or are facing a life or near-life sentence deemed excessive under current law.
U.S. President Barack Obama in December commuted the sentences of eight people convicted of drug trafficking, to compensate the effects of laws punishing crack possession more harshly than cocaine possession.
AFP Photo/Al Seib