U.S. Blocks Settlement Between Lance Armstrong, Ex-Teammate Landis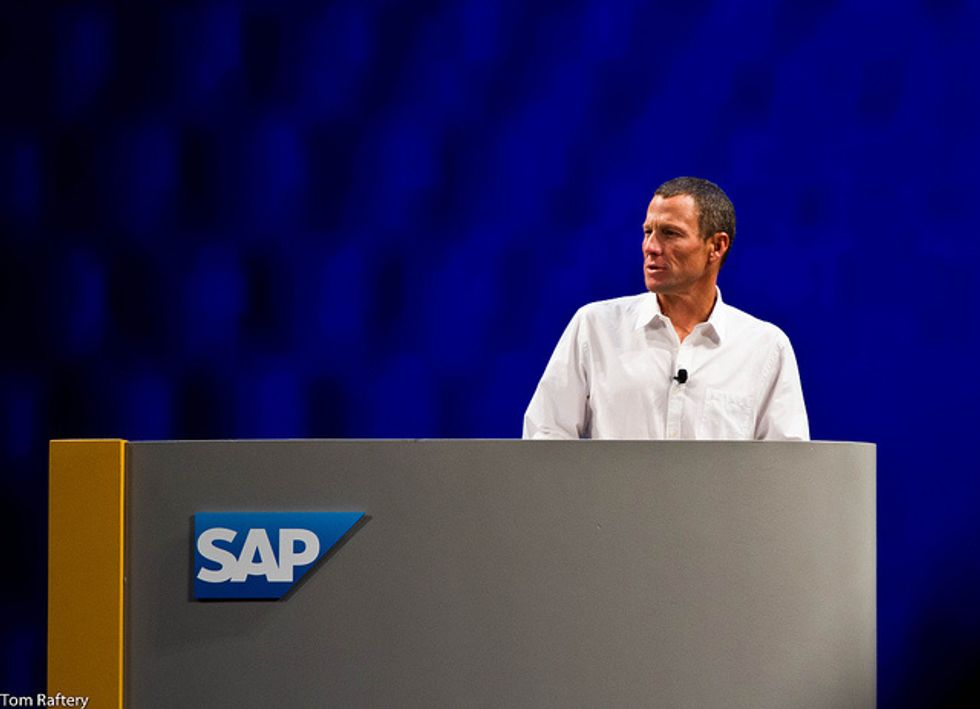 By Michael Doyle, McClatchy Washington Bureau (TNS)
WASHINGTON — Uncle Sam has now further complicated the high-stakes grudge match between disgraced bicyclist Lance Armstrong and his former teammate, Floyd Landis.
In a twist that even a federal judge admitted "might seem unfair," the Justice Department has succeeded in blocking a settlement totaling $600,000 that Landis reached with Armstrong's business associates. The department did not explain its objections to settling a case it previously declined to enter.
"Fairly or not, withholding of consent requires no explanation," U.S. District Judge Christopher R. Cooper wrote in a decision Thursday.
Cooper's decision is the latest, but not the final, turn of the wheel in the dispute pitting Landis against Armstrong, an Austin, Texas, resident who forfeited his seven Tour de France titles following revelations that he cheated by using banned substances.
Landis, whose own blood-doping eventually caused him to forfeit his 2006 Tour de France title, sued Armstrong and various associates in 2010. Originally filed under seal, Landis' false-claims lawsuit became public when the Justice Department entered it, in part, in 2013.
The Justice Department joined Landis in targeting Armstrong personally, reasoning that the U.S. Postal Service had been duped when it spent more than $30 million sponsoring Armstrong's racing team. False Claims Act lawsuits like this can potentially triple the damages owed, with Landis, as the original whistleblower, entitled to a cut.
The Justice Department, though, did not ally itself with the part of Landis' lawsuit targeting Armstrong's longtime agent Bill Stapleton, longtime business partner Barton Knaggs, and their Austin-based company, Capital Sports and Entertainment.
Last December, Stapleton and Knaggs agreed to a settlement that would include a $500,000 payment, as well as $100,000 in attorneys fees, to Landis. On February 20, in a brief legal filing, Justice Department attorneys declared they were "not in a position to consent to the settlement at this time."
Cooper, appointed to the bench by President Barack Obama, said he had little choice but to side with the Justice Department, despite the vexing result.
"While it might seem counterintuitive that the government can effectively veto a settlement of claims it has chosen not to join, the False Claims Act itself and the majority of circuits that have addressed the question say otherwise," Cooper stated.
Citing a 2000 decision involving a case brought against some Lexington, Kentucky-area health clinics, Cooper added that "the power to veto a privately negotiated settlement of public claims is a critical aspect of the government's ability to protect the public interest."
In a legal filing last month, attorneys for Stapleton and Knaggs complained that the Justice Department's effective veto keeps everyone in a costly "litigation limbo." Underscoring the work involved, the attorneys noted that "up to 130 depositions" will have to be taken as parties prepare for a possible trial.
"The government impermissibly seeks to replace the (private) settlement with a settlement of its own making, negotiated from a position of absolute power," wrote the attorneys, Marc S. Harris and John P. Pierce.
Tactically, though, the Justice Department's move may put pressure on Armstrong to settle on terms more favorable to the government. Previous media reports, citing anonymous sources, have suggested the parties remain millions of dollars apart.
Photo: Tom Raftery via Flickr