U.S., Canada Air Defenses On Alert After Ottawa Shooting
@AFP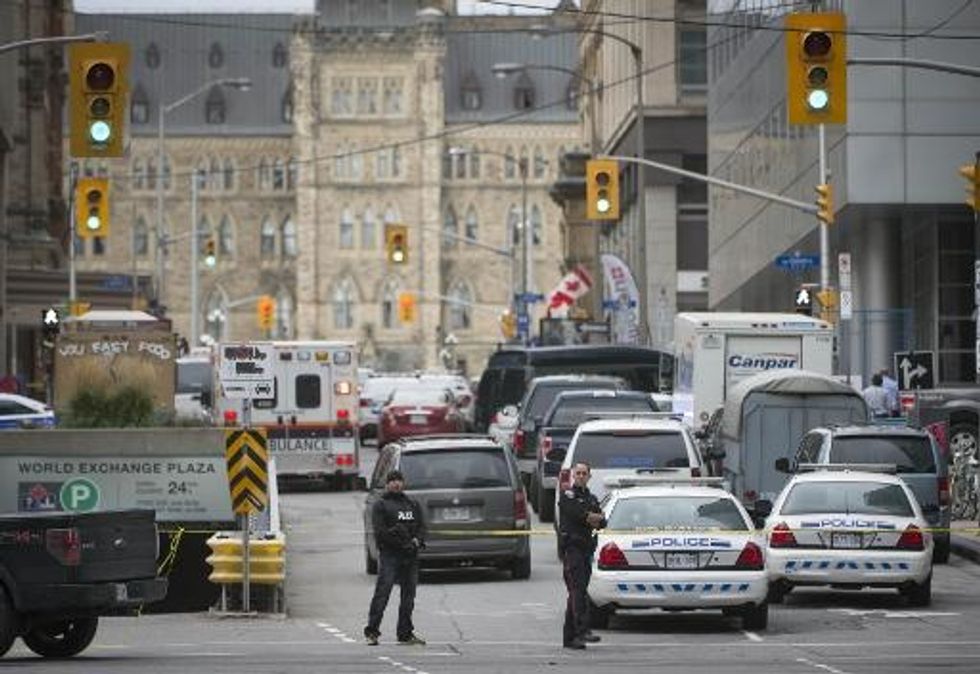 Washington — U.S. and Canadian air defenses were put on heightened alert Wednesday following a shooting in Canada's parliament, and the American embassy in Ottawa was placed on lockdown, officials said.
The North American Aerospace Defense Command (NORAD) "is taking appropriate and prudent steps to ensure we are adequately postured to respond quickly to any incidents involving aviation in Canada," said a U.S. defense official, who spoke on condition of anonymity.
The move came as a precaution after a gunman suspected of killing a Canadian soldier guarding a war memorial in Ottawa stormed the Canadian parliament, before being shot dead by police.
NORAD spokesman Captain Jeff Davis declined to provide details but said steps had been taken to ensure defenses were "adequately postured."
State Department deputy spokeswoman Marie Harf confirmed the U.S. embassy in the Canadian capital was on lockdown, and staff movements had been restricted.
Just outside the U.S. capital at Arlington National Cemetery, military commanders "authorized additional security to be implemented at the Tomb of the Unknown Soldier" as a precautionary measure.
President Barack Obama spoke by telephone with Canadian Prime Minister Stephen Harper, while Secretary of State John Kerry was also briefed as he flew home from a visit to Germany.
"Our thoughts and prayers are with the victims and their families," Harf said, adding all U.S. embassy staff had been accounted for.
While the shooting incident in Ottawa raised fears of a potential link to extremists, NORAD's Davis said there were no signs of possible hijackings or imminent threats to aviation.
"We're not aware of any current, specific threats against the aviation system," he told AFP.
U.S. intelligence officials were not immediately available to comment as to whether there were any suspected links to extremists in the shooting in Canada.
NORAD, founded during the Cold War, is a combined U.S. and Canadian military command designed to safeguard the air space over the two countries, with its headquarters at Peterson Air Force Base in Colorado.
Since the attacks on New York and Washington on September 11, 2001, the command regularly scrambles fighter jets to intercept private aircraft that enter prohibited areas over the U.S. capital or elsewhere, escorting them to the nearest runway.
AFP Photo/Peter McCabe