U.S. And Canada Set For Friday Fracas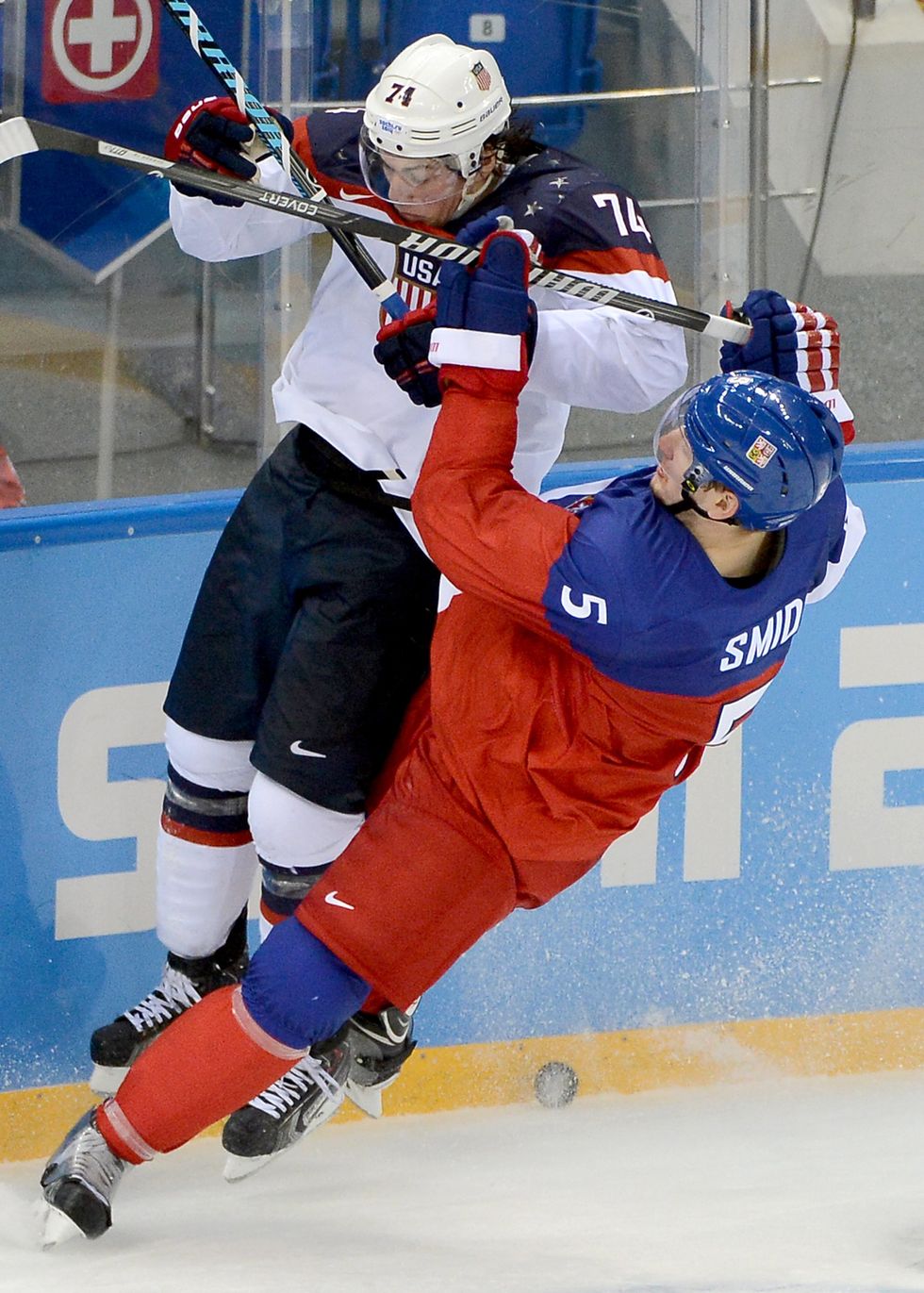 By Jeff Miller, The Orange County Register
ADLER, Russia — The Canadians are going to the Olympic hockey semifinals!
Congratulations, boys.
For a while there, it looked like they might be going home. By foot.
Team Canada narrowly avoided becoming part of Latvian lore — for an ice hockey player, a very bad place to be — when Shea Weber scored in the final seven minutes Wednesday, lifting his team to a startlingly tight 2-1 victory.
Canada's roster is made up entirely of NHL players. Latvia has just a single NHLer – Buffalo's Zemgus Girgensons – plus former Ducks defenseman Sandis Ozolinsh, who still moves well, especially for someone who's 41.
"They are here for a reason," Ducks captain Ryan Getzlaf said of the underdogs. "They're not just going to roll over and die. They were playing hard, too, especially around the net. That's why we didn't get the second and third opportunities there that we wanted."
But the Canadians scored just enough to survive and get another opportunity. They will play the United States on Friday, with the winner advancing to the gold medal game Sunday.
The Americans moved on by beating the Czech Republic, 5-2, in a game that lacked the drama and sweaty palms happening at the exact same time in an adjacent arena here.
Politically, this wouldn't have been another "Miracle on Ice." But, athletically, it might have been even more stunning.
The Latvians finished last in the Winter Games in 2010 and 2006 and, before beating Switzerland on Tuesday, hadn't won an Olympic game since 2002.
"We left all our strength out there," Latvian goalie Kristers Gudlevskis said. "This is the highest level we are going to play. This is even a higher level than the NHL and, if you can play here, you can play everywhere. It really means a lot for me."
Gudlevskis was the main reason the game remained close. Canada outshot Latvia, 57-16. The Canadians had 22 shots in the third period alone.
Eleven Canadians had at least three shots on goal, but only Weber and Patrick Sharp could beat Gudlevskis, 21, a Tampa Bay Lightning prospect who plays for Syracuse (AHL).
"That was one of the best goaltending efforts I think I've ever seen," Canadian goalie Carey Price said. "That was one heck of an effort."
Canada took a 1-0 lead on Sharp's goal at 13:37 of the opening period. Latvia came right back to tie two minutes later on a goal by Lauris Darzins.
It stayed 1-1 until Weber scored at 13:06 of the third period, providing an opportunity for the Canadians to exhale just enough to hold on in the final minutes.
"I don't think you can worry," Weber said. "You're going to run into adversity. There are tough teams in this tournament, and there are games that might not go the way you want them to. So you have to stay even, and not get up-and-down."
Earlier, in the same building – the Bolshoy Ice Dome – Finland upset Russia, a team playing with home-ice advantage but also home-ice pressure.
The Canadians were clearly the team burdened by expectation in this matchup and Latvia was in position – just a fluky bounce away perhaps – from a shocker that would have brought comparison to the USA's Olympic victory in 1980 over the mighty Soviet Union.
After the game, Team Canada announced forward John Tavares will miss the remainder of the Olympics because of a leg injury. He was hurt in the second period.
The Americans, on the other hand, cruised against a Czech Republic team that was overmatched from the start.
Dustin Brown of the Kings, Zach Parise, James van Riemsdyk, David Backes and Phil Kessel scored goals and Ryan Suter had three assists. Kings goaltender Jonathan Quick had 21 saves.
So both the Americans and Canadians did their part Wednesday to set up a North American semifinal and rematch of the 2010 gold medal game in Vancouver, a game Team Canada won.
But it didn't happen without a scare coming first.
"We just talked about the hockey gods," Team Canada coach Mike Babcock said when asked about his third-period message on the bench. "You keep doing the right things and you are going to be rewarded."
Chuck Myers/MCT