U.S. China Envoy Who Oversaw Embassy Drama To Resign
@AFP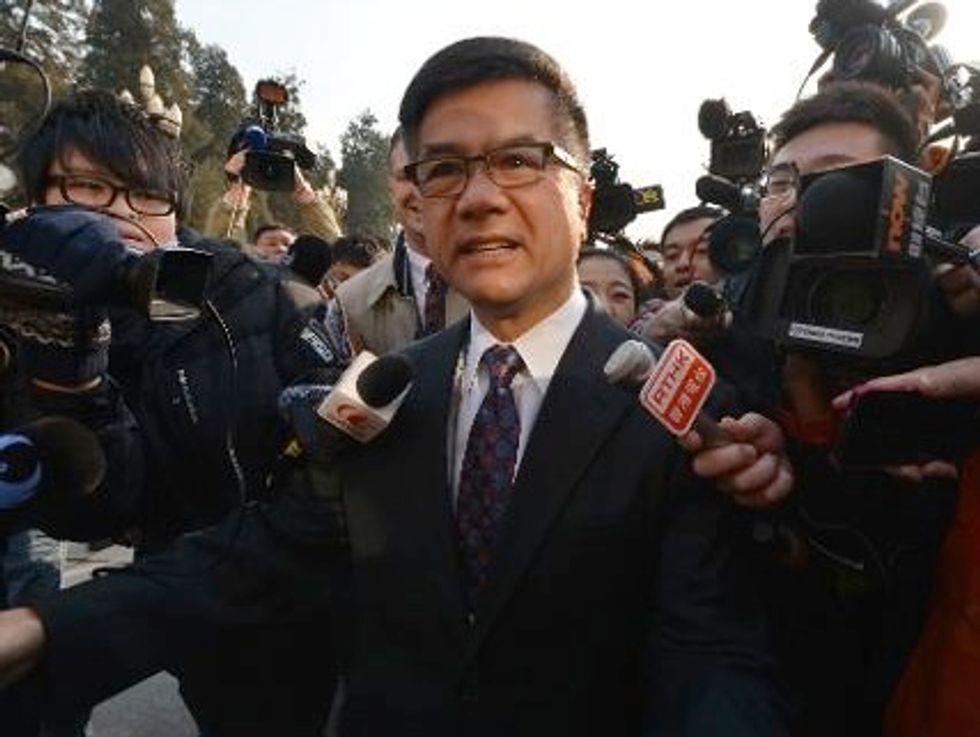 Beijing (AFP) – The U.S. ambassador to China who oversaw diplomatic dramas including an activist's escape from house arrest to find refuge in the embassy is to resign, he said in a statement Wednesday.
Gary Locke, the first Chinese-American to hold the post, will step down early next year to "rejoin my family" in his home town of Seattle, he said, calling his two and a half years in the job "an immense and rewarding challenge".
Locke, whose grandfather immigrated to America from the southern province of Guangdong, arrived in Beijing in August 2011, standing out among the Western diplomatic corps immediately because of his ethnicity.
He quickly gained a following as a humble dignitary — a stark contrast to Chinese officials — after being seen carrying his own luggage and travelling in a regular car.
In February 2012 a diplomatic drama erupted when senior Chinese official Wang Lijun fled to the U.S. consulate in the southwestern city of Chengdu from his powerful boss Bo Xilai, then head of the nearby metropolis of Chongqing.
Wang soon left the premises to be dealt with by Chinese authorities and was last year sentenced to 15 years in prison.
A few months later Locke handled a tougher diplomatic standoff when blind rights activist Chen Guangcheng escaped house arrest in the eastern province of Shandong and sought refuge at the U.S. embassy in Beijing.
After days of tense negotiations involving U.S. Secretary of State Hillary Clinton, Chen and his family were allowed to go to the U.S.
Locke rushed back from a holiday in Bali and spent several hours each day talking to the activist, the New York Times reported at the time.
The U.S. ambassador garnered attention again in June 2013 by becoming the first holder of the post in three years allowed to visit Tibet, where rights groups complain of Chinese suppression of the ethnic minority, claims that Beijing denies.
Authorities closed off the area after deadly 2008 riots and Locke arrived amid a string of Tibetan self-immolations that picked up in 2009 in the region and nearby provinces.
In his brief statement, Locke mentioned visiting Tibet and meeting human rights lawyers as measures that "advanced American values".
A former commerce secretary, he also touted his promotion of American businesses in China and Chinese investment in the U.S.
China's foreign ministry spokesman Hong Lei said that Locke had "made positive efforts to promote exchanges and cooperation between China and the U.S."
"We appreciate that," he added.
On China's popular microblog networks, which followed Locke's tenure keenly, users expressed mixed views on his departure.
"Farewell and don't come again" said one poster, while another said: "He's a good man."
Several cited Beijing's notorious pollution as a possible reason for his departure, with one declaring: "Trust me, he's leaving for the sake of his family's health."
AFP Photo/Mark Ralston