U.S. Citrus Industry Feuds With South Korea Over Frozen OJ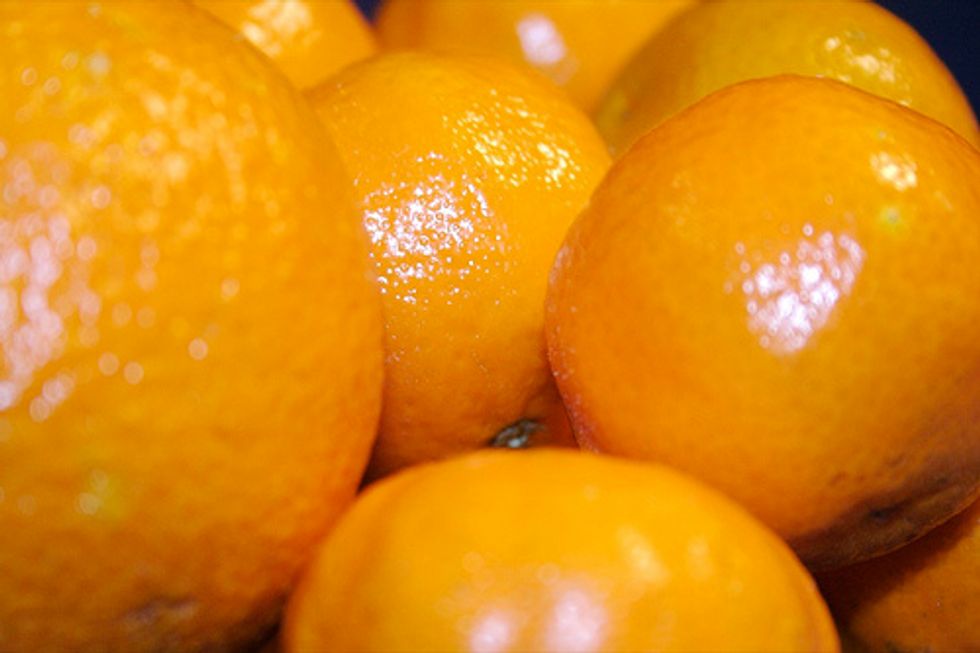 By Mark K. Matthews, Orlando Sentinel
WASHINGTON — Florida citrus growers, alarmed about South Korea squeezing their business, are pushing U.S. officials to settle a tariff dispute they say is costing them millions of dollars in sales.
The fight, which began last year, centers on U.S. exports of frozen orange-juice concentrate to South Korea and comes while the industry is struggling with a devastating plant disease called citrus greening.
For years, South Korea had levied a 54 percent tariff on the product, making sales prohibitively expensive and keeping U.S. exports low.
But under a trade agreement that took effect two years ago, the tariff disappeared, leading to an explosion in U.S. business. Exports of frozen orange-juice concentrate to South Korea jumped from $11 million in 2011 to $30 million in 2012, according to the U.S. Department of Agriculture.
It was a promising expansion for the $9 billion Florida citrus industry, which grows the majority of oranges used in U.S. juice, including concentrate.
The good times didn't last long, however.
Last spring, about a year after the free-trade agreement took effect, customs officials in South Korea began to scrutinize the concentrate coming into the country and questioned the source of oranges in the frozen-juice mix.
Under the agreement, only concentrate made exclusively from U.S. oranges is allowed to skirt the tariff, and South Korean officials suspected some of the oranges blended into the concentrate were from another country.
"Oranges that came in from Brazil and then went to Korea wouldn't qualify," said Mike Sparks, CEO of Florida Citrus Mutual, a trade group.
One possible reason for the concern, said industry officials, is the link between citrus companies in Brazil and Florida. At least three companies in the state are tied to Brazil, and U.S. industry officials said it's not uncommon to have juice that's a blend of oranges from different countries.
Sparks said American citrus companies have provided proof that the concentrate going to South Korea is solely of U.S. origin, but to little avail.
What's worse, he said, is that South Korea has threatened to retroactively seek tariffs on past sales if customs officials find evidence that foreign oranges were used in the concentrate.
"Obviously, that has scared us to death," Sparks said.
The tough tactics have made U.S. exporters reluctant to ship concentrate to South Korea. Overseas sales have fallen by millions of dollars since last spring, said Sparks, though neither he nor government officials provided specific figures.
Meanwhile, anxiety is growing over the possibility of a long standoff.
"The sooner we resolve this, the absolute better," he said.
To do that, the industry has asked U.S. policymakers for help. A spokeswoman for the Office of the U.S. Trade Representative, which negotiates foreign business deals for the administration, said the agency has pressed South Korea for answers.
"We have serious concerns with some of the methods (the Korea Customs Service has) used in this product verification, which appear excessive and (do) not give sufficient weight to some of the evidence of origin the U.S. exporters have submitted," wrote Anne Eisenhower, of the trade-representative office.
Industry executives said South Korea is balking at accepting government papers they said would validate the concentrate's U.S. origin, so citrus companies and their allies are looking for other ways to convince them.
To help fast-track the issue, U.S. Senator Marco Rubio (R-FL) recently sent a letter to South Korean Ambassador Ahn Ho-young that included an invitation for South Korean officials to tour Florida facilities.
"Our industry believes that any outstanding issues can be resolved by on-site examination and documentation, so any remaining questions can be resolved expeditiously," Rubio wrote.
Officials at the South Korean Embassy in Washington did not respond to requests seeking comment.
The feud with South Korea comes during a tough stretch for Florida's orange industry. Production is falling because citrus greening has ravaged the state's groves. A January report from the U.S. Department of Agriculture forecast that U.S. production of orange juice would fall 12 percent, to 550,000 tons, in the 2013-14 season largely because of the disease.
An attorney for Florida Citrus Mutual said U.S. officials must help resolve the trade dispute with South Korea as quickly as possible.
"This new market is extremely important for the growers and processors of Florida," said attorney Matt McGrath. "Especially under the current circumstances."
Photo: iKriz via Flickr