U.S. Commander Who Transformed Special Forces Steps Down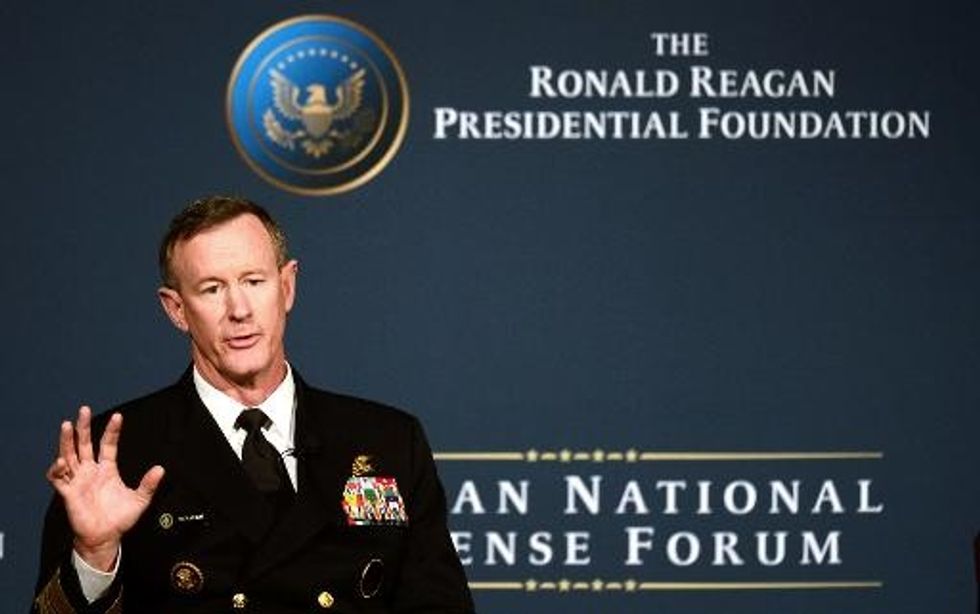 By Dan De Luce
Washington (AFP) — The U.S. commander who helped place special operation forces at the forefront of the American military hung up his uniform, hailing a "golden age" for the elite commandos.
Admiral William McRaven, 58, rose to prominence for his role in overseeing the successful 2011 raid by Navy SEALs that killed Osama bin Laden at his Pakistani compound.
But his influence inside military circles extends far beyond the storied nighttime operation that took out the Al-Qaeda mastermind.
Experts and fellow officers say he helped shape a new doctrine for commandos and a new approach in Washington to military power that emphasizes "small footprints" over large-scale deployments.
That approach calls for special operations forces to hit enemies in surprise strikes — but only when necessary — while devoting most of their effort to training local armies in a "global network" to tackle adversaries on their own.
– 'Deepened our relationships' –
At a ceremony on Thursday, marking McRaven's retirement as head of the U.S. Special Operations Command (SOCOM), Pentagon chief Chuck Hagel said the admiral had "deepened our relationships abroad, working more closely with allies and partners to better anticipate and counter threats."
As proof of McRaven's bid for a "global network," Hagel cited special forces who had recently delivered humanitarian aid in the Philippines, assisted Peruvian forces in targeting senior figures of the Shining Path rebels, and advised Eastern European allies facing a resurgent Russia.
The commandos also were advising African armies to help counter Boko Haram militants and were on the ground in Iraq assisting Baghdad government troops confront Islamic State (IS) jihadists, Hagel said.
As chief of SOCOM since August 2011, McRaven has promoted the idea of building links with special forces in allied countries around the world.
He has set up an international "coordination center" at the command's headquarters in Tampa, Florida, with officers from 10 nations working inside SOCOM's offices.
During his tenure, McRaven also has overseen an expansion of SOCOM's authority over commandos deployed in the field and secured additional funding and troops, at a time when the rest of the U.S. military has been forced to scale back under budget pressures.
– 'Thrust into the arena' –
In his farewell speech, McRaven said special operations forces (SOF) were once "relegated to a supporting role" to conventional troops.
But the attacks of September 11, 2001 "changed all of that, and we were thrust into the arena," the four-star admiral said.
More than a decade later, "we are in the golden age of special operations, a time when our unique talents as special operators are in greatest demand."
McRaven has said high-stakes raids like the one that killed Bin Laden represent only a small part of the work done by the 67,000-strong force.
Most of the command's effort is focused on aiding commandos in other countries before threats grow into emergencies requiring U.S. intervention, according to McRaven.
But while his forces were advising foreign troops and police on everything from tactics to "animal husbandry," he acknowledged in his speech that U.S. commandos were still engaged in "hard, tough fights" across the globe.
He cited a list of adversaries including IS extremists in the Middle East, Boko Haram, and al-Shebab in Africa and "barbaric elements" elsewhere.
Former U.S. secretary of state Hillary Clinton has called special operations forces "the embodiment of smart power," but skeptics argue the commandos are too often seen as a panacea for daunting threats facing the United States.
Night commando raids in Afghanistan have been hailed by American officers as crucial to weakening insurgents, but the civilian deaths caused by the operations have fueled deep resentment of the U.S. presence.
And the value of training and advising a local military force can be overstated, some analysts say.
– Useful 'under particular conditions' –
The approach works when the interests of a partner country match U.S. interests and goals, said Stephen Biddle, a professor of political science and international affairs at George Washington University.
But often times other governments do not share America's policy goals, Biddle told AFP.
Building the capacity of other armies and forging an international network "can be useful tools under particular conditions," he said.
"But those conditions may not be common enough for this to fit all the places where we'd like it to."
AFP Photo/Frederic J. Brown
Interested in national news? Sign up for our daily email newsletter!