U.S. Congress Passes Huge Bill Reforming Agro Subsidies
@AFP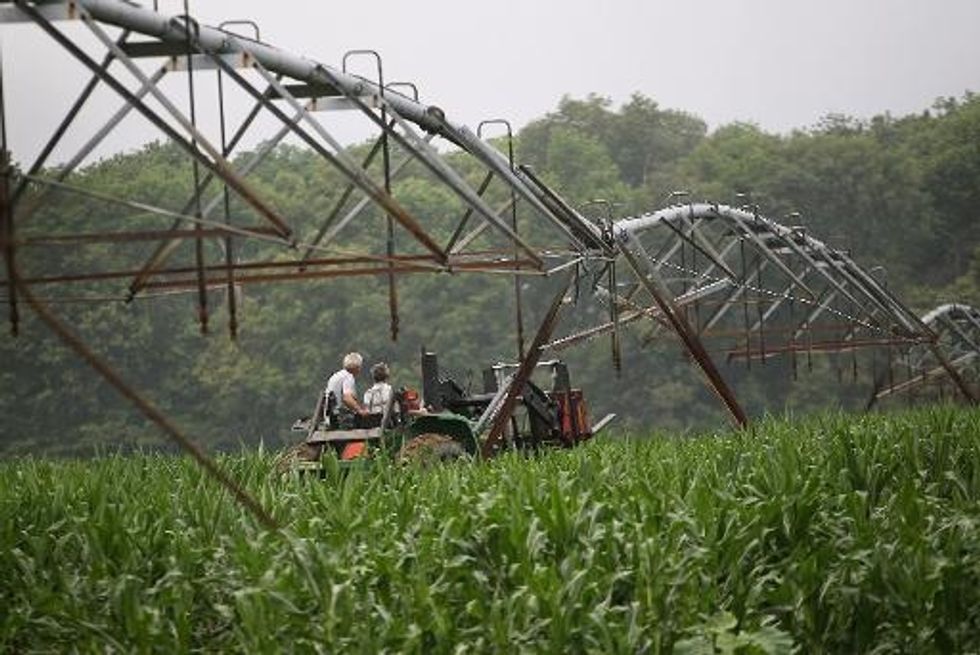 Washington (AFP) – The U.S. Congress passed a massive, long-overdue bill Tuesday that overhauls agriculture policy, including halting direct payments to farmers.
The five-year $956.4 billion measure, which also reforms the food stamp program for the poor to save $8 billion, marks a rare point of cooperation among bitterly divided lawmakers.
It passed the Senate 68-32, with broad bipartisan support after easily clearing the House of Representatives last week.
It now heads to the White House for the signature of President Barack Obama, who hailed the compromise measure as one that will "create new jobs and opportunities, and protect the most vulnerable Americans."
While noting the bill was not perfect, Obama said it "provides certainty to America's farmers and ranchers, and contains a variety of commonsense reforms that my administration has consistently called for, including reforming and eliminating direct farm subsidies and providing assistance for farmers when they need it most."
The bill's passage ends a nearly three-year battle over agriculture policy. Complex negotiations nearly collapsed twice in the past year, and conservatives in the House managed to split the bill into separate pieces, including one that slashed $40 billion from the food stamp program.
That measure passed the Republican-led House but died in the Senate, and the eventual compromise made far gentler cuts to food stamps.
"It's been a long journey," a relieved Senator Debbie Stabenow, the Democratic chairwoman of the Senate Agriculture Committee who helped broker the deal with House Republicans, told reporters.
She called the legislation "a major bipartisan jobs bill" that helps expand U.S. food exports, broaden conservation efforts that safeguard U.S. lands and water resources, mitigate rancher and farmer risks, and ensure a safety net for millions of needy families.
Among its key provisions is the abolition of a decades-old program that pays some $5 billion per year in subsidies directly to farmers, regardless of whether or not they suffer crop losses or even plant crops.
Most of the savings from scrapping that controversial policy will now go directly into a new crop insurance program aimed at helping growers in times of crisis.

The bill slashes some $23 billion from the national debt, but some congressional conservatives opposed the measure for not cutting enough, or for implementing only half-baked reforms that still allow millionaire farmers to earn subsidies.
"In order to pass a farm bill, Congress must find a way to appease every special interest of every commodity association from asparagus farmers to wheat growers," said Senator John McCain, long a fierce enemy of earmarks.
"If you cut somebody's subsidy, you give them a grant. If you kill their grant, then you subsidize their crop insurance."
Several liberals also opposed the bill, arguing the cuts to the food stamp program — which would reduce aid to some 850,000 families, according to government estimates — went too deep.
'Bright light' amid partisanship
Food stamps were the most politically contentious element of the bill, and while supporters argue it importantly tweaked the program to prevent illegal immigrants, lottery winners or dead people from collecting the benefits, some lawmakers said the cuts will force thousands of children to go hungry.
But the compromise signaled that lawmakers could still come to the table and thrash out a deal, despite Congress's reputation as a broken body.
"The partisanship in Congress has been deeply frustrating, but this farm bill has been a bright light," Senator Heidi Heitkamp said.
The bill has not resolved every agricultural dispute. It reportedly leaves unsettled the issue of country-of-origin labeling, which explains to consumers where animals that become meat and poultry are born, raised and slaughtered.
And some experts, like Jean-Christophe Bureau, author of a report on U.S. agriculture policy for the European Parliament, say the new crop insurance system will encourage farmers to grow even more, which runs counter to the philosophy of World Trade Organization negotiations.
But many agriculture groups quickly endorsed the bill's passage.
The National Farmers Union said the bill "enacts meaningful reforms and provides an effective safety net for farmers and needy Americans alike."
AFP Photo/ Scott Olson