U.S. Congressman In Custody, Charged With 20 Counts
@AFP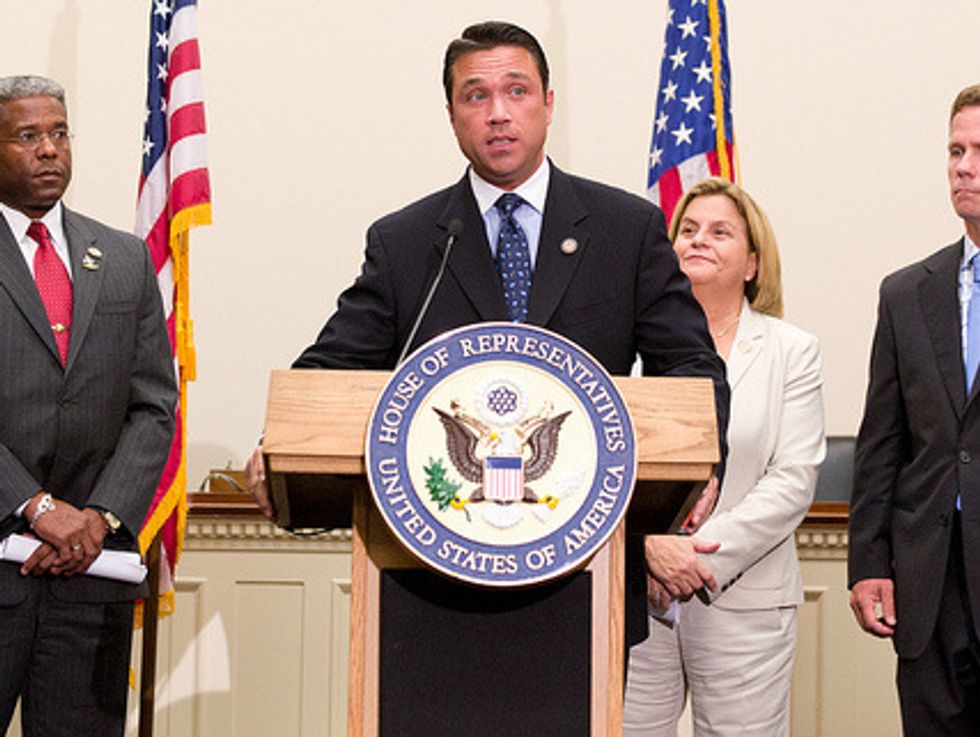 New York (AFP) – U.S. congressman Michael Grimm (R-NY) was taken into custody Monday and charged with fraud and obstruction of justice, accused by federal prosecutors of making $1 million "disappear" from the books of a business he owned.
The former FBI agent and a second-term Republican from Staten Island was arraigned in federal court where he pleaded not guilty to an array of charges linked to his conduct while the owner of a health food restaurant before he became a member of the House of Representatives.
A federal indictment charged Grimm with 20 counts, including five counts each of mail fraud and wire fraud, three counts of filing false tax returns, two counts of perjury and one of obstructing official proceedings.
"Michael Grimm made the choice to go from upholding the law to breaking it. In so doing he turned his back on every oath he had ever taken," U.S. Attorney for the Eastern District of New York, Loretta Lynch, said in announcing the charges.
Lynch pulled no punches, outlining how Grimm hired undocumented workers and paid them cash, off the books, in a scheme to fraudulently under-report earnings at Healthalicious, the Manhattan restaurant he co-owned from 2007 through 2010.
The scheme, Lynch said, allowed Grimm to make "over $1 million simply disappear."
The indictment stated: "In an attempt to conceal his schemes, in January 2013, while a member of Congress, Grimm lied under oath during a civil deposition about his role in operating the restaurant, including falsely denying that he had paid Healthalicious's workers in cash."
If convicted, Grimm could get up to 20 years for each of the mail and wire fraud charges, in addition to jail time for the others.
The 44-year-old also has been under investigation for two years for alleged campaign finance violations, but the 20 counts did not appear to be directly related to that FBI probe.
Grimm got into hot water earlier this year after being caught on camera threatening to throw a reporter off a balcony in the U.S. Capitol building after the journalist asked Grimm about the campaign finance probe.
Last week, Grimm's lawyer William McGinley said his client asserts his innocence, and that U.S. authorities were conducting a "politically-driven vendetta" against him.
Grimm and the rest of the 435-seat House face re-election in November.
The non-profit Citizens for Responsibility and Ethics in Washington called for Grimm's immediate resignation.
Photo: House Foreign Affairs Committee Republicans via Flickr