U.S. Eyeing Ukraine Crisis With Concern
@AFP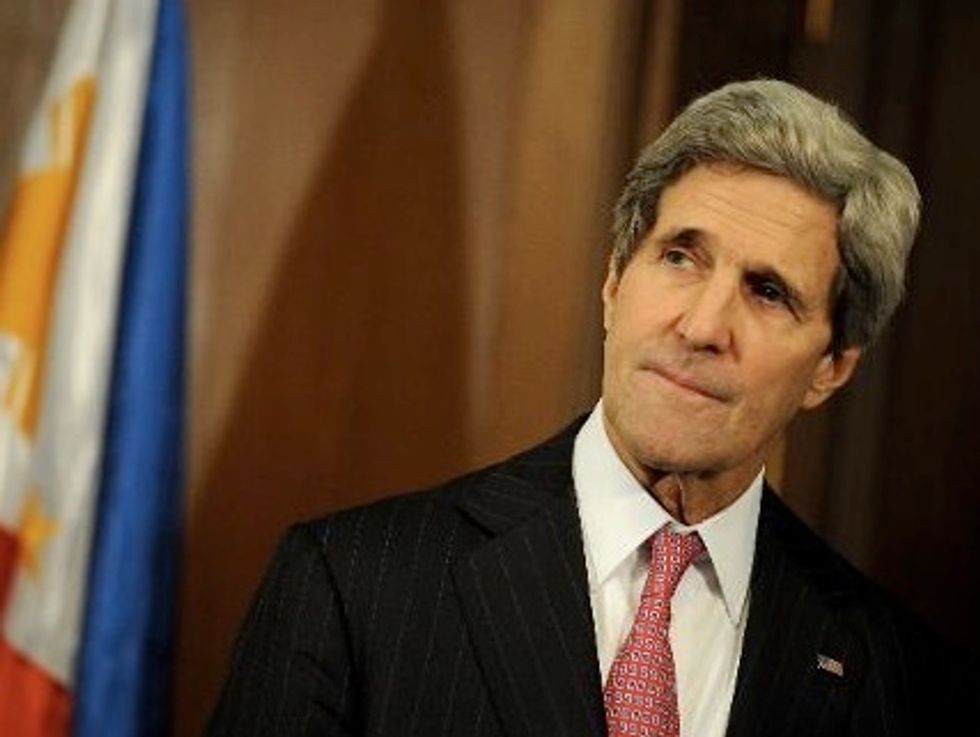 Washington (AFP) – The United States is watching with deepening concern events unfolding in Ukraine, urging Moscow to stay out of the fray and telling ousted president Viktor Yanukovych he has lost all claim to power.
In a sign of the growing alarm in Washington at the fast-moving crisis, U.S. Secretary of State John Kerry called his Russian counterpart Sergei Lavrov for the fourth time in seven days early Friday to raise reports that Moscow might be moving men and materiel to intervene in the former Soviet satellite.
The call came after Ukrainian authorities said they had regained control of two airports in southern Crimea which they said were seized during an "armed invasion" by Russian forces.
The move prompted Ukraine's new pro-EU leaders to appeal for protection, citing a 1994 pact between the U.S. and Russia that guarantees the country's sovereignty in return for Kiev giving up its Soviet-era nuclear arsenal.
Kerry told reporters that Lavrov had again renewed a pledge, already made by Russian President Vladimir Putin, that Moscow did "not intend to violate the sovereignty of Ukraine."
"We raised the issue of the airports, raised the issue of armored vehicles, raised the issue of personnel in various places," the top U.S. diplomat said.
Despite Lavrov's assurances "I nevertheless made it clear that that could be misinterpreted at this moment and that there are enough tensions that it is important for everybody to be extremely careful not to inflame the situation and not to send the wrong messages," Kerry added.
Concerns about Russian intervention in Soviet-era neighboring states are not without precedent. Georgian officials who met Kerry this week renewed their anger at Russia's "occupation" of two breakaway regions in their country.
The White House meanwhile also voiced its "deep concern" about the reported events in southern Crimea, as Washington tried to evaluate what was happening.
"We call on Russia to respect its international obligations made under the UN charter to refrain from the threat or use of force against the territorial integrity or political independence of any state," White House spokesman Jay Carney said.
Ukraine's interim president Oleksandr Turchynov later appealed to Putin to stop Russia's "naked aggression" and withdraw from the flashpoint Crimea peninsula, where Moscow has for years maintained a military base.
Adding to the regional tensions, Yanukovych reemerged almost a week after he fled Kiev, telling reporters in the southern Russian city of Rostov-on-Don not far from the Ukrainian border that he had not been ousted.
"I intend to continue the fight for the future of Ukraine against those who try to saddle it with fear and terror," he said, insisting he had only left in face of threats.
But Washington shot back that in fleeing his country the 63-year-old, who had faced months of protests after overturning a decision to sign a deal to move closer to the EU, had lost his right to govern.
"We believe that Yanukovych has lost his legitimacy as he abdicated his responsibilities… he left Kiev, and he has left a vacuum of leadership," said State Department spokeswoman Jen Psaki.
Kerry insisted the international community should now focus on helping Ukraine's political transition as well as shoring up its teetering economy.
Lavrov had indicated that Moscow was "prepared to engage and be involved in helping to deal with the economic transition that needs to take place at this point," Kerry said.
The top U.S. diplomat revealed earlier this week that Washington is preparing to offer Kiev a $1 billion loan guarantee, and an as yet undecided amount of direct aid.
The EU is also mulling a similar loan guarantee. Ukraine owes $13 billion in state debt payments this year — a massive sum in a country where state reserves have shrunk to less than $18 billion.
AFP Photo/Noel Celis