U.S. Flying 'Manned Missions' To Seek Abducted Nigeria Girls
@AFP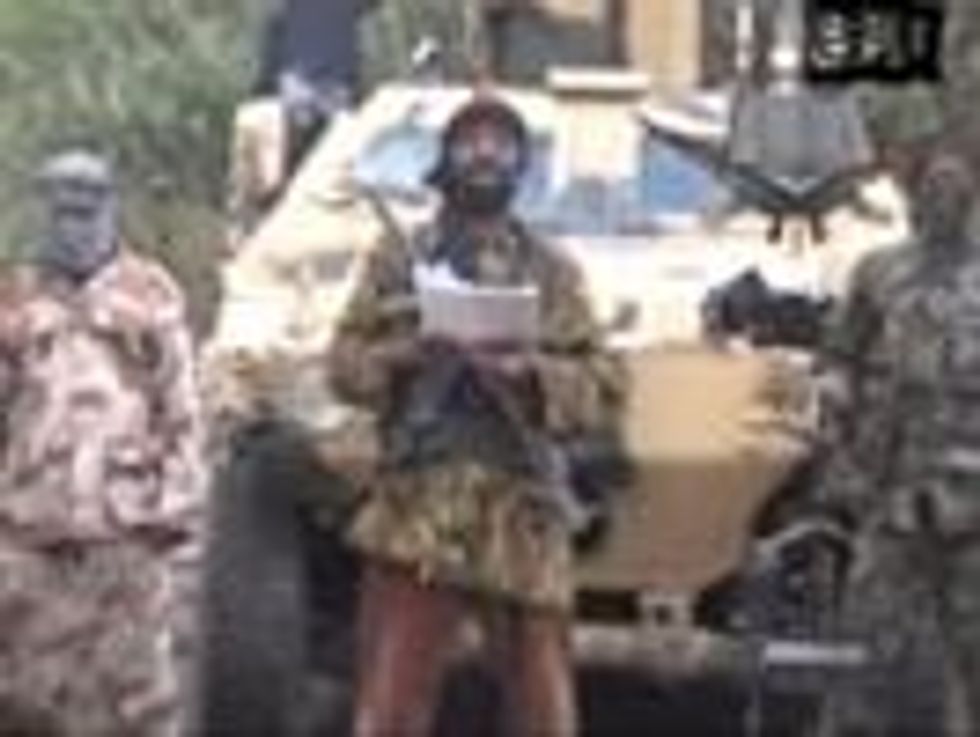 Lagos (AFP) – Manned U.S. aircraft were in the skies above Nigeria on Tuesday in the hunt for more than 200 missing schoolgirls, almost a month after they were kidnapped by Islamist militants.
The United States said manned ISR (intelligence, surveillance and reconnaissance) aircraft were being flown and it had also shared commercial satellite imagery as part of the rescue effort.
Boko Haram militants abducted 276 girls from the remote northeastern town of Chibok in Borno state on April 14. Some 223 are still missing and on Monday the militants released a new video purporting to show some of them.
With electricity supply intermittent in Chibok, efforts were underway for the missing girls' parents to identify their daughters in the video, in which Boko Haram leader Abubakar Shekau claimed they had converted to Islam.
The coordinator of the Bring Back Our Girls campaign, which has helped drive international pressure for action through social media and global street protests, said three parents had seen their daughters on screen.
"Three parents have identified their daughters in the video," Hadiza Bala Usman told AFP from the Nigerian capital Abuja.
"(Borno) Governor (Kashim) Shettima has now organised a screening in (the state capital) Maiduguri with audio and is bringing parents from Chibok to try to identify more girls."
The latest video, obtained by AFP, showed about 130 teenagers, all in Muslim dress and reciting the first chapter of the Koran and praying in an undisclosed rural location.
It was not clear where or when the footage was shot, although Shekau does refer to suggestions made in the last week by the United Nations that Boko Haram may have committed a crime against humanity by abducting the girls.
Nigeria's government said on Monday evening that it was studying the video in which the militant leader appears to indicate that he is prepared to free the girls in exchange for the release of Boko Haram fighters held in prison.
Interior Minister Abba Moro told AFP that Boko Haram was not in a position to dictate terms, although a later statement from the military and the head of the National Orientation Agency appeared to contradict that.
"The government will continue to explore all options for the release and safe return of our girls to the their homes," they said in a statement.
British, French and Israeli specialists are also providing specialist help to Nigeria, whose initial response to the kidnapping was criticized as slow. China has also offered help.
U.S. intelligence experts were "combing through every detail of the video for clues that might help ongoing efforts to secure the release of the girls," State Department spokeswoman Jen Psaki said in Washington.
President Goodluck Jonathan has said that he believed the students were still in Nigeria and would be freed soon.
Nigeria's military is combing the Sambisa forest former nature reserve in Borno state, where Boko Haram camps and arms dumps have previously been found.
Concern has been expressed, though, that the girls may have been spilt into smaller groups and may have been taken into neighboring Chad or Cameroon from where Boko Haram has previously launched attacks.
Niger's President Mahamadou Issoufou meanwhile described the kidnapping as "hideous" and said people in the Muslim-majority country were moved by the girls' plight.
"What has happened in neighboring Nigeria is a lesson in the devastating effects of ignorance and obscurantism, especially when (Boko Haram) are convinced they know everything about religion," he said.
The kidnapping had "nothing to do with Islam," he added, saying that Niger would step up military patrols to ensure security after Boko Haram's previous incursions across the porous border.
Boko Haram has been waging an increasingly deadly insurgency in Nigeria's mainly Muslim north since 2009, attacking schools teaching a "Western" curriculum, churches and government targets.
Civilians, though, have borne the brunt of recent violence, with more than 1,500 killed this year alone, while tens of thousands have been displaced after their homes and businesses were razed.
Boko Haram has used kidnapping of women and young girls in the past and Shekau indicated that more were being held. Eleven girls were abducted from the Gwoza area of Borno state on May 4.
Photo via AFP