U.S. Health Chief To Defend 'Obamacare' Despite Criticism
@AFP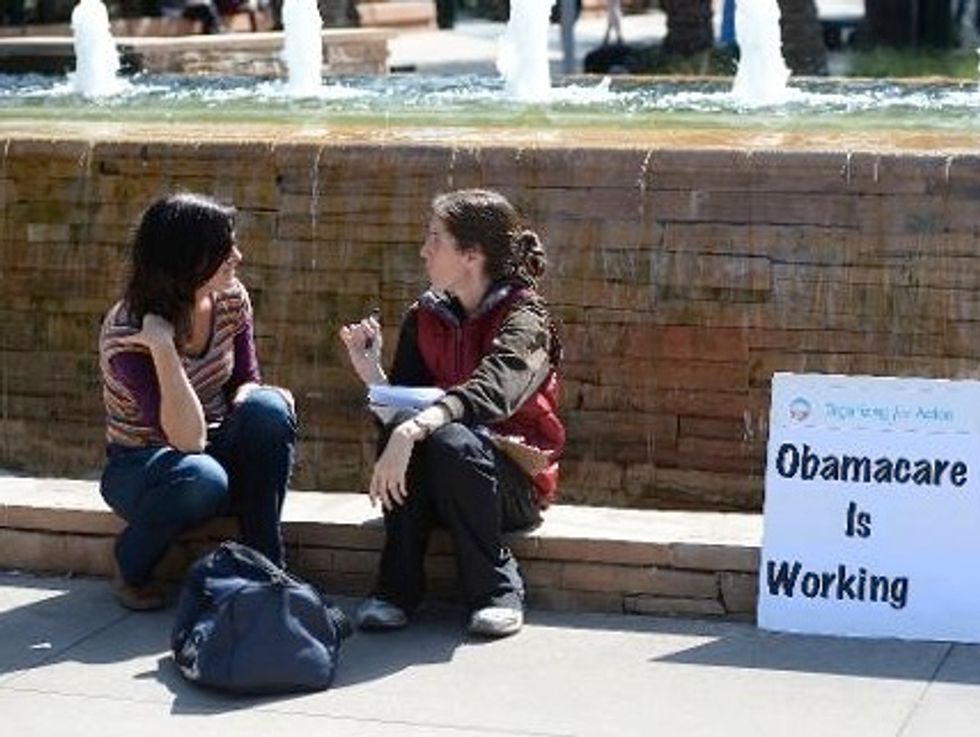 Washington (AFP) – The top U.S. health official will issue a trenchant defence of "Obamacare" on Wednesday, defying critics who have savaged the White House over how the reforms were leaving some Americans uninsured.
Under-fire Health Secretary Kathleen Sebelius will be the most senior Obama administration official to date to appear before Congress to discuss the troubled launch of HealthCare.gov.
And while she will acknowledge the various mis-steps in the website and the frustration it has caused Americans, Sebelius will drive home a message opposed by critics: President Barack Obama's signature domestic achievement nicknamed Obamacare is working.
"The fact is that the Affordable Care Act delivered on its product: quality, affordable health insurance," she will tell a House panel according to her testimony released Tuesday.
She also will stress that "tremendous interest" in the website is proof that Americans "want to buy this product.
"We know the initial consumer experience at HealthCare.gov has not been adequate. We will address these initial and any ongoing problems, and build a website that fully delivers on this promise of the Affordable Care Act."
But amid those assurances, Sebelius also will deflect blame for the site to contractors, saying "unfortunately, a subset of those contracts for HealthCare.gov have not met expectations."
As Sebelius's testimony was released, a top lieutenant Marilyn Tavenner was apologizing for the website's depressing debut, while insisting the online program is fixable.
Tavenner took heat at a hearing on problems with the October 1 rollout of the website through which millions of Americans are expected to sign up for health insurance.
"I want to apologize to you that the website has not worked as well as it should," Tavenner, administrator for the Centers for Medicare and Medicaid Services (CMS) in the Department of Health and Human Services, told lawmakers at a House Ways and Means Committee hearing.
"The bottom line is, this healthcare website is fixable," and CMS staff and contractors "are working around the clock" to improve the service.
But she dodged pointed questions about just how many people have enrolled in the system.
Tavenner said some 700,000 people nationwide have applied for coverage, but as for actual enrollment, she repeatedly said: "We'll have that information available in mid-November."
Consumers have had trouble signing on, getting accurate cost estimates, and completing enrollment.
But House Speaker John Boehner, the nation's top Republican, said the issue was less the online portal than with the very structure of the law.
"There is no way to fix this monstrosity," he said, as he and other Republican leaders pointed to reports that the White House knew that millions of Americans could be kicked off their existing plans as insurance companies adjust to meeting the requirements of Obamacare.
"This is government-run health care because virtually every policy that is sold has to be approved by the government," Boehner said.
"That's why you've got 1.5 million Americans who (have) already gotten these notices that they're going to lose their health coverage because it doesn't meet the minimum standard."
Senior Democrat Steny Hoyer fueled the fire Tuesday, acknowledging that the Obama team could have been more "precise" in their messaging on whether Americans could keep their insurance.
"I think the message was accurate, but… clearly it should have been caveated with, 'assuming you have a policy that does in fact do what the bill is designed to do,'" Hoyer told reporters.
The White House pushed back, saying insurance companies are compelled to upgrade their plans to provide services like free mammograms or hospital visits under the new law.
"You might discover, as a significant portion of this five percent will discover, that you're actually going to pay less come January for better coverage than what you're paying now for far worse coverage," Obama's spokesman Jay Carney said.
Obamacare requires most Americans to have health insurance from 2014 or face a fine, but the White House said it will give an extra six weeks, until March 31, to obtain insurance before facing the penalty.
AFP/Robyn Beck