U.S. Hopeful, But No Timeline On Gaza Ceasefire: Kerry
@AFP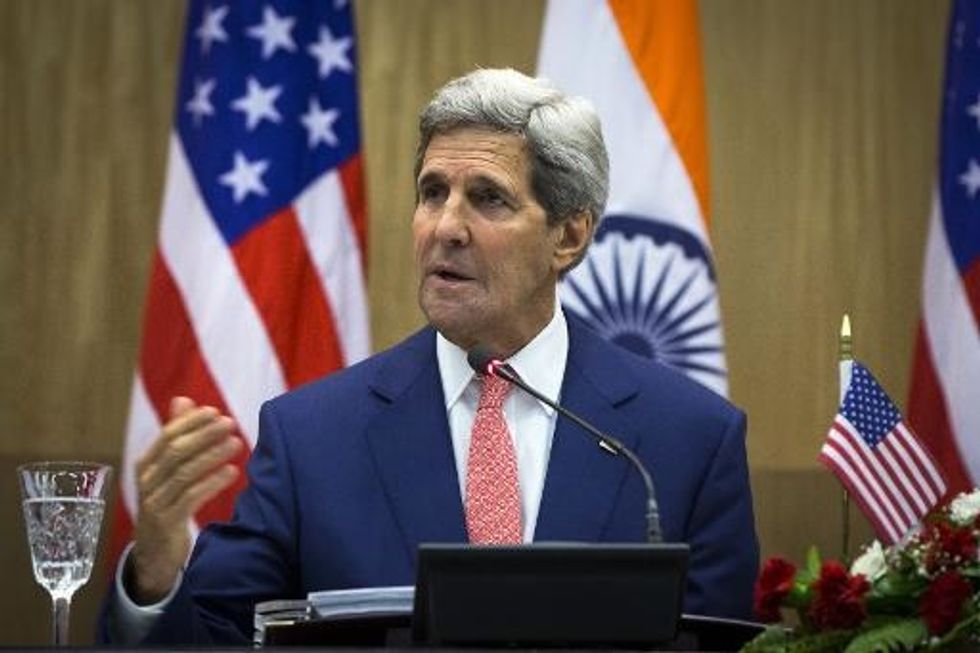 New Delhi (AFP) — U.S. Secretary of State John Kerry said Thursday he remained hopeful for a ceasefire in the Gaza conflict but declined to predict when.
Kerry, on a visit to India, said he had stayed in close contact on the telephone with players in the Middle East to try to end the Israel-Hamas conflict.
"The United States remains hopeful that it is achievable and sooner is better because of the needs to get to the table and begin negotiation that can ultimately, hopefully, resolve issues", Kerry said of a ceasefire.
"There is no promise in that, but I think everybody would feel better if there was a bona fide effort to see that happen," Kerry told a joint news conference with Indian Foreign Minister Sushma Swaraj in New Delhi.
Kerry has focused much of his tenure on crises in the Middle East, and returned to Washington on Sunday from a grueling, unsuccessful mission to end the Gaza conflict.
Kerry has since endured personal attacks by hawkish elements in Israel who accuse him of giving too much ground to Hamas, which provoked a military response by firing rockets into Israel.
The United States is the chief ally of Israel, which has faced strong international criticism over its campaign that has killed more than 1,000 Palestinians, most of them civilians.
India, while traditionally supportive of the Palestinians, developed a growing relationship with Israel including in defense trade when new Prime Minister Narendra Modi's Hindu nationalist Bharatiya Janata Party was last in power.
Asked if Modi would shift India closer to Israel, Swaraj said simply: "We fully support the cause of Palestinians, but we have good relations with Israel."
Israel said Thursday it would not pull troops from Gaza until they finish destroying a network of cross-border tunnels, despite sharp United Nations criticism over the Palestinian civilian death toll.
Washington said Thursday it had agreed to restock Israel's dwindling ammunition supplies, despite increasing international concern over the death toll in Gaza, where 1,395 people have been killed in 24 days of violence.
U.N. figures indicate two-thirds of the victims were civilians. Of the civilian dead, nearly half were women and children.
AFP Photo/Lucas Jackson
Interested in world news? Sign up for our daily email newsletter!