U.S.-Israeli Relations, Already Tense, Face New Tests With Netanyahu Victory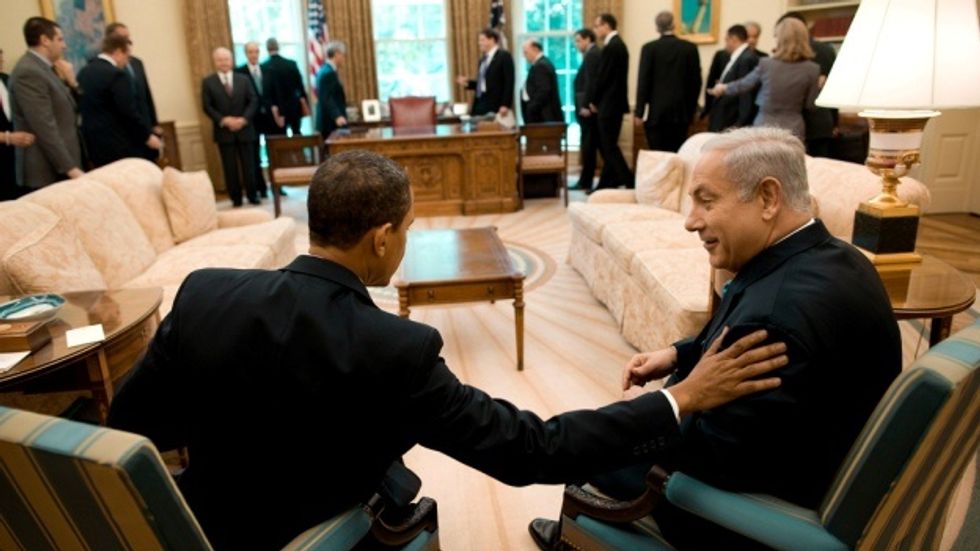 By Paul Richter, Tribune Washington Bureau (TNS)
LAUSSANE, Switzerland — Prime Minister Benjamin Netanyahu's victory in Tuesday's Israeli elections leaves the vital relationship with the United States under strain as at few times in the country's history.
Netanyahu made opposition to U.S. negotiations with Iran a centerpiece of his reelection effort. Then, in the closing days of the campaign, he went further, repudiating the idea of a sovereign Palestinian state, which has been a key element of U.S. policy under both Presidents Barack Obama and George W. Bush.
Now, Obama administration officials, who have been increasingly open in their distaste for Netanyahu, face the likelihood of having to deal with him for the remainder of the president's tenure.
Whether the two governments can find a way to step back from an increasingly angry conflict — or even want to — will start to become apparent as Netanyahu negotiates to form a new governing coalition and U.S. officials decide how to respond to him.
For now, U.S. officials are working to play down the conflict.
White House press secretary Josh Earnest said before the votes were counted that Obama "remains committed to working" with the Israeli government and "whomever the Israeli people choose."
State Department spokeswoman Jen Psaki said that Netanyahu's repudiation of the two-state solution may have been only campaign bluster.
"A lot of things are said during election campaigns," Psaki said. "We'll wait to see the policies of the new government."
Supporters of Netanyahu emphasized that the prime minister's record has been more pragmatic than his campaign rhetoric.
But privately, officials said the battles of recent weeks will unquestionably damage the two countries' ties on security issues.
Israel has often brought its influence to bear quietly, in private conversations with top U.S. officials about security threats. Israeli officials could get to U.S. policy makers early, using assessments from their intelligence agencies to help steer American decisions.
Some of that trust and access will now be lost, former U.S. officials said.
Informal contacts have "been one of the most effective ways Israel has gotten what it wants," one former official said, speaking on condition of anonymity to discuss relations with a key ally. "It won't be the same."
Already, in recent weeks, U.S. officials announced publicly that they were limiting how much information on the nuclear negotiations with Iran they shared with Israel. Netanyahu's government was using the data to denounce the American bargaining position in the talks, they said, accusing the Israelis of selective and misleading leaks that were impeding the negotiations.
Some analysts worry that the White House may now part ways with Israel on some issues before the United Nations and other international bodies.
Robert Danin, a former U.S. diplomat in the Middle East now with the Council on Foreign Relations, said that last year, U.S. officials appeared more ready to separate themselves from Israel's position at the United Nations. American support "was not automatic," he said.
Martin Indyk, who led the administration's last effort to broker an Israeli-Palestinian peace, said recently that if the new Israeli government didn't resume peace negotiations with the Palestinians, the Obama administration might join the other four permanent members of the U.N. Security Council in adopting a resolution laying out key principles for a peace settlement.
Such a move would be jarring to Israel, which has counted on American defense at the UN and doesn't want international bodies intervening in negotiations with the Palestinians.
Israel may need American diplomatic support now more than ever. European governments are increasingly impatient with Israel over what they see as the Netanyahu government's continuing efforts to expand illegal Jewish settlements in the Palestinian territories.
The two countries are also likely to collide in the next few months if negotiators from the U.S. and five other major powers reach an agreement with Iran to set limits on its nuclear program.
Netanyahu made clear in his speech to Congress earlier this month that he would oppose any likely agreement, and he may use Israeli intelligence estimates to challenge the U.S. assessment of how a deal would prevent an Iranian nuclear breakout.
At the same time, most of America's support for Israel has strong bipartisan support, which is not likely to change. The United States provides Israel $3.1 billion in military aid, vital intelligence support and works to assure that Israel has better military gear than any of its regional adversaries.
The Obama administration will also continue to defend Israel diplomatically, as it has even during the recent weeks of strife, officials have emphasized.
On March 3, Secretary of State John Kerry defended Israel against criticism from the United Nations' Human Rights Council, calling the panel's objections to Israeli actions an "obsession."
Some Netanyahu allies are predicting that the new government and the United States will cooperate to some extent in trying to stabilize the conflict with the Palestinians at a moment when the Palestinian Authority is near collapse.
But that doesn't mean that Netanyahu is ready to embrace any new peace-making initiative, such as the one that Kerry had promised to begin once the elections were over.
Netanyahu is likely to approve continued expansion of Jewish settlements, which he promised conservative supporters during the campaign. That would put him directly at odds with the administration.
And despite Psaki's words, it is hard to imagine that memories of Netanyahu's campaign statements won't linger with Obama administration officials.
When Netanyahu's Likud party declared March 8 that the prime minister had spent his whole life fighting to prevent creation of a Palestinian state, Indyk tweeted: "Does that mean he was pulling our leg?"
Photo: President Barack Obama meets with Israeli Prime Minister Benjamin Netanyahu in the Oval Office. (Pete Souza/Wikimedia Commons)