U.S. Judge Questions NFL's 'Deflategate' Case Against Brady
@reuters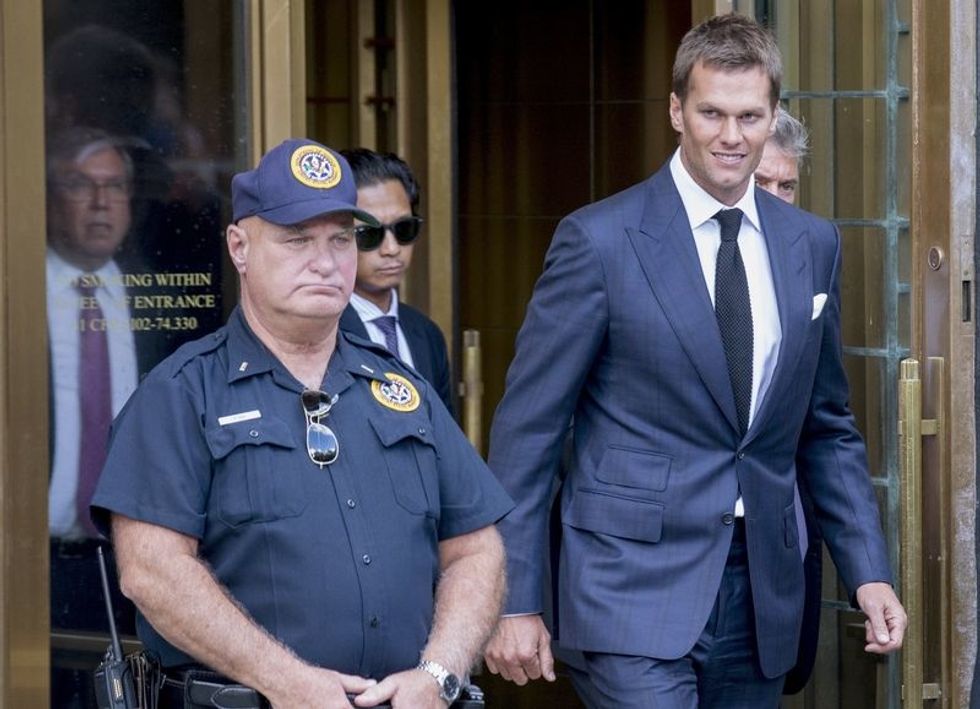 By Joseph Ax and Nate Raymond
NEW YORK (Reuters) – A federal judge on Wednesday fired tough questions at a National Football League lawyer about whether New England Patriots quarterback Tom Brady's four-game "Deflategate" suspension is supported by the evidence.
The hearing in New York before U.S. District Judge Richard Berman, who is overseeing the players union's challenge to the suspension, was followed by several hours of private settlement discussions with the judge that included Brady and NFL Commissioner Roger Goodell.
Neither Brady nor Goodell would comment on whether any progress had been made when they left the courthouse separately around 5:30 p.m. (2130 GMT), more than five hours after the open hearing ended.
A union representative declined to comment. The NFL did not immediately respond to a request for comment.
Earlier in court, Berman pressed NFL lawyer Daniel Nash to cite direct evidence linking Brady to an alleged scheme to deflate footballs in a January playoff game.
Nash acknowledged that there was no "smoking gun" but said there was plenty of circumstantial evidence – including a series of texts between Brady and the Patriots employees accused of letting air out of the balls – that Brady was aware of the deflation.
Brady, 38, sat stone-faced throughout the proceeding, even when a few light remarks from Berman drew laughs from the rest of the courtroom.
Berman also met briefly with each side before the hearing to gauge whether a settlement could be reached before the Patriots' season begins on Sept. 10.
Unless there is a deal, the two sides are scheduled to appear before Berman again on Aug. 19 for oral arguments on whether he should uphold or vacate the suspension.
Goodell suspended Brady, one of the NFL's biggest stars, following an investigation into the footballs used in the Patriots' 45-7 playoff victory over the Indianapolis Colts. That win took the Patriots to the Super Bowl, where they defeated the defending champion Seattle Seahawks, giving Brady his fourth championship title.
Brady has denied knowing about any plan to deflate footballs, which can make them easier to grip.
At the hearing, Berman asked Brady lawyer Jeffrey Kessler why the quarterback refused to turn over any texts or emails to NFL investigator Ted Wells, whose report was the basis for Goodell's suspension. Brady also had his phone replaced and destroyed, a point Goodell emphasized in rejecting Brady's appeal.
Kessler, however, said Brady had followed the advice of his lawyer in declining to hand over his communications, and added that the quarterback routinely destroys his old phones to avoid unwanted leaks to the media.
"This is the most overblown issue in the history of my over 40 years of litigation," Kessler said.
Brady's presence drew a throng of reporters and photographers outside the courthouse in downtown Manhattan, as well as a handful of fans wearing Brady's No. 12 jersey.
Some called Goodell a "liar" as he walked in. As Brady entered, another fan yelled, "Give 'em hell, Tom!"
Trevor Schramn, 20, was wearing a "Free Tom Brady" T-shirt and said he had come to "support our boy."
"The Patriots are winners, and people are always going to hate the team on top," he said.
The NFL has already fined the Patriots $1 million and stripped the team of its first-round draft pick in 2016 and fourth-round selection in 2017. The litigation in New York only concerns Brady's suspension.
New England opens its preseason on Thursday night at home against the Green Bay Packers. While Brady's suspension does not take effect until the regular season, the team has not announced whether he will play on Thursday.
If the suspension is upheld, second-year backup Jimmy Garoppolo, who played sparingly last year, would likely start at quarterback in Brady's place. In a twist, Brady would be eligible to return on Oct. 18 against the Colts in a nationally televised game.
(Additional reporting by Steve Ginsburg)
Photo: New England Patriots quarterback Tom Brady exits the Manhattan Federal Courthouse in New York August 12, 2015. REUTERS/Brendan McDermid