U.S. Judge Sides With Chevron In $9.5 Billion Ecuador Case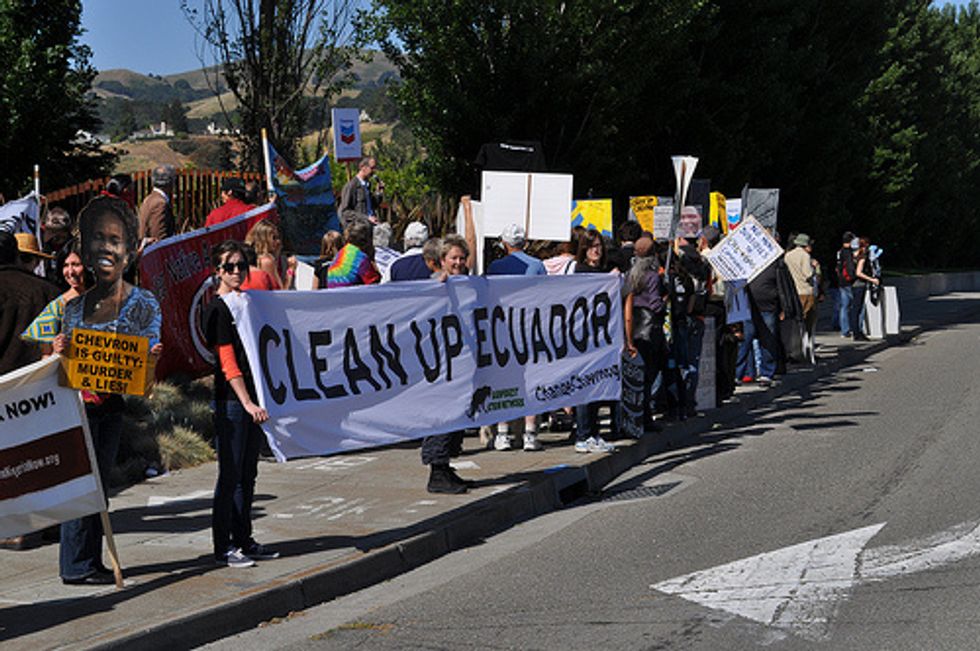 By Shan Li, Los Angeles Times
A U.S. judge ruled in favor of Chevron Corp. and declared that a $9.5 billion judgment in Ecuador against the oil giant for environmental damage was obtained by fraud and racketeering.
U.S. District Judge Lewis Kaplan in Manhattan ruled Tuesday that the 2011 judgment against the San Ramon, California, company on behalf of thousands of villagers living in the Lago Agrio region of the Amazon rain forest was procured by "corrupt means," including coercion and money laundering.
Kaplan said that Steven Donziger, a New York lawyer, along with attorneys in Ecuador, poisoned the case by promising money to a judge for a favorable ruling and submitting faulty evidence, among other actions.
The judge barred Donziger and two Ecuadorean co-defendants from profiting from the judgment or collecting money via courts in the United States. That could complicate efforts to enforce the judgment in other countries besides the U.S.
"It is distressing that the course of justice was perverted," Kaplan wrote in his ruling.
The original multibillion-dollar judgment stretches back to a 2003 lawsuit filed on behalf of Ecuadorean villagers for years of environmental damage stemming from oil operations in the area by Texaco, which Chevron later purchased.
In 2011, a judge in Ecuador slapped an $18 billion judgment against Chevron. In a later ruling, the verdict was upheld but the judgment was reduced to $9.5 billion.
Chevron said there was "overwhelming evidence of fraud" in the original judgment and lauded the new ruling as a "resounding victory for Chevron and our shareholders."
"Any court that respects the rule of law will find the Lago Agrio judgment to be illegitimate and unenforceable," the company said in a statement Tuesday.
Donziger said he plans to appeal the decision, which he deemed "wrong on the law and wrong on the facts."
He said the judge was influenced by "implacable hostility" toward him, the country of Ecuador and the Ecuadorean villagers.
"Nothing in Judge Kaplan's ruling will prevent my clients from pursuing the judgment's enforcement in other countries," Donziger said in a statement.
Photo: Rainforest Action Network via Flickr