U.S. Lawmaker's Aide Draws Ire Over First Daughter Scolding
@AFP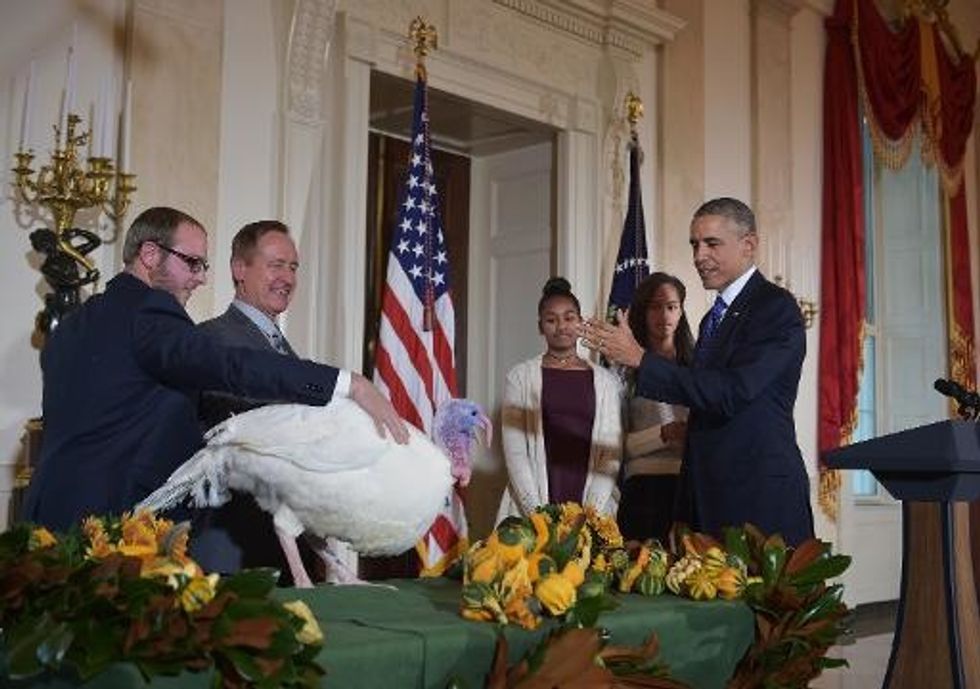 Washington (AFP) – A U.S. lawmaker's communications director was facing social media calls she be sacked after her Facebook rant about President Barack Obama's daughters prompted widespread anger.
Elizabeth Lauten, spokeswoman for Republican Congressman Stephen Fincher of Tennessee, wrote a scathing post to her Facebook account scolding Malia and Sasha Obama, 16 and 13, for looking bored while attending a public event with their father on Wednesday.
In the post, since deleted but widely reproduced in screen grabs, Lauten tells the girls to "try showing a little class. At least respect the part you play."
The girls stood beside Obama — looking vaguely bored — as he issued the annual Thanksgiving turkey "pardon," saving two birds from the dinner table.
The underwhelmed expressions of the teenaged sisters sparked mainly amused comment, but Lauten's remarks were notably more caustic.
"Then again, your mother and father don't respect their positions very much, or the nation for that matter," Lauten wrote in her post.
"So I'm guessing you're coming up a little short in the 'good role model' department.
"Nevertheless, stretch yourself. Rise to the occasion. Act like being in the White House matters to you.
"Dress like you deserve respect, not a spot at a bar," she added, apparently referring to the girls' short skirts.
The post quickly drew ire on Twitter and elsewhere, with many calling for Lauten to be fired, even after Lauten deleted it and posted an apology.
"After many hours of prayer, talking to my parents, and re-reading my words online I can see more clearly just how hurtful my words were," Lauten wrote on Facebook, also widely reproduced before she made her page private.
"I'd like to apologize to all of those who I have hurt and offended with my words, and I pledge to learn and grow (and I assure you I have) from this experience," she added.
Star Jones, a lawyer and television personality, was among those unimpressed. "I've seen tacky people…but rarely seen someone as tacky as # ElizabethLauten for slamming the children of the # POTUS," she tweeted.
Many directed their tweets to Lauten's boss, as the hashtag #FireElizabethLauten went viral.
One commenter, whose username is Eclectic John, wrote: " @ RepFincherTN08 There is nothing that excuses what # ElizabethLauten posted re the children of our President. That's off limits. Fire her now."
AFP Photo/Mandel Ngan