U.S. Lawmakers Announce Two-Year Budget Deal
@AFP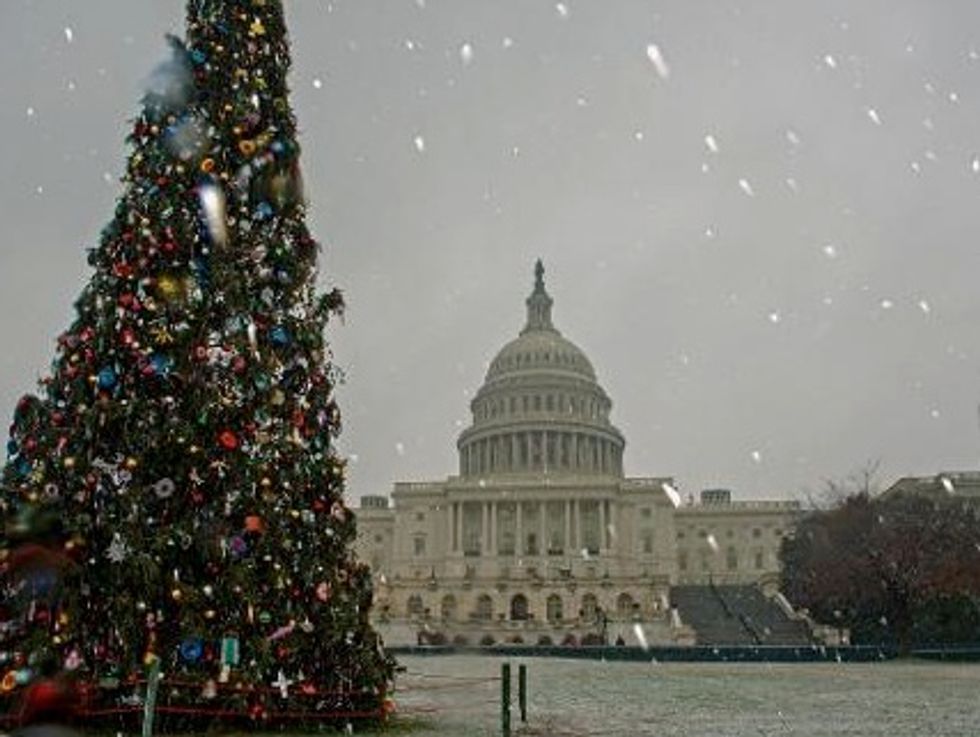 Washington (AFP) – Congressional negotiators reached a modest two-year U.S. budget deal that would avoid a repeat of October's government shutdown, signalling a temporary truce in fiscal wars that have paralyzed Washington.
The agreement, brokered by Democratic Senator Patty Murray and House Republican Paul Ryan, sets the new annual budget caps for 2014 and 2015 at just over $1 trillion — slightly higher than current levels — and partially repeals the unpopular automatic budget cuts known as "sequestration."
Importantly, a budget bill under the agreed framework would free legislators to focus on how to reduce the main drivers of the country's debt, such as entitlement programs including Medicare, without the specter of a budget showdown every six or 12 months.
"I see this agreement as a step in the right direction," Ryan, the 2012 Republican vice presidential nominee and chairman of the House Budget Committee, told reporters, noting that the deal does not raise taxes on Americans.
Murray, the Senate's top budget chief, said she and negotiating partner Ryan set aside political differences and have "broken through the gridlock and reached a bipartisan budget compromise that will prevent a government shutdown in January."
President Barack Obama hailed the agreement as a sign of rare bipartisan cooperation in the strife-filled U.S. legislature.
"It's a good sign that Democrats and Republicans in Congress were able to come together and break the cycle of short-sighted, crisis-driven decision-making to get this done," he said.
Under a deal reached in October that ended a crippling 16-day shutdown, federal spending authority expires on January 15, when a new budget will need to be in force.
Tuesday's deal — the first by a divided Congress since 1986, according to Ryan — provides for $85 billion in mandatory savings while creating $63 billion in sequestration relief, leaving roughly $22 billion in deficit reduction.
Obama said he was pleased the deal worked toward replacing sequestration cuts that he said have "served as a mindless drag on our economy over the last year."
By most accounts the deal is an underwhelming one, far from the grand bargain envisioned by some optimists in Washington earlier this year.
But it sets the warring Democratic and Republican parties on track for further cooperation on budget policy, ending the cycle of fiscal feuding that has scarred Washington since 2011.
"We have lurched from crisis to crisis and from one cliff to the next. And when one countdown clock was stopped it wasn't too long before the next one got started," Murray said.
"That uncertainty was devastating to our fragile economic recovery."
Like his Republican colleague Ryan, House Speaker John Boehner hailed the deal as a "positive step forward by replacing one-time spending cuts with permanent reforms to mandatory spending programs that will produce real, lasting savings."
The challenge now is selling the agreement to skeptical conservatives in the House of Representatives and Senate.
Murray said she was "hopeful" the deal will pass muster in the Republican-led House this week before that chamber breaks for the year-end recess.
Each chamber must pass a budget bill by January 15 or risk another government shutdown.
Senator Marco Rubio was quick out of the gate in opposition to the deal, saying it merely furthers "Washington's irresponsible budgeting decisions" by spending more than government brings in.
"We need a government with less debt and an economy with more good-paying jobs, and this budget fails to accomplish both goals, making it harder for more Americans to achieve the American Dream," Rubio said.
A handful of conservative groups have already come out opposing the agreement, saying it blows past the budget caps established in the Budget Control Act of 2011.
"Spending levels were set by law at $967 billion," said Tim Phillips, president of Americans for Prosperity.
"Exceeding those levels by $45 billion takes us in the wrong direction, further from fiscal responsibility."
Ryan acknowleged that the package was not ideal, but in a divided government in which Democrats control the White House and Senate, he was pleased with the result.
"I deal with the way things are, not the way I necessarily want them to be," he said.
AFP Photo/Paul J. Richards