U.S. Lawmakers Split Despite October 17 Debt Deadline
@AFP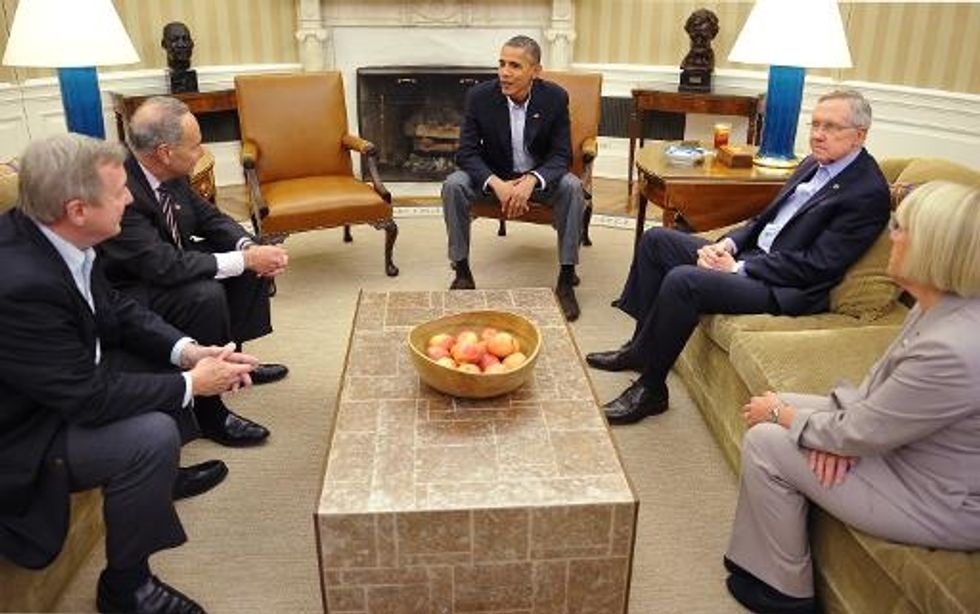 Washington (AFP) – The United States was still facing a potentially devastating sovereign debt default after senators failed to agree on terms to reopen the federal government and raise the country's borrowing limit.
Republicans and Democrats — at war over the country's finances for more than two weeks — tried to shed a positive light Sunday on a weekend of talks that despite the threat of global economic censure produced no solution.
The Senate convened a rare Sunday session to try and break the budgetary impasse that prompted the government to shut down on October 1, a move that has since damaged domestic confidence and undermined America's reputation as the world's leading economic superpower.
If the U.S. debt ceiling is not raised by October 17, the Treasury would run out of money and could begin defaulting on its obligations for the first time in history.
Seeking to avert that scenario, Democratic Senate leader Harry Reid spoke with the top Senate Republican, Mitch McConnell, though nothing concrete was disclosed.
"I'm optimistic about the prospect for a positive conclusion," Reid said.
Bank of France Governor Christian Noyer on Monday warned of dire consequences if there was no solution.
A default would be "a thunderbolt on the financial markets" that would set off "extremely violent and profound turbulence worldwide," he told the daily Le Figaro.
In Asia, markets were down in part over the deadlocked talks.
Oil prices also edged lower in Asian trade, with West Texas Intermediate for delivery in November, down 29 cents at $101.73 in afternoon trade, and Brent North Sea crude for November down 17 cents to $111.11.
And the dollar slipped in Singapore afternoon trade to 98.27 yen from 98.59 yen in New York late Friday. Japanese markets are closed for a public holiday.
"So far, markets have not panicked because both parties have come out to reassure that they are working towards a compromise after every failed vote, keeping alive hopes for a last-minute deal," Singapore-based DBS Bank said in a note.
U.S. Treasury Secretary Jacob Lew earlier told the International Monetary Fund's policy steering committee that Washington understood its reputation as a safe harbor was at risk.
Stock markets are already factoring in a possible default if no deal is reached between President Barack Obama, his Democratic Party and rival Republicans by Thursday night.
Polls released since the shutdown show Congress's approval rating at record lows, with Republicans taking most of the blame.
Both parties in recent days indicated a deal must be reached at all cost despite the bitter rancor.
"This is something that's wreaking havoc around the world and will affect economic growth, and I do hope that over the next week we'll reach a conclusion and I think we will," Republican Senator Bob Corker told Fox News Sunday.
Obama earlier rejected an offer by Republicans in the House of Representatives to lift the debt ceiling for six weeks while negotiations would continue on reopening the government, insisting on a longer-term solution.
Following talks with the top House Democrat, Nancy Pelosi, the president said they were not budging from their position.
Obama and Pelosi "reinforced that there must be a clean debt limit increase that allows us to pay the bills we have incurred and avoid default," the White House said in a statement.
"The House needs to pass the clean continuing resolution to open up the government and end the shutdown that is hurting middle class families and businesses across the country."
Senate leader Reid had on Saturday turned down a second compromise proposal, offered by moderate Republican Senator Susan Collins.
It called for lifting the U.S. debt limit for up to a year, reopening the government and repealing a tax on medical devices under Obama's signature health care law.
But Collins said her proposal could still become the basis of a deal, telling CNN's State of the Union she had support from a growing, bipartisan group of senators.
Senator Charles Schumer, a key Democratic power broker, said Reid and McConnell "were not that far apart" Saturday, when they held their first talks of the crisis.
"I'm cautiously hopeful, optimistic, that we can come to an agreement and open up the government and avoid default based on the bipartisan meetings that are going on," Schumer told CBS's Face the Nation.
Democrats, meanwhile, have added a demand of their own — that any deal also involve undoing the across-the-board spending cuts known as the sequester that went into effect earlier this year.
Schumer acknowledged it was a "sticking point."
Corker said House Republicans had gone too far in demanding that Obama's signature health care law be defunded, the initial cause of the government shutdown.
But "now the Democrats are on the verge of being one tick too cute," he said, referring to the bid to undo the sequester.
Global pressure for a deal in Washington is mounting.
"The standing of the U.S. economy would, again, be at risk," International Monetary Fund chief Christine Lagarde said on NBC's Meet the Press, comparing the effects of failing to raise the debt ceiling and reopening the government to the 2008 global financial meltdown.
AFP photo/Mandel Ngan