U.S. Military Role In Afghanistan Still Has Limits, Officials Say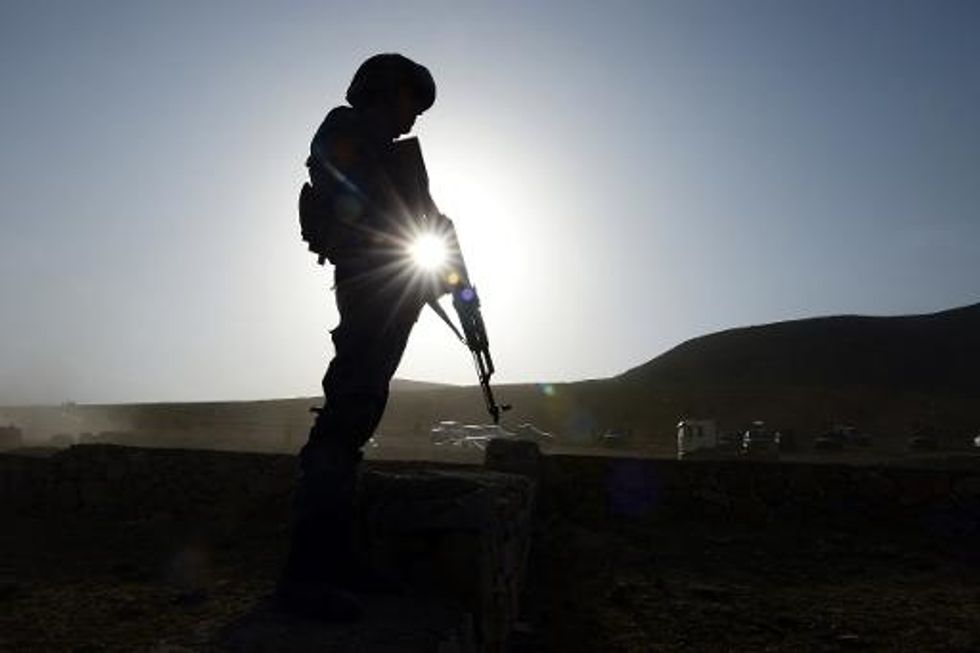 By David S. Cloud and Christi Parsons, Tribune Washington Bureau (TNS)
WASHINGTON — President Barack Obama's decision to authorize a wider U.S. military role in Afghanistan next year was a pragmatic one, a recognition that as much as he would like it to be so, the fighting in Afghanistan is not over.
The administration quietly approved guidelines, revealed over the weekend, that could broaden the military role of U.S. troops in Afghanistan next year beyond what had been expected.
But how much fighting the 9,800 U.S. troops will see depends on hard-to-predict factors, such as the continuing strength of the 13-year-old insurgency and the effectiveness of Afghanistan's own security forces, said several U.S. officials, who agreed to discuss the decision in return for anonymity.
A stark reminder of those challenges came Sunday when a suicide bomber killed 45 people in eastern Afghanistan, the deadliest attack since a new government took power this year.
The administration's new approach will also depend on how short a leash Obama keeps the Pentagon on during his final two years in office.
Senior officials familiar with the president's decision, which was made in recent weeks, say that in approving continued U.S. ground operations and airstrikes in Afghanistan after the end of this year, Obama was clear that he was not granting permission for large-scale combat operations.
"These authorities ensure we can protect our forces and our coalition partners, support the (Afghan security forces) in emergencies and continue the fight against al-Qaida," a senior military official said. "This is not a license for offensive combat operations against the Taliban just because we still have U.S. capabilities in the country."
It is, however, a clear indication that the U.S. role in Afghanistan after the end of the year will not be limited to training Afghan forces and conducting occasional small raids against the remnants of al-Qaida, which is how White House officials had been portraying the post-2014 mission.
American forces will be able to carry out missions against Taliban insurgents and other militant groups that pose a threat to U.S. troops or allies, despite Obama's vow earlier this year that the U.S. combat role in Afghanistan was coming to an end.
There will also be U.S. drones, bombers and fighter aircraft stationed in Afghanistan or on aircraft carriers to provide airstrikes in case U.S. troops are threatened or Afghan forces find themselves in danger of being overrun by insurgents, the officials say.
"Safety of our personnel is the president's first priority and our armed forces will continue to engage in operations in self-defense and in support of Afghan security forces," a senior administration official said.
Obama has learned how hard it can be to extricate the U.S. completely from combat. American forces have been drawn back into the Iraqi conflict, though not yet in a ground combat role, even after Obama's 2011 declaration that American involvement in Iraq was over.
In Afghanistan, U.S. officials insist that American involvement in combat is likely to be rare, but they acknowledge that there could be periods during the so-called fighting season from spring to fall when it may be necessary to carry out targeted attacks against insurgents.
"While we will no longer target belligerents solely because they are members of the Taliban, to the extent that Taliban members directly threaten the United States and coalition forces in Afghanistan or provide direct support to al-Qaida, we will take appropriate measures to keep Americans safe," the administration official said.
How that guideline is implemented will depend in large part on whether security in Afghanistan continues to worsen.
On Sunday, a suicide bomber blew himself up amid a crowd at a volleyball tournament in Paktika province, killing 45 people and injuring dozens more, officials said.
Mokhles Afghan, spokesman for the provincial governor, said the bomber detonated a vest packed with explosives.
"There are children and teenagers among the dead," said Najib Danesh, a spokesman for the Interior Ministry. An unknown number of police officers were killed, but the vast majority of the casualties were civilians, Danesh said.
Taliban attacks intensified this summer and fall as the U.S. and its allies closed hundreds of bases and turned over responsibility for most combat operations to the Afghan army, which suffered its worst casualties in years.
Afghan troops held up well in many places, but they also lost ground in areas where U.S. troops had once provided a bulwark against the insurgents.
The officials who agreed to speak about the White House decision, first disclosed by The New York Times, refused to specify the limits that Obama placed on military operations, saying that to do so would give insurgents valuable information.
Obama announced in May that U.S. troop levels would be cut to 9,800 by the end of the year, by half again in 2015 and drop to only token levels by the end of 2016.
A small force of 1,800 to 2,000 special operations troops would have permission to carry out raids against the remnants of al-Qaida and their supporters, White House officials said at the time.
Army Gen. John Campbell, the top U.S. commander in Afghanistan, and other Pentagon officials have been pressing the White House for months for a decision on the types of operations they will be able to undertake after the end of the year.
"The military got what we needed," the senior military officer said.
___
Special correspondent Hafiz Ahmadi in Kabul, Afghanistan, and Times staff writer Shashank Bengali in Madikeri, India, contributed to this report.
AFP Photo/Wakil Kohsar