U.S. Mulls Air Strikes As Iraq Militants Advance On Baghdad
@AFP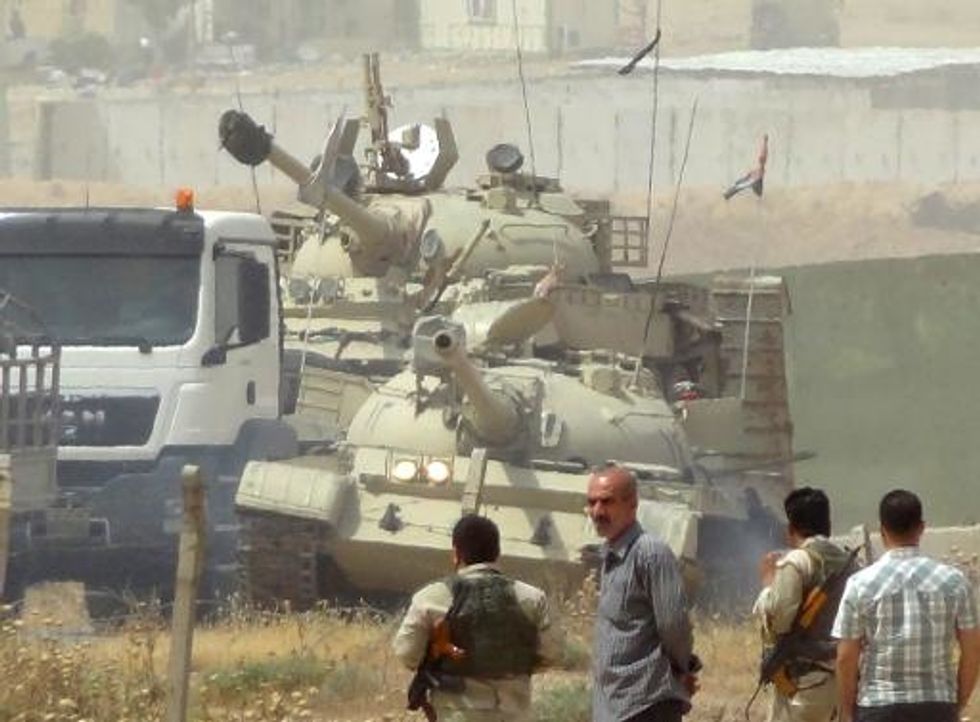 Baghdad (AFP) – Jihadists were pushing toward Baghdad Thursday after capturing a town just hours to the north, as the U.S. mulled air strikes in a bid to bolster Iraq's collapsing security forces.
With the militants closing in on the capital, forces from Iraq's autonomous Kurdish region took control of disputed northern oil hub of Kirkuk to protect it from jihadist attack, officials said.
And amid warnings from Washington that the jihadist offensive threatens the stability of the entire Middle East, Iranian President Hassan Rouhani warned that Tehran would combat "terrorism" in Iraq.
Fighters from the Sunni Muslim Islamic State of Iraq and the Levant (ISIL) have spearheaded a major offensive that began late Monday, overrunning the northern province of Nineveh and significant parts of Kirkuk and Salaheddin provinces, and also moving into northern Diyala.
On Thursday they were advancing on Baghdad, after seizing the town of Dhuluiyah just 56 miles away, witnesses and officials said, adding that the nearby Muatassam area has also fallen.
And militants travelling in more than 20 vehicles seized three villages in the north of Diyala province, near the border with Salaheddin, expanding the offensive, officers said.
ISIL spokesman Abu Mohammed al-Adnani promised the group would drive on to Baghdad and Karbala, a city southwest of the capital that is one of the holiest sites for Shiite Muslims, in a statement carried by jihadist websites.
Parliament failed to achieve a quorum for an "emergency session" that was supposed to consider a request from Prime Minister Nuri al-Maliki and the president's office to declare a state of emergency.
Only 128 of 325 MPs showed up for the session, which was announced two days before, a senior official said.
The swift collapse of Baghdad's control comes on top of the loss of Fallujah, west of Baghdad, at the start of the year. It has been a blow for Western governments that invested lives and money in the invasion that toppled dictator Saddam Hussein in 2003.
Washington is considering several options for offering military assistance to Baghdad, including drone strikes, a U.S. official told AFP on condition of anonymity.
Resorting to such aircraft — used in Afghanistan, Pakistan and Yemen in a highly controversial program — would mark a dramatic shift in the U.S. engagement in Iraq, after the last American troops pulled out in late 2011.
State Department spokeswoman Jen Psaki said the U.S. was committed to "working with the Iraqi government and leaders across Iraq to support a unified approach against ISIL's continued aggression."
But there is no current plan to send U.S. troops back into Iraq, where around 4,500 American soldiers died in the bitter conflict.
And British Foreign Secretary William Hague said there was "no question" of British troops being sent back.
The UN Security Council has called crisis talks for Thursday, with diplomats saying closed consultations will begin at 11:30 am EST.
In Tehran, President Rouhani went live on television to denounce the "extremist, terrorist group that is acting savagely" in Iraq and warned that Iran would not tolerate "this violence and terror."
He said he would later meet the Supreme National Security Council, which would have to approve any military support Tehran might want to provide to Baghdad.
The militants overran Iraq's second city Mosul on Tuesday before taking control of its surrounding province Nineveh and sweeping into Kirkuk, Salaheddin provinces, as well as northern Diyala.
They encountered little effective resistance from security forces, some of whom discarded their uniforms and joined tens of thousands of civilians, many of whom fled towards the relative safety of the autonomous Kurdistan region.
Militants also stormed the Turkish consulate in Mosul and kidnapped 49 people including the head of the mission and three children, a Turkish official said.
They were in addition to 31 Turkish truck drivers seized by ISIL at a Mosul power station, and Ankara pledged harsh reprisals if any were harmed.
The gunmen did not enter Kirkuk city, but the army withdrew from positions in the surrounding province and their places have been taken by members of the Kurdish peshmerga security forces, according to Kirkuk Governor Najm al-Din Karim, himself a Kurd.
A peshmerga commander, Brigadier General Shirko Rauf, confirmed Thursday that his men were in control of the disputed city and were readying to move towards areas seized by ISIL.
Kirkuk is a major oil hub that Iraqi Kurds have long wanted to incorporate into their autonomous region, a move bitterly opposed by Baghdad.
The first sign of effective resistance to the militants came Wednesday when they were repulsed in heavy fighting as they tried to enter Samarra, a mainly Sunni Arab city that is home to a shrine revered by the country's Shiite majority.
The gunmen instead pushed farther south, where they took Dhuluiyah.
A resident of the town, Abu Abdullah, said the situation there was calm on Thursday but residents were staying indoors.
The International Organisation for Migration has estimated that over 500,000 people have been displaced in and around Mosul alone.
Known for its ruthless tactics and suicide bombers, ISIL is arguably the most capable force fighting President Bashar al-Assad inside Syria as well as the most powerful militant group in Iraq.
The jihadists aim to create an Islamic state straddling parts of Iraq and Syria, where they are fighting the forces of President Bashar al-Assad.
AFP Photo/Marwan Ibrahim