Police Killed More Than 1,000 Civilians In 2017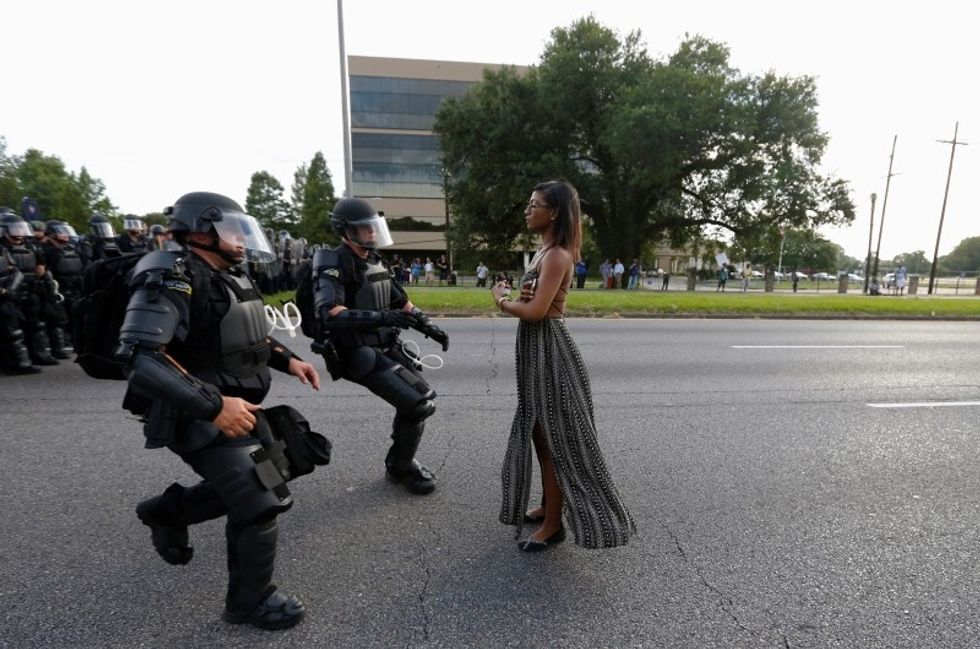 Reprinted with permission from AlterNet.
News headlines in 2017 were primarily dominated by coverage of President Donald Trump's administration and tense party politics. But while most the attention was focused on the president's antics, officers in police departments around the country killed over 1,000 civilians.
According to the database Mapping Police Violence, police have killed 1,129 people this year in the U.S., which was similar to the number of killings in previous years. According to the Washington Post's police shooting tracker, officers fatally shot 976 people this year. In 2016, police shot and killed 963 people, and in 2015, officers fatally shot 995 people. Black people were disproportionately affected, as they made up 25 percent of those killed, despite making up only 13 percent of the population. Sixty-eight of those killed by police this year were unarmed.
Out of the 1,000 people who died at the hands of police, several received high-profile coverage in the media. In June, Tommy Le was shot and killed by deputies in Washington state hours before his high school graduation. The deputies initially claimed Le was holding a knife or other sharp object, but investigators found that the object was a pen. An autopsy report revealed that the deputies fired two shots into Le's back.
That same month in Washington, a police officer fatally shot Giovonn Joseph-McDade, a 20-year-old college student at Green River College, following a car chase. And in Seattle, police shot and killed 30-year-old Charleena Lyles, who was pregnant at the time. Relatives said she had been dealing with mental health issues in the past year. An autopsy in August revealed officers shot Lyles seven times.
In September, Scott Schultz, a student at Georgia Tech University and president of the college's Pride Alliance, was shot and killed by a campus police officer. Schultz, who had a history of mental illness, left three suicide notes in his room before being killed by police.
In a particularly tragic case, 6-year-old Kameron Prescott was killed by a stray bullet this month when deputies opened fire on Amanda Jones in a suburb of San Antonio, Texas. Jones, 30, was killed after being pursued by officers for car theft and other offenses. The confrontation ended on the porch of a trailer where officers opened fire. One of the bullets pierced the trailer wall and struck six-year-old Kameron inside.
The 2016 death of 26-year-old Daniel Shaver gained further attention this year after released footage showed Shaver on the floor of a hotel hallway begging for his life in front of an Arizona police officer, who had his gun pulled. The officer, Philip Brailsford, fatally shot Shaver. Earlier this month, Brailsford was acquittedby a jury of second-degree manslaughter and reckless manslaughter.
Several officers involved in police killings were put on trial in 2017, often with disappointing outcomes. In June, the trial of Jeronimo Yanez, who shot and killed Philando Castile during a traffic stop in July 2016, ended in acquittal. Officer Dominique Heaggan-Brown was acquitted by a jury for the fatal shooting of Sylville Smith. Later that month, the trial of former University of Cincinnati Officer Ray Tensing, who was being tried for the fatal 2015 shooting of Samuel DuBose, ended in its second mistrial. The prosecutor dismissed the murder indictment against Tensing in July.
In a reversal of this dominant trend, in which officers face little to no punishment, former South Carolina officer Michael Slager was sentenced to 20 years in prison for shooting and killing Walter Scott, an unarmed black man, in 2015.
Celisa Calacal is a freelance writer for AlterNet. She is a senior journalism major and legal studies minor at Ithaca College in Ithaca, New York. Previously she worked at ThinkProgress and served as an editor for Ithaca College's student newspaper. Follow her at @celisa_mia.