U.S. Readies Unilateral Sanctions On Russia
@AFP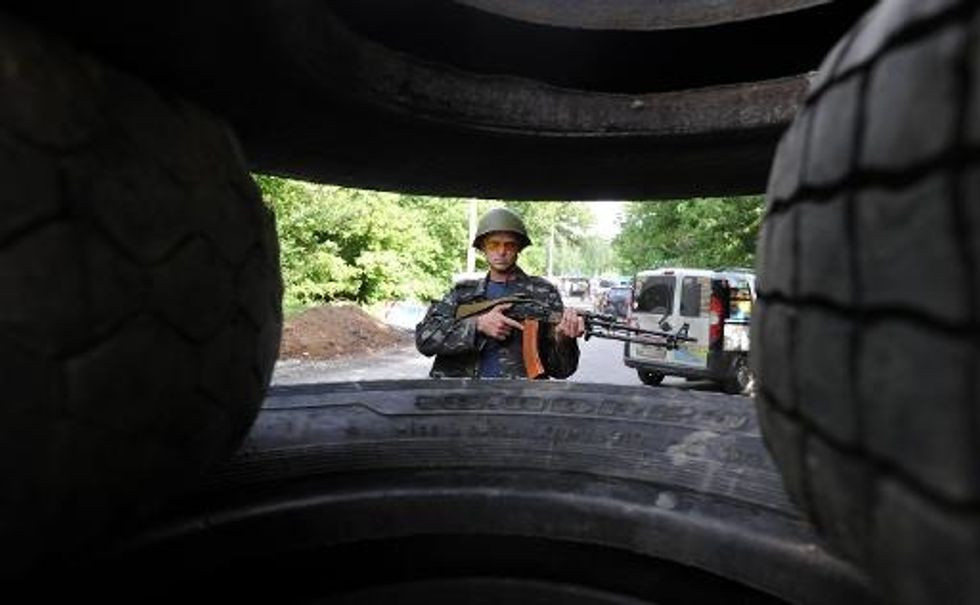 Washington (AFP) — The United States signaled it could go it alone on toughening sanctions on Russia if Europe does not agree to increase pain for Moscow over its "destabilizing" policies in Ukraine.
A raft of unilateral measures have been prepared that President Barack Obama could use to land new blows on the Russian economy, if European leaders meeting in Brussels on Wednesday do not decide to take similar steps, a senior U.S. official told AFP.
But the White House has not yet decided on any move that would mark a departure from its insistence on moving in tandem with Europe on sanctions, the official said, on condition of anonymity.
Intense discussions are continuing with U.S. allies and Washington would clearly prefer to move in coordination with Europe on measures that could target sectors of the Russian economy and defense industry — because joint action would likely be most effective.
There were signs Tuesday that U.S. pressure on Europe, and more alarming news from Ukraine's civil war could be concentrating minds in Brussels.
An EU source said a new round of sanctions was looking "very possible" on the eve of the leaders summit.
Possible measures could include measures to freeze programs in Russia run by the EU's European Investment Bank and the London-based European Bank of Reconstruction and Development.
The European measures would likely fall short however of the phase three "sectoral sanctions" once mooted to hammer the Russian economy.
The source also said that new signs Europe could move on sanctions had nothing to do with US pressure.
But events in Ukraine certainly looked grim and could make it impossible for the leaders to resist new sanctions.
The Kiev government raised the stakes in the showdown by warning on Monday that a Ukrainian transport plane downed in the eastern conflict zone had been hit by a rocket fired by the Russian side of the border.
Obama has spent weeks building support among US allies for new sanctions on Moscow after unveiling measures earlier this year to target "cronies" around Russian President Vladimir Putin and officials involved in Ukraine policy.
Obama believes Russia has not met conditions laid out by G7 leaders at a Brussels summit last month to stop destabilizing Ukraine. Those conditions include steps by Russia to secure the border to prevent heavy weapons and material being sent into eastern Ukraine
Also Tuesday, Obama telephoned German Chancellor Angela Merkel on the crisis, the White House said.
"The leaders agreed that to date neither the United States nor Germany has seen Russia fulfill these required actions," the White House stressed.
The West also wants Putin to coordinate with the Organization of Security and Cooperation in Europe on a border-monitoring mechanism and to use his influence with separatists to convince them to lay down their arms.
"The longer that this goes on, the more difficult it will be for us to put Ukraine on the stable, sound footing, both politically and economically, that we would like to see them be on," White House spokesman Josh Earnest said Tuesday.
Earnest also declined to telegraph where and when U.S. sanctions could strike, as U.S. officials seek to prevent likely targets in Russia from shielding assets or moving money out of harm's way.
There have been clear signs this week that Washington is losing patience, and that it wants Europe to move on sanctions.
On Monday, the State Department issued a fact sheet detailing what it said were Russia's continuing efforts to destabilize Ukraine and to support separatists.
Vice President Joe Biden has made repeated telephone calls to Ukrainian President Petro Poroshenko, who has presided over a military operation to seize back territory in eastern Ukraine from separatists.
Biden Tuesday "told President Poroshenko that the United States was engaging with European leaders to discuss the imposition of costs on Russia for its continued escalation of the conflict," a White House statement warned.
AFP Photo / Dominique Faget
Interested in world news? Sign up for our daily email newsletter!