U.S. Says Has 'Duty' To Act After Syria Nerve Gas Attack
@AFP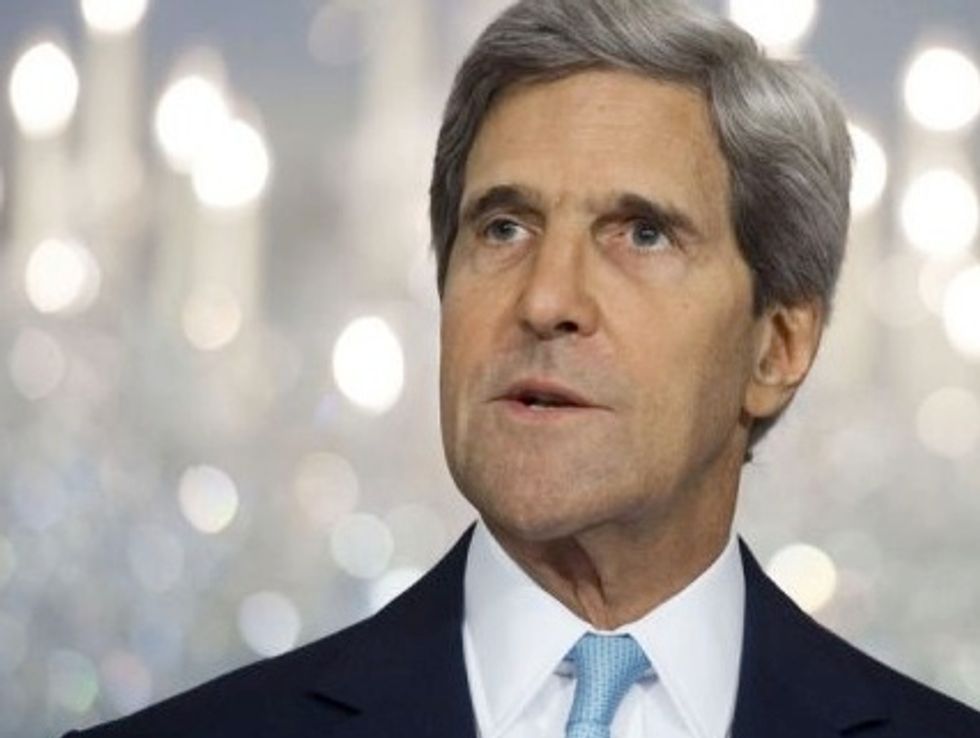 WASHINGTON (AFP) – The United States released intelligence Friday to show why it is certain that Syrian forces have killed civilians with chemical weapons and said Washington has a historic duty to act.
As a time window for expected U.S. air strikes beckoned, the White House produced a declassified intelligence report which said 1,429 people including 426 children were killed in the August 21 outrage outside Damascus.
Secretary of State John Kerry meanwhile made an impassioned case for a "tailored" U.S. response, despite the lack of a United Nations mandate, and without help from Washington's closest ally, Britain where lawmakers blocked action.
"This is the indiscriminate, inconceivable horror of chemical weapons. This is what (President Bashar al-)Assad did to his own people," Kerry said.
"The question is what are we collectively, what are we in the world, going to do about it?"
The White House report said the judgment on the attack was based on "multiple" streams of intelligence including witness reports, satellite data and signals intercepts.
"The United States government assesses with high confidence that the Syrian government carried out a chemical weapons attack in the Damascus suburbs on August 21, 2013," the report said.
"We further assess that the regime used a nerve agent in the attack."
The unclassified assessment, which omitted sourcing and raw intelligence to protect U.S. espionage assets, also debunked the theory, advanced notably by Russia, that opposition forces could be to blame.
"We assess that the scenario in which the opposition executed the attack … is highly unlikely," the report said.
"Our high confidence assessment is the strongest position that the U.S. Intelligence Community can take short of confirmation."
The report said Washington had intercepted the communications of a senior Syrian official, who was intimately familiar with the operation, soon after rockets started raining down on civilians.
The official confirmed that chemical weapons were used, and was concerned with U.N. inspectors obtaining evidence, the report said.
Kerry said the U.S. government had repeatedly assessed the intelligence in the report, to avoid the kind of fiasco that erupted over botched covert material used to justify the Iraq war.
"We will not repeat that moment," he said.
And he argued that the world could not ignore the use of some of its most pernicious weaponry on some of its most vulnerable people.
"It matters because a lot of other countries whose policies challenge these international norms are watching," he said.
That included, he said, Iran with which Washington is locked in a long nuclear showdown.
"It's about whether Iran, which itself has been a victim of chemical weapons attacks, will now feel emboldened in the absence of action to obtain nuclear weapons.
"It's about Hezbollah and every other terrorist group that might contemplate the use of weapons of mass destruction."
Kerry also addressed domestic political opinion in his speech, mindful of polls showing little public support for American action in a new Middle Eastern war.
"We know that after a decade of conflict, the American people are tired of war," he said.
"But fatigue does not absolve us of our responsibility.
"History would judge us all extraordinarily harshly if we turned a blind eye to a dictator's wanton use of weapons of mass destruction against all warnings, against all common understanding of decency."
A window for U.S. action was opening with the expected departure of U.N. inspectors from Syria on Saturday.
Obama is expected to leave on a trip to Sweden and Russia for the G20 summit on Tuesday, and military action would be unlikely to take place with him overseas.
Photo Credit: AFP/Saul Loeb