U.S. Spacecraft Flies By Pluto After 9-Year, 3 Billion-Mile Trip
@reuters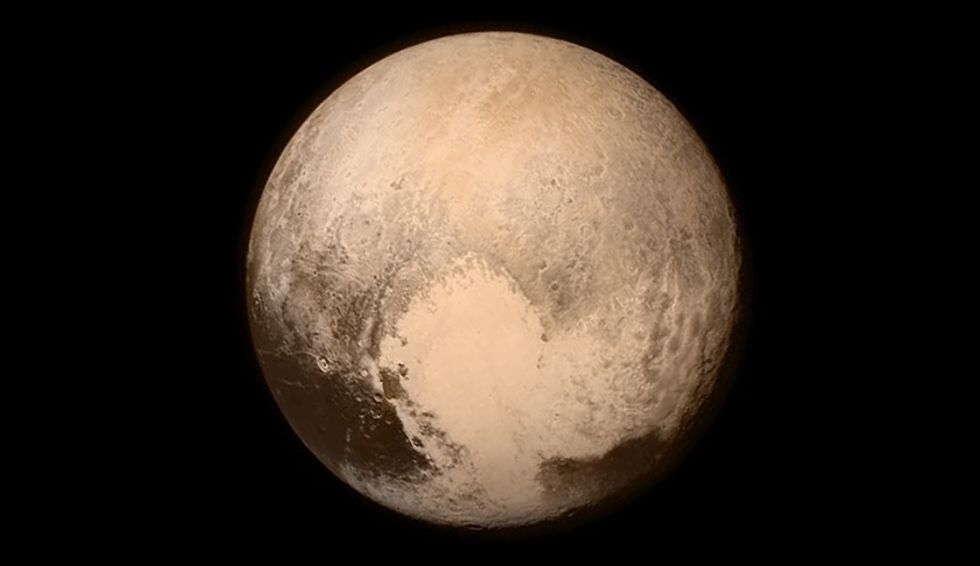 By Irene Klotz
LAUREL, MD (Reuters) – More than nine years after its launch, a U.S. spacecraft sailed past Pluto on Tuesday, capping a 3 billion mile (4.88 billion km) journey to the solar system's farthest reaches, NASA said.
The craft flew by the distant "dwarf" planet at 7:49 a.m. after reaching a region beyond Neptune called the Kuiper Belt that was discovered in 1992. The achievement is the culmination of a 50-year effort to explore the solar system.
"It's truly a mark in human history," said John Grunsfeld, NASA's associate administrator for science from the mission control center at Johns Hopkins University Applied Physics Laboratory.
Final confirmation that New Horizons passed some 7,800 miles (12,550 km) from Pluto was expected at 8:53 p.m. The spacecraft is so far from Earth that radio signals, traveling at the speed of light, take about four and a half hours to reach Earth.
"We'll get information from the spacecraft and know if it's healthy," said Alice Bowman, the mission operations manager.
By then, New Horizons will have spent nearly a day in radio silence, running through a tightly choreographed series of observations as it shoots past Pluto and its entourage of five moons, traveling at about nine miles (14 km) per second.
For several hours following closest approach, the diminutive nuclear-powered probe, which is about the size of a baby grand piano, will look back at Pluto, now backlit by the sun, to study its atmosphere using radio signals beamed from Earth as a probe.
Scientists have many questions about Pluto, which when New Horizons launched in 2006 was still considered the solar system's ninth planet. It was demoted to the status of "dwarf planet" after the discovery of other Pluto-like, ice-and-rock worlds orbiting beyond Neptune in the Kuiper Belt.
The objects are believed to be remnants from the formation of the solar system 4.6 billion years ago.
New Horizons doesn't carry the propellant needed to fire braking rockets that would trim its speed so it could slip into orbit. Its cameras and science instruments must work on the fly.
It will take about 16 months for New Horizons to transmit back all the images and measurements taken during Tuesday's flyby. By then, the spacecraft will be even deeper into the Kuiper Belt, heading for a possible follow-on visit to one of Pluto's cousin.
(Editing By Frank McGurty)
Image: NASA