U.S. Stocks Jump 1 Percent As Bernanke Signals More Easy Money
@AFP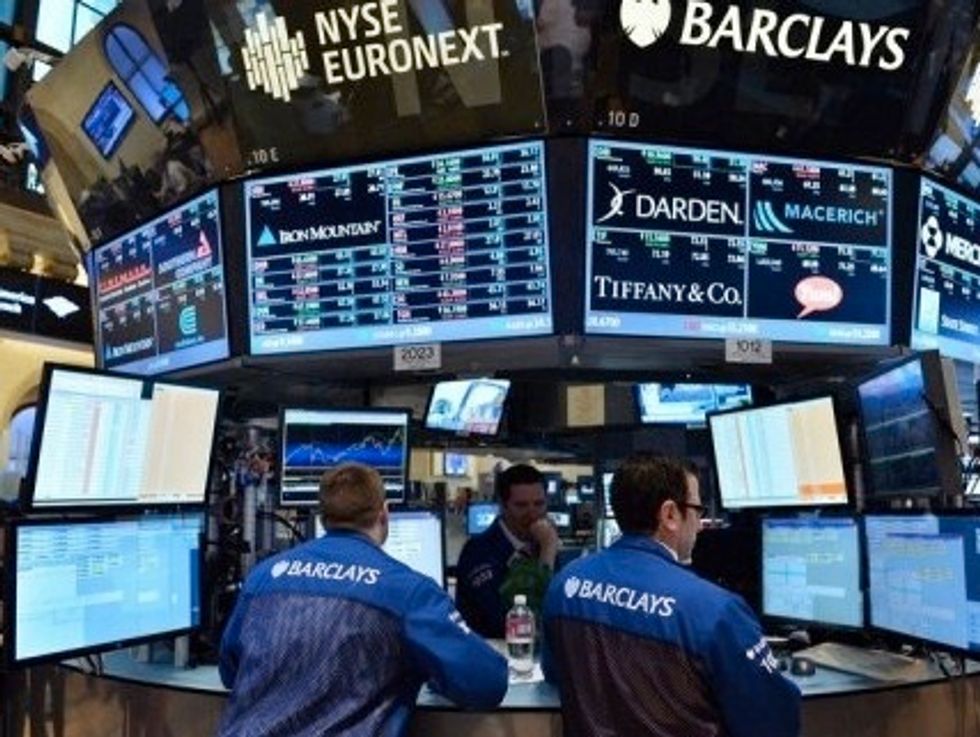 NEW YORK (AFP) – U.S. stocks Thursday surged higher, following global equity markets that greeted fresh comments from Federal Reserve Chairman Ben Bernanke that monetary policy would remain accommodative until the economy improves.
About 45 minutes into trade, the Dow Jones Industrial Average jumped 143.84 (1.00 percent) to 15,435.50.
The broad-based S&P 500 rocketed 17.25 (1.04 percent) to 1,669.87, while the tech-rich Nasdaq Composite Index rose 39.19 (1.11 percent) to 3,559.95.
Bernanke, responding to questions following a speech in Boston, said highly accommodative monetary policy was needed "for the foreseeable future" given the weak labor market and low inflation.
Bernanke's comments made clear that while the Fed may taper its bond-buying program this year, such a move did not imply a rise in interest rates.
Leading Asian equity markets rose as did European exchanges, with Germany's DAX index up 1.0 percent and France's CAC 40 index up 0.6 percent.
The jump in stocks came despite a rise in initial U.S. jobless claims to 360,000 in the week ending July 6, above the 345,000 expected by analysts.
Miners Freeport-McMoran Copper & Gold and Barrick Gold Corp. rose 4.4 percent and 5.6 percent after metals prices surged following Bernanke's comments, which drove the dollar lower.
Microsoft gained 1.5 percent after announcing a wide-ranging reorganization. CEO Steve Ballmer said the "One Microsoft" strategy would seek to bring together diverse segments such as Windows, Windows Phone, Xbox, Surface, Office 365 and others, integrating efforts around its software and devices.
Pharmaceutical company Celgene jumped 7.1 percent after announcing that a study of its Revlimid medicine resulted in improving health for patients with multiple myeloma.
Costco added 1.4 percent after reporting that net sales in June rose eight percent from the comparable period a year ago.
Chevron rose 0.2 percent despite reporting that international oil and gas volumes in the first two months of the second quarter fell 71,000 barrels a day from the first quarter level, a drop of about 5.5 percent. Chevron reports earnings Aug. 2.
Bond prices rose. The yield on the 10-year Treasury nosedived to 2.58 percent from 2.68 percent late Tuesday, while the 30-year fell to 3.63 percent from 3.69 percent. Bond prices and yields move inversely.
Photo Credit: AFP/Stan Honda