U.S. Stocks Tumble On News Of Malaysia Airlines Crash
@AFP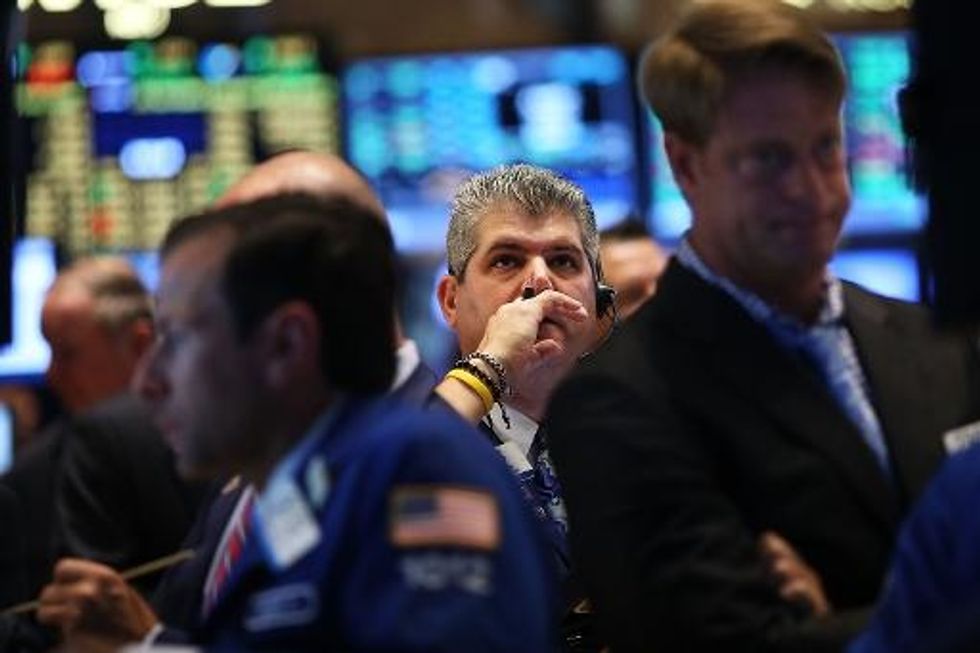 New York (AFP) — U.S. stocks sank Thursday as news of a Malaysia Airlines passenger plane crash in Ukraine and suggestions it was shot down sparked worries of an escalating conflict with Russia.
Near 1700 GMT, the Dow Jones Industrial Average dropped 43.74 (0.26 percent) to 17,094.46.
The broad-based S&P 500 fell 9.58 (0.48 percent) to 1,971.99, while the tech-rich Nasdaq Composite Index tumbled 32.29 (0.73 percent) to 4,393.67.
The three indices pared back earlier losses triggered by the crash reports, which were followed by statements by Malaysia Airlines that it had lost contact with a Boeing 777 en route from Amsterdam to Kuala Lumpur and by the Ukrainian president, who said the plane may have been shot down.
"We do not exclude that the plane was shot down and confirm that the Ukraine Armed Forces did not fire at any targets in the sky," Ukraine President Petro Poroshenko said in a statement.
Other markets also moved on the news. Prices of U.S. Treasury bonds, viewed as a refuge in times of crisis, jumped.
The yield on the 10-year US Treasury fell to 2.48 percent from 2.54 percent Wednesday, while the 30-year dropped to 3.30 percent from 3.35 percent. Bond prices and yields move inversely.
The VIX volatility index, a proxy on market anxiety, jumped 14 percent to 12.54.
Equity markets in Britain, France, and Germany also fell sharply.
The plane crash in rebel-held eastern Ukraine comes at a sensitive moment in a regional crisis that has stoked tensions between Russia and the West.
On Wednesday, the U.S. and the European Union strengthened sanctions on Moscow, with President Barack Obama criticizing Russia for its "continued provocations in Ukraine."
Fighting between the Western-backed Kiev government and pro-Russia separatists in eastern Ukraine has left scores of civilians killed since the weekend.
The Russians responded angrily to the sanctions, calling the latest punishments "blackmail" and threatening retaliation.
The plane crash is "really bad news, much more serious than the sanctions announced yesterday by Washington," said Gregori Volokhine, president of Meeschaert Capital Markets.
"This calls into question the security of air routes in this part of the world and other sensitive regions" like the Middle East, Volokhine said.
"Air travel is very important for the economy," he added. "This is very destabilizing for travelers and investors."
Shares of U.S. airlines dropped, including American Airlines (-1.9 percent), Delta Air Lines (-1.7 percent), United Continental (-1.5 percent).
Shares of airline manufacturer Boeing were up 0.1 percent.
"Our thoughts and prayers are with those on board the Malaysia Airlines airplane lost over Ukrainian airspace, as well as their families and loved ones," Boeing said in a statement.
"Boeing stands ready to provide whatever assistance is requested by authorities."
AFP Photo/Spencer Platt
Interested in economic news? Sign up for our daily email newsletter!