U.S. Strikes Continue Against Islamic State In Iraq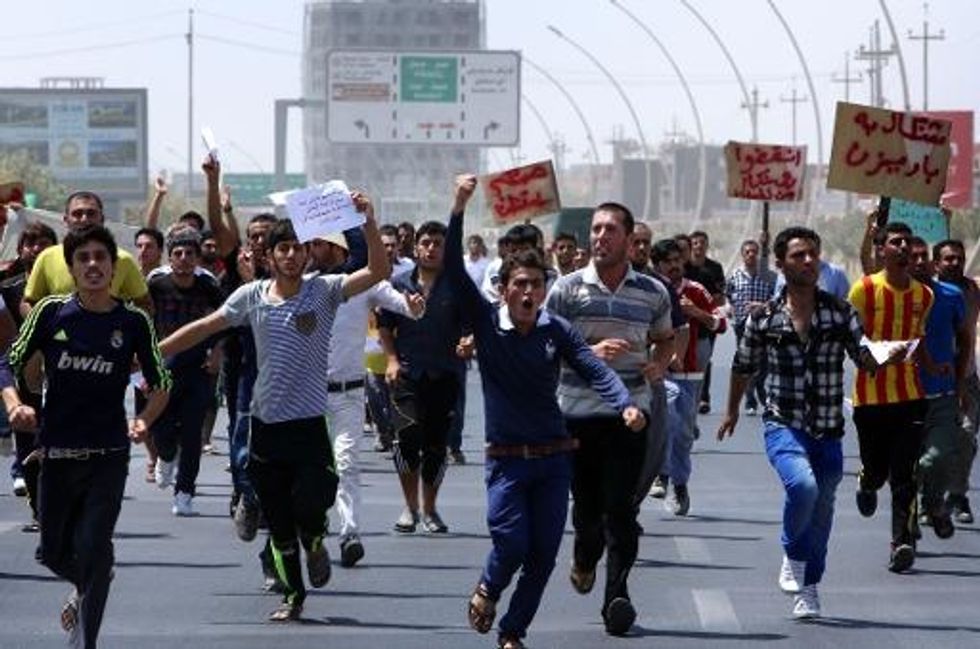 By Adam Ashton, McClatchy Foreign Staff
BAGHDAD — More American air strikes pounded Islamic State positions in Northern Iraq on Sunday while lawmakers in Baghdad struggled to choose a prime minister to lead them in forming a new government.
U.S. Central Command reported that piloted and unmanned aircraft carried out four strikes against militants outside of the Kurdish city of Irbil early Sunday, hitting Islamic State armored vehicles and a mortar position.
Kurdish leaders reported that the strikes helped them retake ground they had lost to the Islamic State, reclaiming the villages of Makhmur and Gwer.
"We are so proud," said Serwan Abdullah Ismail, a Kurdish member of parliament who added that he wrote a thank-you letter to President Barack Obama for approving the air strikes.
The fighting unfolded as lawmakers were on a path to limp past another deadline to decide whether embattled Prime Minister Nouri al Maliki should receive a third term leading the government.
His traditional allies in the Shiite bloc called the National Iraqi Alliance have been meeting for several days to choose his successor.
They were supposed to nominate a prime minister by late Sunday according to a constitutional deadline, but most said the decision would not come until later this week.
Maliki is digging in to hold on to his job. Thousands of people marched through Baghdad on Saturday to demonstrate their support for his third term, and his face is plastered throughout the city on banners linking him to the state's armed forces.
He has cast himself as the defender of the country in a troubled time, and there is no clear candidate to take his place. The National Iraqi National Alliance effectively gets to choose the prime minister because its members hold the most seats in parliament.
Some lawmakers closest to Maliki are sticking with him, but there are divisions within the alliance and many say Iraq needs new leadership to overcome the Islamic State.
"It's clear that every bloc rejected him," said Yasir Saleh, a political adviser to a group of Shiite lawmakers within the National Iraqi Alliance.
Maliki "knows that. A new prime minister will absolutely be better. He'd have a new chance with people."
Critics call Maliki a divisive figure who alienated the country's Sunni minority. Sunni extremists have taken over large swaths of the country's west and north while carrying out frequent bombings within Baghdad.
Maliki's "staying in power will be the end of Iraq," said Maysoon al Damluji, a Sunni lawmaker.
U.S. officials have made their preference for a new prime minister clear to Iraqi lawmakers. Obama in his remarks since approving limited military intervention on Thursday has said Iraq should choose a new prime minister to unite the country.
That's one reason Iraqi lawmakers say it's time for Maliki to go. They believe the U.S. will provide more assistance if parliament chooses a different prime minister.
"No doubt about that," Saleh said. "This is good news. The bad news is (the U.S. intervention) is limited."
So far, the strikes are popular among Iraqi lawmakers who say they wish the United State had intervened earlier to prevent the Islamic State's swift drive through central and northern Iraq's Sunni Arab provinces.
America "should have a major role in building a new Iraqi state. Otherwise you should leave because you are doing nothing," said Razzaq al Haidari, a member of parliament from the Shiite Badr bloc.
His party is one that pushed for the withdrawal of U.S. forces from Iraq during the American occupation. Now, he said, "We call on the U.S., as the builder of democracy, to the defense of our country."
Islamic State has displaced hundreds of thousands of Shiite Arabs, Christians, Kurds and Yazidis since it overran the city of Mosul in June.
Human Rights Watch estimated that the Islamic State advance into Kurdish territory sent more than 150,000 Yazidis — members of a Kurdish religious minority — fleeing from their villages. Witnesses from Mosul have reported seeing Yazidi women auctioned off by militants.
Some lawmakers vented that Shi'a and Sunni Muslims who don't support Islamic State deserved American protection well before Obama's decision to protect U.S. interests in the Kurdish city of Irbil.
"We feel sorry that America didn't act from the very beginning. Why did they wait until the (Kurds) were hit? They should have acted sooner," said Jamila Obeidi, a Sunni lawmaker from Mosul.
AFP Photo/Safin Hamed