U.S. Study: Risk Of Dying From Cancer Down 20 Percent
@AFP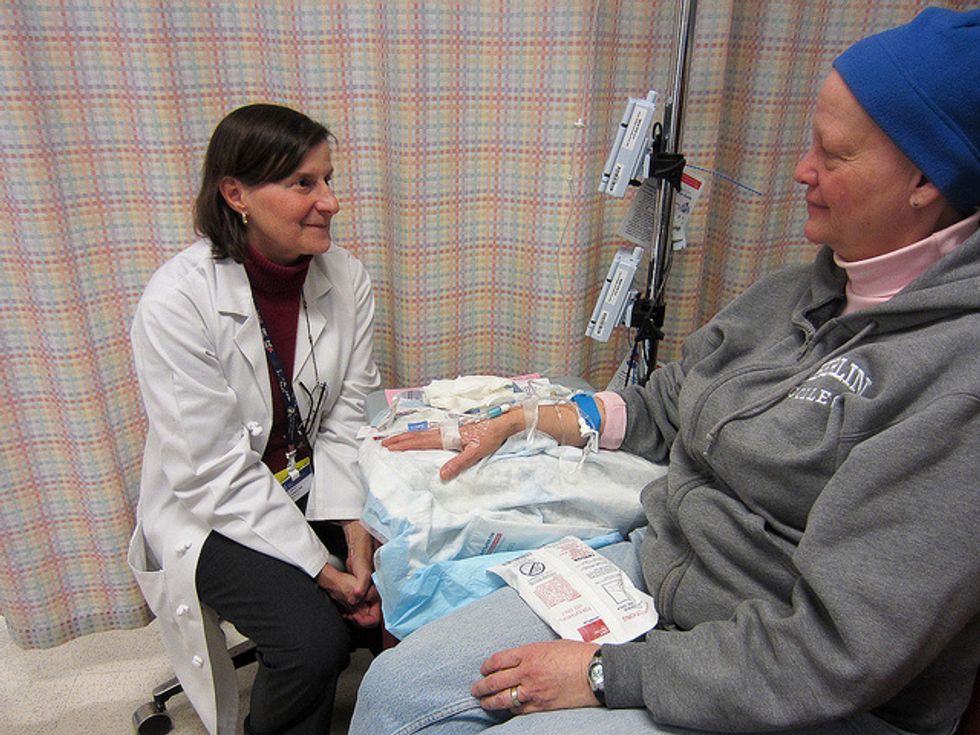 Washington (AFP) – The risk of dying from cancer in the United States has declined 20 percent over the past two decades, according to the American Cancer Society's annual report out Tuesday.
However, cancer, a complex disease that has largely eluded attempts at a cure, will remain a top killer in 2014, taking some 1,600 U.S. lives per day, it warned.
The group's yearly report is based on data from the Centers for Disease Control and Prevention, the National Cancer Institute and the National Center for Health Statistics.
The most common cancers for women are breast, lung and colon cancer, while in men they are prostate, lung and colon cancer, it said.
Breast cancer is expected to account for 29 percent of new cancers in women.
Lung cancer remains the most lethal, and is responsible for one in four cancer deaths among men and women combined.
The declining popularity of smoking among U.S. adults is the main reason why cancer deaths are going down, said William Oh, chief of medical oncology at Mount Sinai hospital in New York.
"A big part of this decrease in mortality is certainly linked to the decrease in cigarette smoking because we know that lung cancer is such a lethal disease that once you have it, very often you will die of it," Oh told AFP.
People are also being diagnosed sooner and receiving better treatments today than 20 years ago, said Oh, who was not involved in the study.
The report predicts there will be 1,665,540 new cancer cases and 585,720 cancer deaths in the United States in 2014.
Over the past 20 years, cancer death rates have continually declined, avoiding more than 1.3 million deaths from 1991 to 2010.
The combined cancer death rate registered at 215.1 per 100,000 in 1991 but fell to 171.8 per 100,000 in 2010.
More men's lives have been saved (952,700) than women's (387,700) over that time span.
Women are still getting cancer at about the same rate, at least over the past five years for which data are available (2006-2010), while in men cancer incidence has declined 0.6 percent per year.
Cancer death rates have fallen 1.8 percent per year in men and 1.4 percent in women over those five years.
But while advances have been made in treatment and diagnosis, the complexity of tumors and how they develop in different parts of the body continues to thwart the most expert bids to eradicate cancer.
"One of the key issues around cancer is it is not just one disease. It is truly multiple diseases," Oh said.
"It makes it hard to find one drug that will treat every single person with lung cancer, or one treatment that will work in every single person with breast cancer."
The report said the greatest success against cancer has been seen in African-American men aged 40 to 49, with a 55 percent decline in cancer death rates from 1991 to 2010.
"The halving of the risk of cancer death among middle aged black men in just two decades is extraordinary," said John Seffrin, chief executive officer of the American Cancer Society.
"But it is immediately tempered by the knowledge that death rates are still higher among black men than white men for nearly every major cancer and for all cancers combined."
Stephanie Bernik, chief of surgical oncology at Lenox Hill Hospital in New York, described the report's findings as "welcome news."
"We have made great strides in gaining knowledge as to how cancer starts and how it can be prevented and treated," she said in an email to AFP.
"Obviously, more work needs to be done, but the decreasing rate of cancer is an encouraging sign that we are heading in the right direction."
Photo: kbrookes via Flickr