U.S. Supreme Court Is Asked To Block Wisconsin's Voter ID Law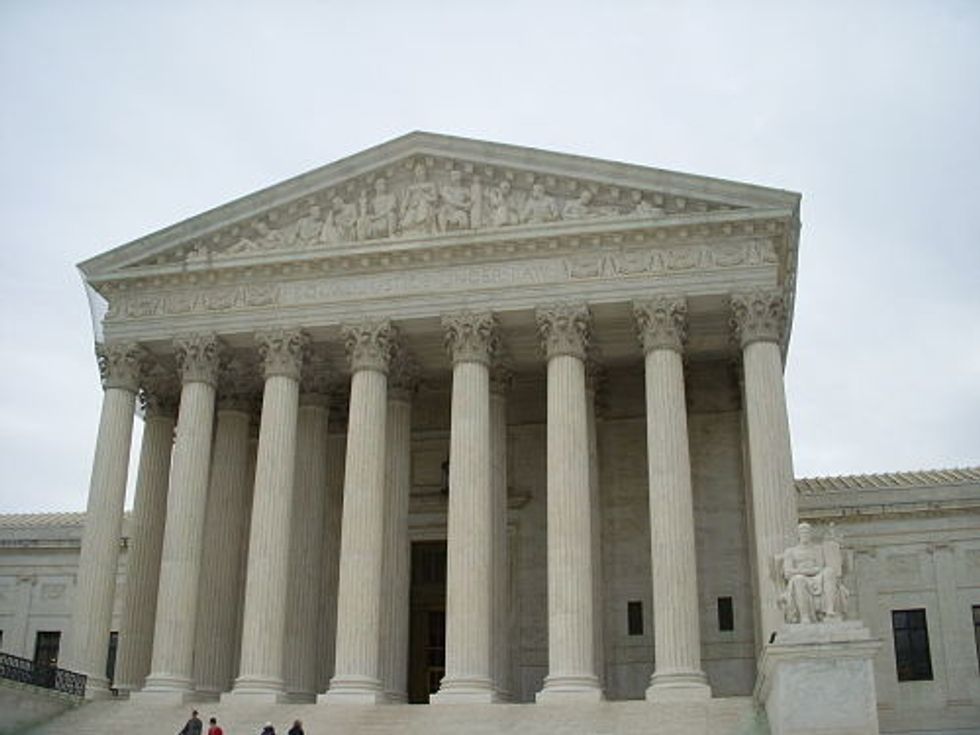 By Jason Stein, Milwaukee Journal Sentinel
MILWAUKEE — Opponents of Wisconsin's photo ID requirement for voters took their case to the U.S. Supreme Court on Thursday, seeking an emergency halt to the state's implementation of the law before the Nov. 4 election.
In other action Thursday, the nation's highest court passed over its first opportunity to take action on gay marriage cases from Wisconsin and other states, leaving that historic question for later in its term.
In their petition, voter ID opponents told the Supreme Court that there's not enough time to properly implement the law before the tight election between GOP Gov. Scott Walker and Democratic challenger Mary Burke that is five weeks away.
On Sept. 12, the U.S. 7th Circuit Court of Appeals in Chicago ruled that the law could be put in place for the election while a lawsuit over the requirement grinds on, leaving state officials and local election clerks sprinting to put the law in place.
"Thousands of Wisconsin voters stand to be disenfranchised by this law going into effect so close to the election. Hundreds of absentee ballots have already been cast, and the appeals court's order is fueling voter confusion and election chaos. Eleventh-hour changes in election rules have traditionally been disfavored precisely because the risk of disruption is simply too high," said Dale Ho, director of the Voting Rights Project of the American Civil Liberties Union, which represents the voters suing the state.
The request was directed at Justice Elena Kagan, the member of the nine-person Supreme Court who is responsible for handling such petitions from the 7th Circuit region, which includes Wisconsin, Illinois and Indiana.
Kagan, an appointee of President Barack Obama, is likely open to the arguments of the voter ID opponents and has the ability to take action on their appeal on her own. But legal experts said it's unlikely that Kagan would act without consulting her colleagues in a case such as this one.
Wisconsin Attorney General J.B. Van Hollen, who is defending the law in court, said that blocking voter ID anew would sow further confusion and bring about the effect that the law's opponents want to avoid.
"This is surprising and disappointing given the ACLU's previously stated concern over changing the law so close to an election. Apparently, they've abandoned that view and are no longer concerned about voter confusion," Van Hollen said.
Laurel Patrick, a spokeswoman for GOP Gov. Scott Walker, had no immediate comment on the latest news but last Friday said that voter ID was a "common-sense reform" that gave people more confidence in elections.
"These reforms make it easy to vote but harder to cheat," Patrick said.
The law requires voters to show certain government-issued photo IDs, such as a driver's license, to vote. The law was also upheld by the Wisconsin Supreme Court in a pair of rulings in August.
Last week, opponents of Wisconsin's voter ID law fell just short of getting the full 7th Circuit to reconsider their recent loss in the case before a panel of three judges from that appellate court.
Those suing over the law asked the full 10-member court to reverse that decision and came just one vote shy of getting all 10 judges to hold a hearing on the case. The members of the court split 5-5 on whether to hold the hearing, which means that the request did not get a majority of votes and failed as a result.
The five 7th Circuit judges who voted to rehear the case included two judges appointed by Republicans and three appointed by Democrats. They were: Diane P. Wood and Ann Claire Williams, both appointed by President Bill Clinton; Richard A. Posner, appointed by President Ronald Reagan; Ilana Diamond Rovner, appointed by President George H.W. Bush; and David F. Hamilton, appointed by President Barack Obama.
In the arguments released Wednesday, Williams wrote on behalf of that group of five judges that their court should not have acted so soon before Wisconsin's elections.
"Our court should not accept, as the state is willing to do, the disenfranchisement of up to 10 percent of Wisconsin's registered voters. We certainly should not do so when there is not evidence in Wisconsin whatsoever of the type of fraud the law is designed to prevent against," Williams wrote.
All five who declined to take the case were appointed by Republicans, and three of them sat on the panel that first decided the case. The five were: Joel M. Flaum, Frank H. Easterbrook and Michael S. Kanne, all of whom were appointed by Reagan; and Diane S. Sykes and John Daniel Tinder, who were both appointed by George W. Bush.
That group pointed to past rulings upholding voter ID laws, principally the U.S. Supreme Court decision on Indiana's law in 2008. In their unsigned opinion, that bloc of five judges acknowledged that the trial court judge in Wisconsin established different facts from those in the Indiana case but signaled that they didn't believe that this new evidence would outweigh past findings of law.
"Those decisions give Wisconsin a strong prospect of success on appeal. A second important consideration is the public interest in using laws enacted through the democratic process, until the laws' validity has been finally determined," the judges wrote.
The original 7th Circuit panel was made up of Easterbrook, Sykes and Tinder. Sykes formerly served on the Wisconsin Supreme Court.
The U.S. Supreme Court upheld Indiana's voter ID law in 2008, and last month the panel considering the Wisconsin case likewise upheld the law here, calling the Badger State's voter ID law "materially identical" to Indiana's.
Clerks in Wisconsin are now contacting voters who have cast their absentee ballots to tell them to provide copies of their IDs. The same message is also being delivered to those who have received absentee ballots but not yet returned them.
Absentee ballots from voters who have not provided IDs will not be counted. More than 11,800 people had requested absentee ballots before the 7th Circuit decision on Sept. 12.
The voter ID law requires people to show a specific type of photo ID to vote _ driver's licenses, state ID cards, passports, limited types of student IDs, military IDs, naturalization certificates or IDs issued by a tribe based in Wisconsin.
Those who go to the polls without the proper form of ID can cast provisional ballots. If the voters show a poll worker or clerk a copy of their ID by 4 p.m. on the Friday after the election, their provisional ballots will be counted.
At trial, U.S. District Judge Lynn Adelman in Milwaukee determined about 300,000 registered voters in Wisconsin do not have IDs that qualify for voting. About 70,000 are eligible to vote but not registered.
Attorneys opposed to the ID law said it would be impossible to issue credentials to all those voters between now and Election Day.
They said many of them would not attempt to get IDs because they didn't know about the ID requirement, couldn't get time off from work or didn't have a way to get to a Division of Motor Vehicles service center.
Photo: Matt H. Wade via Wikimedia Commons