U.S. Teen Star Mikaela Shiffrin Soaks In First Olympic Experience, Skis To Fifth In Giant Slalom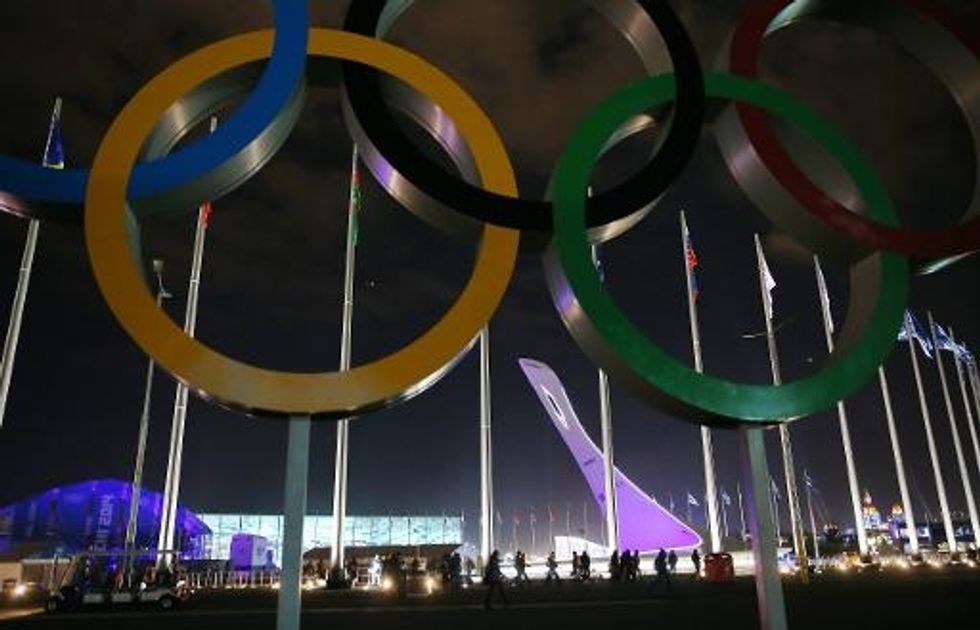 By Michelle Kaufman, The Miami Herald
KRASNAYA POLYANA, Russia – The sleet and hail were getting heavier, rain-drenched fans scurried for cover at the Rosa Khutor Alpine Center Tuesday afternoon, but Jeff Shiffrin, peeking out from his sopping wet jacket, didn't seem in any hurry to leave.
His daughter, 18-year-old Mikaela, had just placed fifth in her Olympic giant slalom debut. She finished a half-second behind Slovenian gold medalist Tina Maze (2:36.87) and .23 of a second from a bronze medal. Anna Fenninger of Austria won silver and defending champion Viktoria Rebensburg of Germany took bronze.
Considering Shiffin's strongest event is the slalom, which is yet to come on Friday, her father had nothing but praise for her. He greeted her Tuesday morning no differently than he had before any other race of her life: "Good morning, Mikaela. Have fun today. Bye. That's it."
He delighted in watching his daughter come down an Olympic slope (well, what he could see of it, anyway, with the bad weather).
"I'm sticking with the same old line from the last 20 years, what it's about is seeing her come through with a smile and do the best job she can do," he said. "It doesn't matter if it's here or the training hill. When it goes really well here – and it went almost really well today, it's super exciting. Those are the magical moments that take your breath away."
Shiffrin was still smiling as she met with reporters after her two runs.
"It was a pretty spectacular day," she said. "It's not sunny, but on the other hand, who gets to race their first Olympics in rain this bad when there's still snow on the ground, right?"
She said the messy conditions reminded her of Vermont, where she attended Burke Mountain Academy, a school for elite skiers.
"It's pretty much exactly what I can remember from Vermont, which isn't fair because there were also a lot of nice days," she said. "But you remember the worst days. This wasn't necessarily the worst case scenario. The visibility was better than I thought it was going to be and the conditions were really good for how much it's precipitating. It was a pretty fair race. I'm really in awe of the top three girls."
Driving snow and freezing rain delayed the second run for 15 minutes and course workers spread salt over the course to firm up the snow, which was already a bit slushy from last week's warm, sunny weather.
"These are the kinds of conditions that years of experience help you with," Jeff Shiffrin said. "All sorts of different conditions, raining and fog. I think some of the older ladies were able to turn that a little to their advantage."
Shiffrin arrived to high expectations here as Team USA's alpine "It Girl." With the absence of injured Lindsey Vonn, the spotlight turned to Shiffrin, who has had remarkable success for a skier her age. She was one of the featured athletes on the cover of the Sports Illustrated Olympic preview.
She is already famous and known simply as "Mika" in Europe, where last February in Schladming, Austria, her career truly took off. At 17, she became the youngest female world ski champion since 1985 and the youngest American ever to hold a world title.
This season, she won three of five World Cup slalom races and finished second once, making her a bona-fide favorite in Sochi. Through five giant slalom races she had a second-place finish and a third-place finish.
Asked if she was thinking about a medal as she left the starting gate for her second run, Shiffin smiled and said: "I'm thinking gold medal."
But she kept the result in perspective.
"I wanted a gold, but I also think this was meant to happen," she said. "I'll learn from it. The next Olympics I go to, I'm sure as heck not finishing fifth. I thought my first GS win would be at the Olympics. But it's something I accept. I got fifth at the Olympics, Four girls skied better than I did and I'm really excited to analyze their skiing and mine and learn from it."
Her father, surrounded by reporters, said perhaps it is "a silver lining" that Mikaela won't have to deal with media distractions over the next 48 hours leading into her strongest event.
Meanwhile, Maze earned her second gold medal of these Olympics. She celebrated by plopping belly first into the snow and pretending to swim (which made some sense, considering how much it was raining by that point). She tied for gold in the downhill last week on a bright, sunny day.
"The weather was playing games with us, but I don't care if it is raining, sunny because I won the gold medal," Maze said. "We had two weeks of sun and I know it couldn't hold on. Even though it wasn't perfect weather, it was perfect racing. I'm a little wet, but it's OK."
American Julia Mancuso, the GS winner at the 2006 Turin Olympics and bronze medalist in Super Combined here, skied off course midway through her first run and didn't finish.
"It's the Olympics and you have to go for it, and I caught a really soft spot and it twisted me," she said. "With the snow surface not being consistent, you can't really see it, so it's hard with the timing and I was losing that a few times."
Finishing 67th of the 67 women who completed the race was British pop violinist Vanessa (Mae) Vanakorn, who competed for Thailand.
"It was cool," she said. "I nearly crashed three times, but I made it down and that was the main thing. Just the experience of being here is amazing. I was worried I was going to get lost, but I just about managed it."
AFP Photo/Loic Venance