U.S. Treasury Chief Sees Asia-Pacific Trade Deal By Year-End
@AFP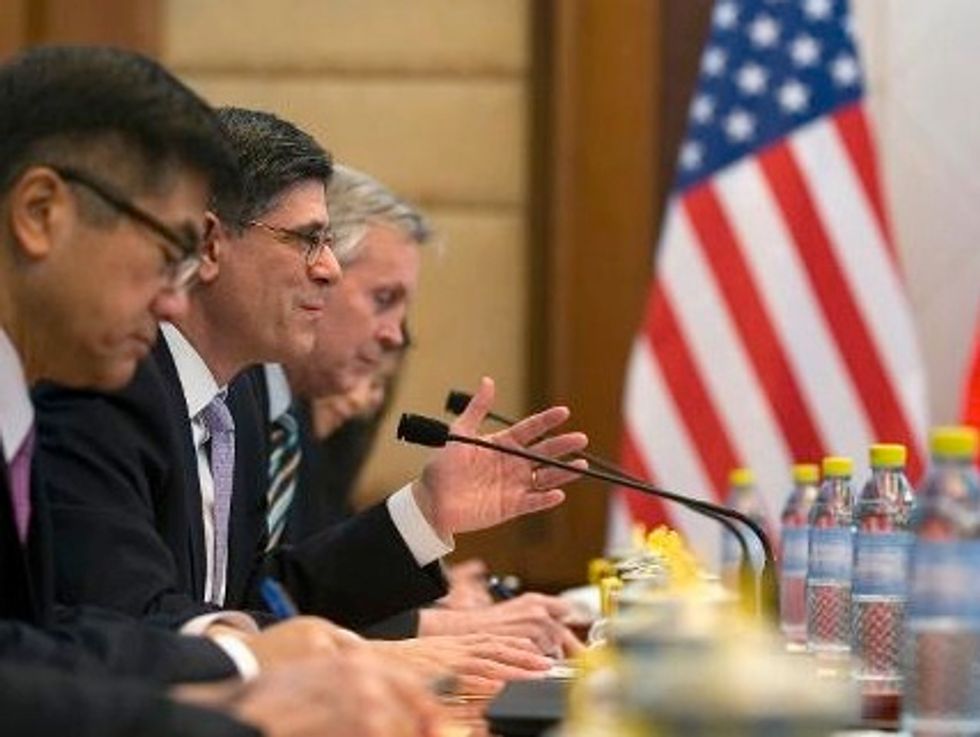 Beijing (AFP) – U.S. Treasury Secretary Jacob Lew on Friday expressed confidence that an ambitious Asia-Pacific free trade pact under negotiation can be clinched by the end of this year.
"While we still have work to do, my conversations leave me with the hope that we can still complete TPP this year," Lew told reporters in Beijing, referring to the Trans-Pacific Partnership.
Besides the United States, the pact would include 11 other nations, among them Australia, Japan, Malaysia and Mexico, though it excludes regional powerhouse China as well as Indonesia, southeast Asia's largest economy.
Lew spoke as he wrapped up an Asian trip that also included stops in Japan, Singapore, Malaysia and Vietnam.
"In each capital, it was clear that this is in their interest," he said of the TPP. "There was a very strong focus on economic growth and TPP as a part of that."
U.S. President Barack Obama has said he wants to reach an accord by the end of this year on the arrangement, which would encompass more than 40 percent of the global economy.
Washington has spearheaded negotiations, describing the TPP as creating "gold standards" for the 21st century economy by taking into account fast-changing sectors such as intellectual property.
Nevertheless, there has been resistance within some of the TPP members to many of its provisions, and views have been mixed whether a deal matching U.S. ambitions can be concluded by the end of this year.
Separately, Indonesia and China are involved in plans for a rival pact involving 16 countries around the region, which is being spearheaded by the Association of Southeast Asian Nations.
Regarding the broader issue of economic growth, Lew said that there was broad agreement in discussions on his trip.
"In all my conversations, there was a consistent theme — the need for strong demand-led growth where markets are open."
In China, Lew held talks with senior officials, including President Xi Jinping, Vice Premier Wang Yang and Zhou Xiaochuan, governor of the People's Bank of China, the central bank.
"The common focus between the U.S. and China is the importance of laying a foundation for future growth," Lew told reporters. "It's in both of our interests for both of us to succeed."
In a meeting with Xi on Friday, Lew told the Chinese leader that the U.S. and China can work together to help both themselves and the wider global economy.
"By advancing complementary reforms and levelling the playing field, together we can pave the way toward creating jobs and growth that is strong, balanced and sustainable — not just for our economies, but also for the global economy," Lew told Xi, according to the Treasury Department.
Lew earlier, in talks with Wang, praised an initial Chinese Communist Party announcement on reform intentions, saying it drew up an "ambitious agenda", according to Treasury.
China's ruling party concluded a meeting of its Central Committee on Tuesday, initially promising to deepen economic reforms to give markets a "decisive" role in allocating resources.
"I think there is going to continue to be progress, but the question is how much and how quickly," Lew told reporters.
"The direction is significant, but the character and the pace of change matters."
Shortly after Lew spoke, Chinese state media announced further details decided at the meeting, including an easing of China's one-child policy and abolishing its controversial "re-education through labor" system.
AFP Photo/Andy Wong