U.S. Vs. Russia: A New Cold War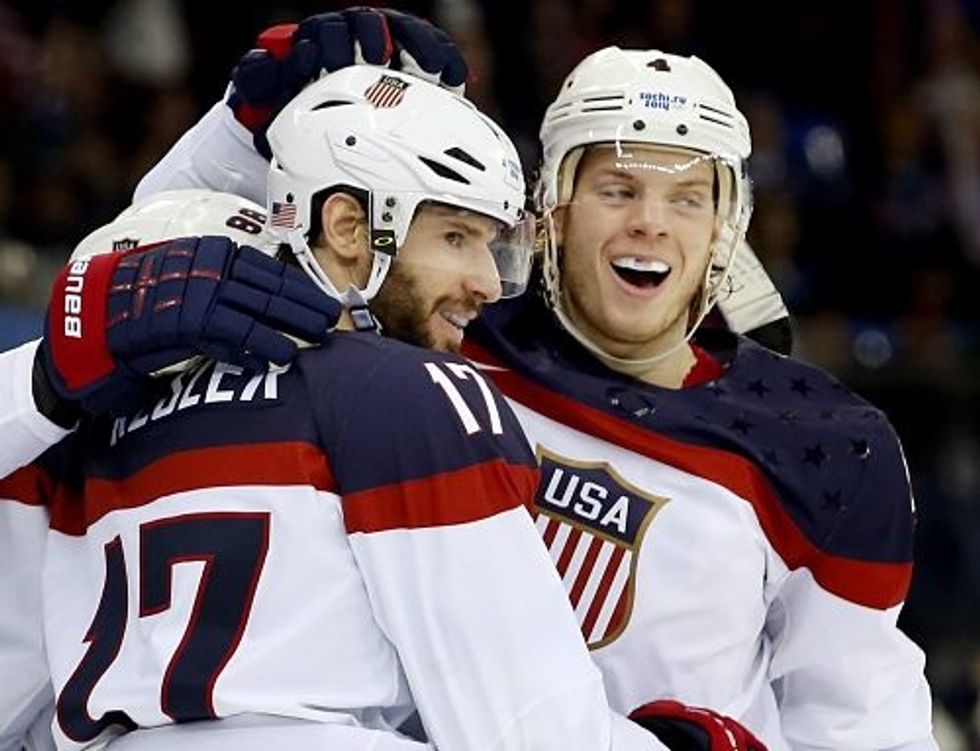 By J. Brady McCollough, Pittsburgh Post-Gazette
SOCHI, Russia — Before his debut as Team USA's head coach, Dan Bylsma slammed four cups of coffee.
And, by the looks of him as he took his spot behind an Olympic bench for the first time, the caffeine binge was achieving its desired effect. He stood there locked in position, with his arms stoically crossed over a crisp blue suit, glaring onto the ice while his players warmed up. This was a man ready for anything.
"On the dawn of our first game here in the Olympics," Bylsma said, "it got real serious for me."
Since June, Bylsma, the Penguins coach, had known this day would come. He'd been preparing for it his entire life, as he rose from his backyard ice rink in Grand Haven, Mich., to Bowling Green college hockey player to NHL grinder to coach of the Wilkes-Barre/Scranton Penguins to this absurd moment. For the son of an accountant who majored in that exacting discipline himself, there never could be enough preparation. And yet, in the millisecond that it took for the puck to drop to the ice of Shayba Arena Thursday afternoon, Bylsma had no choice but to let it go.
He simply had to trust his players, these younger men he had only coached for a handful of practices, which amounts to basically nothing in Dan Bylsma Standard Time. The first goal came from defenseman John Carlson, and that had to be a relief. The next six came in one of the greatest offensive barrages in the United States' Olympic history, and, before the second period ended, the game with Slovakia was over for all practical purposes.
The Americans had sent a message loud and clear with their 7-1 victory, and no translation was needed, especially here in Sochi: Bring on the Russians. Yep, that's what they said. You can print it.
The Russians! Saturday! Bylsma is a child of the 1980s, brought up on Herb Brooks' "Miracle on Ice" and Cold War propaganda, so he gets the rich history between these two teams, these two nations. The anticipation for the Group A match Saturday will be so out of control that Bylsma may need something stronger than java.
"Just arriving here," Bylsma said, "to the Olympic Games and the setting that it is, and being in Russia, playing against the Russians?…When we saw the bracket, with Game Two against the Russians on their home soil, we were pretty excited about the opportunity that was going to be. That's what we have in front of us now."
To get to that titanic clash in good standing, the Americans had to get past a Slovakia team that nearly beat Canada in the semifinals in the 2010 Vancouver Games, a team featuring NHL stars like Zdeno Chara and Marian Hossa.
While Team USA controlled the action, a goal by Slovaki's Tomas Tatar 24 seconds into the second period tied the score, 1-1. The pro-Slovakia crowd of 4,119 erupted, and it suddenly felt like a game. For about 62 seconds anyway, until a Ryan Kesler slap shot from the right faceoff circle found the net. Sixty-six seconds later, it was Paul Stastny scoring the first of his two goals in the United States' record-tying six-goal second period on an easy rebound in front of the net.
With 4:43 left in the second, Dustin Brown ended the American onslaught. It was at that point that Bylsma's counterpart, Slovakia coach Vladimir Vujtek, had seen enough. He called a timeout, maybe to take bets on how many goals the Americans would end up with. Over the loudspeaker, LMFAO's Party Rock Anthem played — a fitting tune because, for the Americans in attendance, the celebration was on.
If that beautiful display of offensive hockey wasn't enough, the Russians were leading lowly Slovenia by a score of only 3-2 next door at the Bolshoy Ice Dome. They won, 5-2, but it served as confirmation that, for this group of Americans, nine of whom had come so close to gold in Vancouver, there was nothing to be afraid of Saturday.
"Just going back to 1980," said Team USA fan Giovanni Barone, 43, of Los Angeles, "and thinking about all that history with the Russian teams, being on their turf and sticking it to them is going to be amazing."
The confidence of fans and players alike was soaring after Thursday, and for good reason. Bylsma just got another 60 minutes to watch his team play together, to see how they're adjusting to the system that he is implementing. To listen to the players, you'd think that he, assistant coach Tony Granato and acting Team USA general manager Ray Shero had basically just handed them the Penguins playbook. That has made it easier for defensemen Brooks Orpik and Paul Martin, who get to watch their stateside coach makes his own transition to the Olympic spotlight.
"He was a little quieter on the bench, wasn't yelling as much, Orpik said. "I'm sure he had some jitters. He probably didn't have too much to complain about today, either."
The rest of the American players are trying to get to know their coach. Blues forward T.J. Oshie says he can tell Bylsma is a players' coach because he's always talking to the guys in the locker room and making jokes. Fellow Blues center David Backes noted Bylsma's other side.
"He's obsessive almost about the details of the game, and that's what you want from your coach," Backes said. "He's done a lot in three days of practice and one game to be as prepared as he can be, and we owe some of the success we had today to his preparation."
After the game, the topic immediately turned to Team Russia. The Americans all agreed that there will be excitement playing the home team on its native ice, but they said to them it would be no different than taking on Canada twice in Vancouver. They know the history, but it's pretty much lost on them.
"I wasn't born yet," Orpik said, referring to the Miracle on Ice. "And I'm the second-oldest guy on the team. I don't think there's any pressure. It's mostly because of proximity, but everyone views Canada as our biggest rival. I don't mean to downplay it, it's just the way we've grown up. It's been pounded into our head that it's us and Canada."
If nothing else, the players should probably watch Rocky IV in their spare time before the game Saturday. Of course, Ivan Drago has nothing on Alexander Ovechkin and Evgeni Malkin, the Penguins star who will be determined to beat the Americans in front of his family and friends.
Bylsma probably won't sleep much in the next day. Knowing what he does about Malkin, they'd better keep that caffeine coming.
"Evgeni Malkin," Bylsma said, "I've seen him do things that I don't know what he's going to do next, and how he does it, offensively, with the puck. So to have a game plan or to tell someone what to expect, you might have to expect the unexpected against a player of that ilk.
"We have a little more information on how to get to Evgeni Malkin, but I'm not sure that's going to be the full story."
Photo: Carlos Gonzalez/Minneapolis Star Tribune/MCT