U.S. Widens Inquiry Of Duke Energy's Coal Ash Spill In North Carolina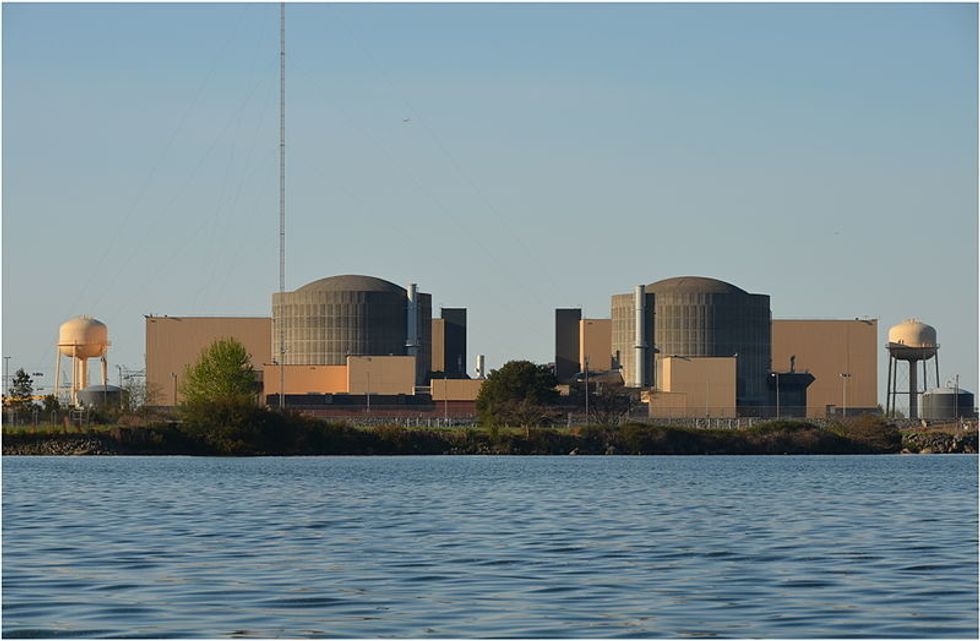 By David Zucchino, Los Angeles Times
RALEIGH, N.C. — Federal prosecutors have broadened their criminal investigation of state environmental regulators after a massive coal ash spill February 2 that contaminated the Dan River in North Carolina, issuing 20 more subpoenas demanding documents about communications and possible payments and gifts.
The subpoenas, disclosed Wednesday, require the state Department of Environment and Natural Resources to produce records of any payments or "items of value" received from or provided to Duke Energy, the giant utility whose coal ash containment basin spilled as much as 82,000 tons of toxic coal and 27 million gallons of contaminated water into the river.
About 19 agency employees are required to produce documents — "to include but not limited to: cash, check, wire transfer and stock transfer," the subpoenas say — and most are compelled to testify before a federal grand jury March 18. In an attached letter, the U.S. attorney in Raleigh, Thomas G. Walker, described a "criminal investigation of a suspected felony."
The latest subpoenas seek records not only about the Feb. 2 spill but about dealings between the agency and Duke Energy regarding coal ash ponds at all 14 North Carolina Duke plants since 2009.
Duke Energy, the country's largest electricity provider, said it received a second federal subpoena Wednesday related to the spill. A spokesman, Thomas Williams, declined to provide details.
A deepening sense of crisis has surrounded the spill, which state regulators and Duke have consistently downplayed while working closely to contain the coal ash and the political fallout. Environmental groups have accused the agency and utility of a cozy partnership and a secretly arranged "sweetheart deal" on coal ash basins.
The agency has had to backtrack after first saying arsenic levels from the spill, caused by a ruptured storm-water pipe, were within safety standards. Meanwhile, environmental groups have produced test results that they say show levels of arsenic, lead and other toxic heavy metals far above state safety levels.
On Tuesday, the agency and Duke had to contend with a report by the U.S. Fisheries and Wildlife Service documenting a 5-foot deep "coal ash bar" 75 feet long and 15 feet wide near the spill site. The report said the bottom of the Dan River was coated with coal ash up to 70 miles from the spill site, threatening fish and mussels.
That report came the same day the state agency announced it had detected elevated levels of arsenic from a second cracked pipe spilling coal ash at the Dan River plant. The agency said it had ordered Duke to stop the spill, and on Wednesday said it was 90 percent contained.
The agency attacked news coverage and heatedly denied that it had been too soft on Duke. In his second news conference on the spill, the agency's embattled secretary, John Skvarla, said any suggestion that his department "and Duke Energy got together and made some smoky backroom deal with a nominal fine is just absolutely not true."
After being peppered with questions for more than an hour, Skvarla and his aides ended the news conference and retreated to the elevators as journalists continued to shout questions. "Why are you running away from the press?" one reporter cried.
During the briefing at agency headquarters, Skvarla denied environmental groups' accusations that the department had filed last-minute lawsuits last summer to preclude them from suing Duke in federal court. The state reached an agreement with Duke that did not require the utility to clean coal ash basins at two plants.
Environmental groups say the agency sued to protect Duke and to block the groups' federal lawsuits, which, if successful, would have required Duke to move the basins away from waterways and into lined lagoons. Their lawsuits also would have exposed Duke to potential fines far larger than the $99,000 penalty the agency proposed for the $50 billion company.
Skvarla told reporters Wednesday that in fact his agency and environmental groups were "partners" in seeking to clean up waterways and groundwater contaminated by Duke coal ash. He said news reports had falsely "portrayed that we are in an adversarial role."
Those comments surprised environmental groups, which have accused the agency of allowing coal ash to seep into waterways and groundwater for years from 32 coal ash basins at Duke's plants in the state.
"There's been a very adversarial posture from this agency from the very beginning," said Peter Harrison, a lawyer with the environmental group Waterkeeper Alliance. He called Skvarla's comments "little more than fluff."

"What we haven't heard from the agency is any satisfactory answers on the damage to the Dan River and how they intend to mitigate it," Harrison said. He has used a kayak to collect water samples at the spill site that show much higher levels of heavy metals than results released by the agency or Duke.
The agency has accused Duke of illegal discharges of coal ash from two ruptured storm-water pipes under a 27-acre containment basin at Duke's shuttered Dan River coal-fired plant in Eden, N.C. It has not fined the utility, saying it will wait until after its investigation to assess any penalties.
Skvarla assured reporters that his agency was taking a careful, long-term approach to dealing with coal ash spills while it investigates the Feb. 2 incident. The goal is to "clean up coal ash ponds as quickly as possible" and require Duke to mitigate any damage to the river, fish or wildlife, he said.
Skvarla said his agency had reached a consent decree with Duke to avoid years of litigation that would delay dealing with coal ash. He denied news reports that he had asked a judge last week to "scuttle" the agreement, saying he had asked that the deal be held in abeyance while the agency investigates the Dan River spill.
With a video presentation airing over his shoulder, Skvarla said the lawsuits and proposed fine were the first ever against Duke Energy in the state, although he acknowledged that the fine was "irrelevant in the grand scheme of things … like a grain of sand on a mile of beach."
But the agreement was designed to quickly "get to the endgame: getting these coal ash ponds cleaned up," Skvarla said. "We held Duke's feet to the fire."
Agency spokesman Drew Elliot said Skvarla had not personally received a subpoena. He said the agency had made public all subpoenas.
Skvarla said the agency had not started an internal investigation.
The subpoenas disclosed by the agency Wednesday were dated Wednesday and Feb. 11. The agency was served with two other federal subpoenas Feb. 10.
Among the agency employees named in subpoenas was Tom Reeder, the Division of Water Quality director who has been at the forefront of the state's response to the spill. In a video address to agency employees in July, Reeder said the agency had a "moral obligation" to review environmental regulations and "relieve the regulated community of that burden."
Skvarla was appointed by Republican Gov. Pat McCrory, a 28-year employee of Duke Energy whose campaigns and supporters received $1.1 million in contributions from Duke. The governor said on state ethics forms that he held Duke Energy stock in excess of $10,000 but did not disclose the amount.
Skvarla is a Raleigh lawyer and businessman who has helped run an environmental mitigation company, cargo airline and waste management company, and owns a golf course community. He has said his agency is a "partner" to those it regulates and considers them "customers."
Skvarla said he had no role in McCrory's 2012 campaign.
Elliot, the spokesman, said the secretary had donated to the campaign. He declined to specify the amount.
Photo via Wikimedia