Uh Oh! A Clinton Book That Ignores The 'Clinton Rules'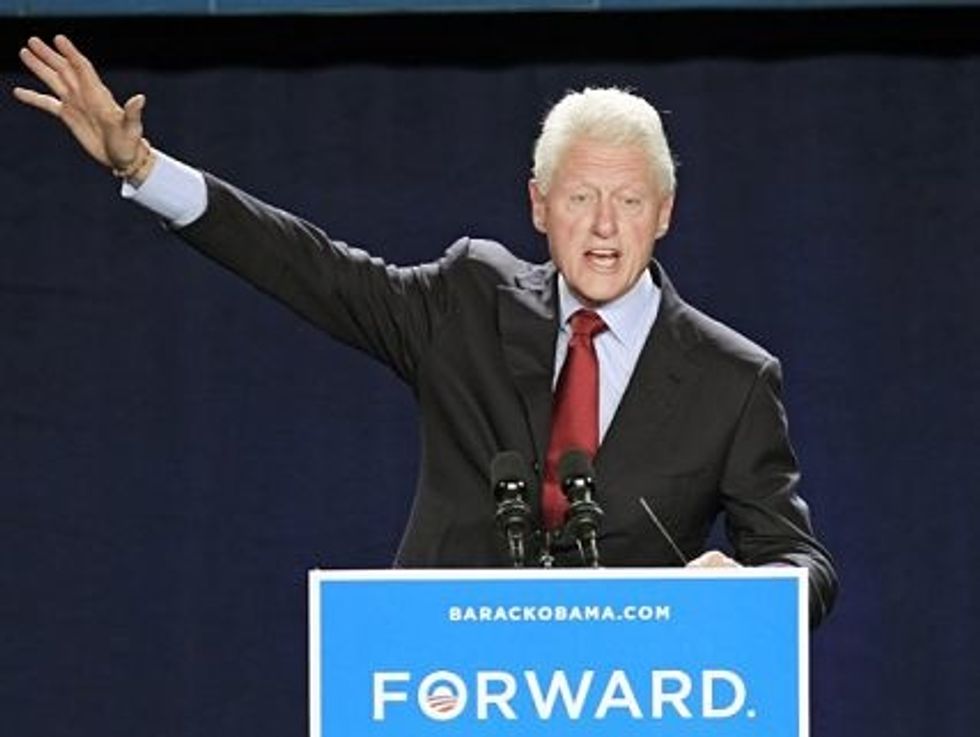 Any way you look at it, Bill and Hillary Clinton are among the incomprehensible wonders of the political world. Reading my friend and former co-author Joe Conason's new book Man of the World: The Further Endeavors of Bill Clinton,  one thought recurred: Is it even possible to grasp the essence of this brilliant, mercurial, many-sided man, and his equally enigmatic and deeply ambitious wife—much less to fully comprehend their passionate alliance?
Maybe not. Indeed, reading a peevish, small-minded Washington Post review of Conason's book by one Carla Anne Robbins, I wondered if the journalistic phenomenon I call "The Clinton Rules" isn't mainly a defensive reaction.
See, if the former president of the United States, aged 70, can devote his time between heart surgeries to exhausting tours of remote African villages checking on the Clinton Health Access Initiative' progress in saving millions of children from the ravages of HIV/AIDS, then what's your excuse?
Far better to maintain your moral superiority with sniffish references to Monica Lewinsky, Hillary's accursed e-mails, and as Robbins oddly observes, "Bill Clinton's chummy relations with billionaire philanthropists who may or may not be special pleaders."
Whatever that's supposed to mean. Apparently, writing comprehensible prose isn't among the requirements for serving as a member of the New York Times editorial board, as Robbins did between 2006 and 2012. Which may explain quite a lot, actually.
Robbins further complains that "at a time when the Clinton Foundation's many good works are dismissed as merely pay to play, Conason's hagiography won't correct the record."
A hagiography, of course, is a saint's life. The insinuation is that because Conason clearly admires Bill Clinton's philanthropy, he worships the man and is incapable of criticism. This allows Robbins to pretend that such balanced criticisms as Conason does offer constitute unalloyed praise.
Concerning Hillary Clinton's speaking fees, for example, Conason writes that like her husband, "she felt such confidence in her own probity that she was unable to imagine how others might view her acceptance of enormous sums of money from special interests."
Now a native speaker of English would grasp that the author is describing a failure of imagination. Subsequently, Conason describes Hillary's "failure to comprehend" how working families might react to such "buck-raking," and how her seeming smugness has hurt her politically.
Mother Theresa, she's not.
In keeping with her own muddled theme, however, Robbins depicts this as slavish devotion. Elsewhere, Conason tartly observes that regardless of a failed last minute Bill Clinton/Tony Blair diplomatic effort to prevent the Iraq war, Hillary's favorable vote left her to bear "a substantial share of blame for its catastrophic consequences."
To the Post reviewer, this too sounds like praise.
But then the author's own ambivalence renders her judgement incoherent throughout. Yes, she writes, "it would be tragic if the Clinton Foundation's programs were ended."
Indeed, it would be.She adds that for all of the couple's "more dubious actions…. there is no proof of wrongdoing by either of the Clintons."
No, there's not. What's more, from the New York Times/Washington Post-sponsored Whitewater hoax onward, there never has been. One heavy-breathing, poorly-written "scandal" narrative after another, cobbled together in right-wing opposition research shops and spoon fed to the news media's deepest thinkers, have basically come to nothing.
And it galls the hell out of them.
Jonathan Allen recently spilled the beans in Vox: "The Clinton rules are driven by reporters' and editors' desire to score the ultimate prize in contemporary journalism: the scoop that brings down Hillary Clinton and her family's political empire."
Simply by writing a fascinating narrative implicitly from the Clintons' perspective, then, Conason must be dismissed as a sycophant, if not a heretic. Mimicking journalistic critics of the Clinton Global Initiative, Bill Clinton described to the author how such criticism invariably works:
"Yeah, it's a good thing, yeah, it's gonna help a lot, yeah, it's gonna do a lot of good for a lot of people, it's going to save a lot of lives—but he probably still shouldn't have done it because he just wanted publicity…
"I could get lots of publicity if I just sat right out on the street."
Indeed, he could. However, Bill Clinton's compassion and moral imagination are every bit as deep as his fathomless need for attention. Did globe-trotting with Mick Jagger, Bono and Nelson Mandela make Bill Clinton feel like the King of the World? No doubt. But impoverished, HIV-afflicted children all over the world are alive because of that need.
Hillary's too.
One of the best things in Conason's book is a long, witty description by former President George H.W. Bush of accompanying Bill Clinton across Asia on a fund-raising mission for Tsunami relief.
"You cannot get mad at the guy," Bush concluded. "I admit to wondering why he can't stay on time, but when I see him interacting with folks, my wonder turns to understanding."
Editor's note: We publish Gene Lyons' column this week at the risk of appearing self-indulgent (and not without a blush of embarrassment). But were we to withhold Gene's wisdom his devoted fans surely would protest.