Ukraine Blames Russian Agents For Kiev Carnage
@AFP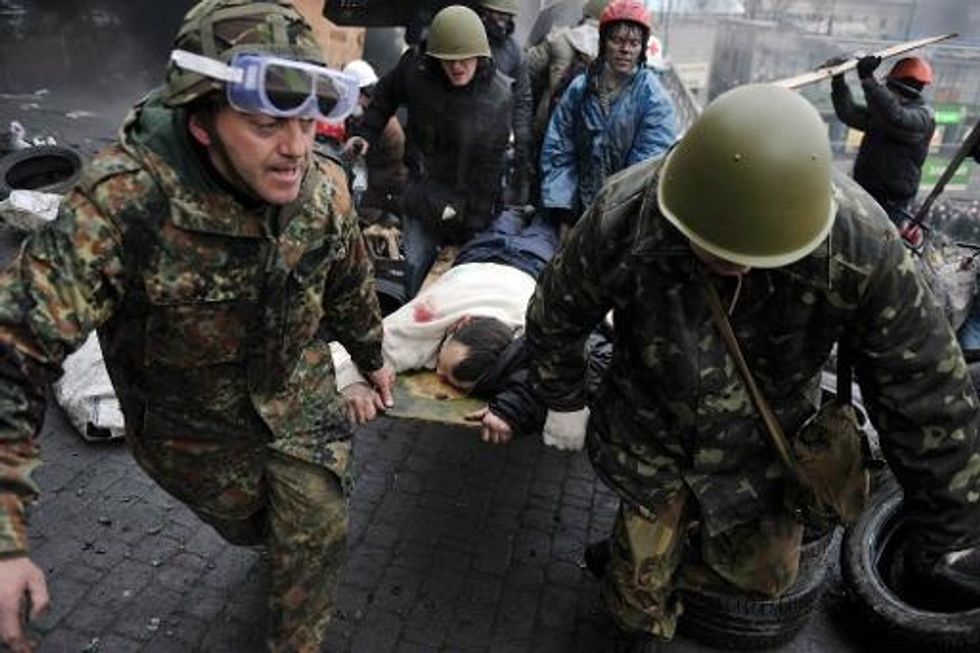 Kiev (AFP) — Ukraine's new Western-backed leaders on Thursday blamed Russian agents and the ousted pro-Kremlin president for organizing two days of carnage in Kiev that killed nearly 90 supporters of closer E.U. ties.
The explosive allegations were leveled only moments before Russia responded to the new course taken by its ex-Soviet neighbor by hiking the price it must pay for gas shipments on which its industries depend to what Ukrainian officials say is the highest rate for any European state.
Moscow also lashed out at its old Cold War nemesis NATO for building up the defenses of ex-Communist and Soviet states in Eastern Europe that have felt threatened by Russia's recent annexation of Crimea and massive buildup of forces near Ukraine.
The furious battle for Ukraine's future between Moscow and the West has exposed the deep divide that splits the nation of 46 million between those who see themselves as either culturally tied to Russia and or a part of a broader Europe.
Those tensions exploded on February 18 when gunshots in the heart of snow-swept Kiev heralded the onset of pitch battles between riot police and protesters — some armed with nothing more than metal shields — that left scores dead.
Both sides have blamed the other for starting the violence. But no formal probe results had been unveiled in Kiev until acting interior minister Arsen Avakov presented his initial findings to reporters on Thursday.
Avakov's conclusion was decisive and potentially devastating for the new leaders' relations with Russian President Vladimir Putin.
The acting interior minister said that deposed president Viktor Yanukovych had issued the "criminal order" to fire at the protesters while agents from Russia's Federal Security Service (FSB) helped him plan and carry out the assault.
"FSB agents took part in both the planning and execution of the so-called anti-terrorist operation," Avakov told reporters.
An FSB spokesman told Russia's state-run RIA Novosti news agency that Ukraine's allegations were patently false.
"Let those allegations remain on the conscience of the Ukrainian security service," the unnamed FSB official said.
AFP reporters in February saw some protesters who were armed with hunting rifles and pistols.
But their number was small and a predominant majority of the tens of thousands who came out the streets were unarmed.
The raging security crisis on the eastern edge of the European Union has been accompanied by months of economic pressure that Russia had poured on Ukraine in a seeming effort to force its leaders to reverse their Westward course.
Russia's state energy giant Gazprom — long accused of being wielded by the Kremlin as a weapon against uncooperative ex-Soviet and Eastern European states — on Tuesday hiked the price it charges Ukraine for natural gas shipments on which its industries depend by 44 percent.
The punitive but largely expected step eliminated a price discount that Putin had extended the old government in December in reward for its decision to reject closer E.U. ties.
But Ukraine saw the price it must pay for 1,000 cubic meters of gas jump by another $100 — to a European record of $485.50 — following a failed round of negotiations in Moscow with the chief executive of Russia's state energy firm Gazprom.
"The price on gas for Ukraine is going up and will be $485 for 1,000 (cubic meters) starting in April," news agencies quoted Gazprom chief Alexei Miller as telling Prime Minister Dmitry Medvedev after the talks.
Moscow argues that a $100 rebate it awarded Kiev in 2010 in return for its decision to extend a lease under which the Kremlin keeps its Black Sea Fleet in Crimea no longer applied because the peninsula was now a part of Russia.
Europe's worst security crisis in decades appeared to be only gaining momentum after NATO boosted the air power of Eastern European nations that Putin still views as part of Russia's strategic domain.
The 28-nation bloc has said firmly it did not intend to get militarily involved in Ukraine even if the ominous Russian force now massed along its eastern frontier made a push against its neighbor after annexing the flashpoint Crimea peninsula last month.
But the Alliance has vowed to review both its immediate strategy and historic mission after conceding that a Russian strike against Ukraine — a non-NATO member with an ill-equipped and underfunded army — could be both decisive and quick.
The U.S. Air Force this week sent 10 F-15 fighters to help NATO expand its military presence in the three tiny ex-Soviet Baltic nations — a decision whose wisdom was angrily questioned on Thursday by Russia.
"We have addressed questions to the North Atlantic alliance," Russian Foreign Minister Sergei Lavrov told reporters.
"We are awaiting not simply an answer, but an answer that will be fully based on the rules that we have (previously) agreed."
Lavrov added that up to 40,000 Russian troops that U.S. and E.U. officials believe are now staging snap military exercises near Ukraine were following all agreed international norms.
©afp.com / Louisa Gouliamaki