Ukraine Cease-Fire Agreed But Doubts Persist It Will Bring Peace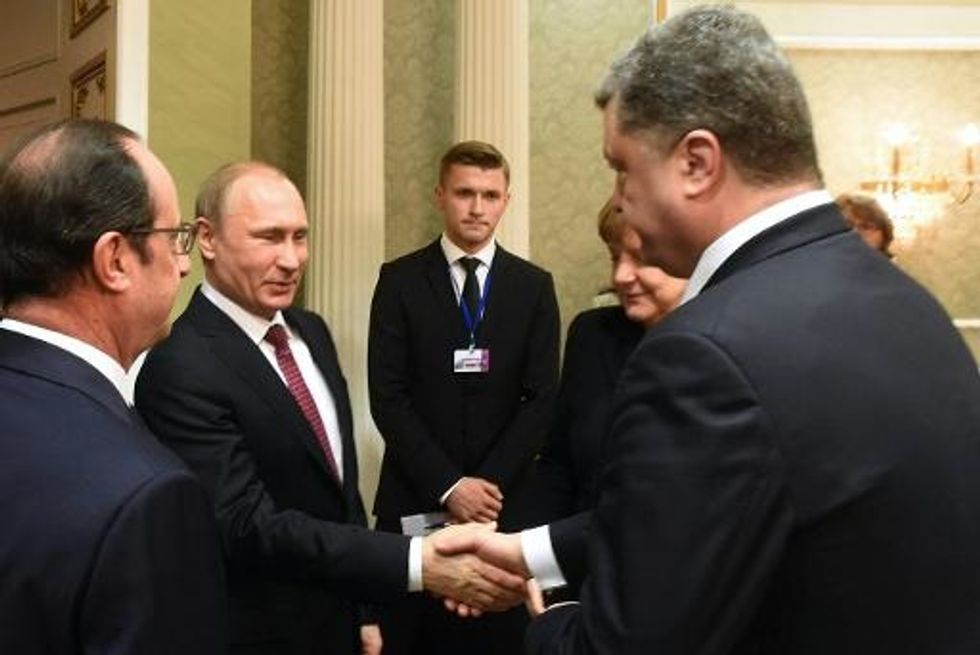 By Sergei L. Loiko And Carol J. Williams, Los Angeles Times (TNS)
MOSCOW — After two days of hard negotiations, the leaders of Russia, Ukraine, Germany and France announced Thursday that they had crafted a new peace plan for eastern Ukraine but the accord was immediately met with skepticism over its power to end the war.
The four leaders worked for seven hours Wednesday night then through the morning Thursday to get Russian and Ukrainian commitment to the plan that would halt hostilities within three days, require removal of heavy weaponry from the battle zones and restore Ukrainian control over its Russian border by the end of this year.
Russian President Vladimir Putin announced the agreement in a televised statement after the talks in the Belarus capital of Minsk. He hailed the plan's promise of granting greater autonomy to separatist-occupied regions of eastern Ukraine but made no mention of its omission of a key Kremlin demand that Ukraine be transformed into a loose federation with a weakened central government in Kiev.
"We now have a glimmer of hope," German Chancellor Angela Merkel said of the plan, reflecting the general caution of its brokers, who have seen other cease-fires fall apart over the past ten months of fighting. "But the concrete steps, of course, have to be taken. And we will still face major obstacles. But, on balance, I can say what we have achieved gives significantly more hope than if we had achieved nothing."
The deal was negotiated under the pressure of an emerging campaign among U.S. foreign policy officials to send arms to the Ukrainian government to help its troops put down the insurgency by Russia-backed separatists. The rebels have taken control of two sprawling regions on the Russian border, Donetsk and Luhansk, and Russia has overtly seized and annexed Ukraine's Crimea region.
The Obama administration welcomed the agreement as "a potentially significant step toward a peaceful resolution of the conflict and the restoration of Ukraine's sovereignty." But the White House said in a statement that the deal needed to be followed by "immediate, concrete steps to fulfill the commitments by all parties."
"The true test of today's accord will be in its full and unambiguous implementation," the White House said, adding that U.S. officials are "particularly concerned about the escalation of fighting today, which is inconsistent with the spirit of the accord."
Artillery exchanges continued in eastern Ukraine on Thursday, with two Ukrainian soldiers killed and 21 wounded in the previous 24 hours, the National Defense and Security Council in Kiev reported on its website. Council spokesman Andriy Lysenko also told reporters at his daily briefing that Russia sent another 50 tanks and a dozen heavy guns into rebel-held territory overnight as the peace talks were under way.
Putin, in his televised statement, said the accord contained a provision "of extreme importance" that heavy weaponry be withdrawn from the current line of confrontation by Ukrainian government forces and that separatists pull back from the demarcation line that was identified five months ago. That would leave a broad no-man's land, as the separatists have gained ground since the Sept. 19 front line was fixed, offering an alluring incentive for both sides to move in and take it.
Ukrainian politicians reacted to the cease-fire news with restraint.
President Petro Poroshenko did his best in Minsk and accomplished a lot but the deal still appeared shaky, a Ukrainian lawmaker and former commander said.
"We must remember that we are dealing with terrorists who violated all the previous cease-fire agreements many times," Yuri Bereza, former commander of the Dnipro-I militia regiment, told The Times .
Vadim Karasyov, director of the Institute of Global Strategies in Kiev, said the accord gave more to the Ukrainian side in rejecting Moscow's attempts to force restructuring of Ukraine in such a way that Russia would gain leverage over Ukraine's national affairs through its proxies in Donetsk and Luhansk.
"Putin, faced with a new round of sanctions and the U.S. possible decision to supply Ukraine with weapons, was desperate to arrive at some compromise at any price," Karasyov said. "Poroshenko needed to stop the war even temporarily but not at any price."
The document signed provides for some special status for the rebel-held areas but it doesn't oblige Ukraine to become a federation and it makes no mention of the separatists' newly proclaimed "republics."
"The expanding of powers for Ukraine's regions will proceed within the framework of constitutional changes aimed at decentralization," Poroshenko said in a statement posted on the presidential website. "We haven't accepted a single compromise aimed at federalization."
The agreement also provides for all "foreign troops and weaponry" to be withdrawn from Ukrainian territory.
Alexander Zakharchenko, leader of the self-proclaimed Donetsk People's Republic, warned that his Russia-allied faction won't renegotiate an agreement if the new cease-fire is violated by Kiev.
"There will be no new meetings and memorandums in case of violations," Zakharchenko said, according to a separatist website. "All responsibility for any violations of the memorandum provisions will lie on Poroshenko."
According to the agreement, prisoners on both sides of the conflict must be released within 19 days.
Captured Ukrainian pilot Nadezhda Savchenko, held in a Moscow prison and charged with complicity in the June killing of two Russian television reporters, will be set free according to an agreement with Moscow, Poroshenko said in Minsk.
Ukrainian authorities have long argued that Savchenko, who was elected to parliament in October while in Russian detention, was smuggled across the border and illegally held by Russia. Savchenko is reportedly on a hunger strike in Moscow's Sailor's Silence prison hospital.
The ten-month conflict, which started after Russia annexed the Crimean peninsula in March, has claimed over 5,350 lives and displaced nearly 1 million people, the U.N. said this month.
___
(Loiko reported from Moscow and Williams from Los Angeles. Special correspondent Victoria Butenko contributed to the report from Kiev.)
Photo: Russian President Vladimir Putin (centre) shakes hands with his Ukrainian counterpart Petro Poroshenko during a meeting in Minsk, on February 11, 2015 (AFP/ Andrey Stasevich)