Ukraine Orders Its Troops To Leave Crimea, Russia Offers Better Pay For Them To Change Sides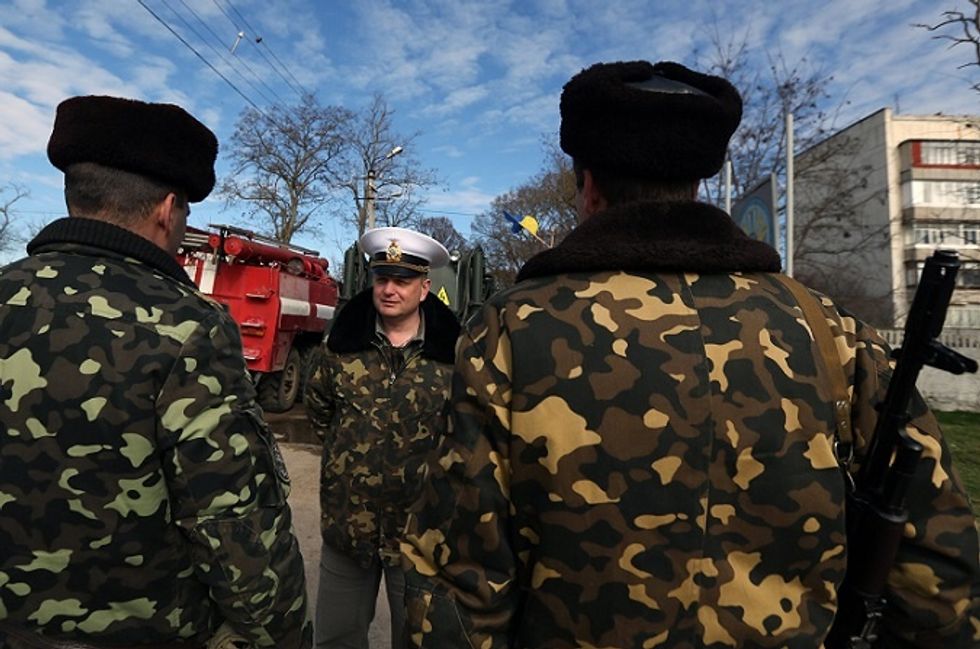 By Matthew Schofield, McClatchy Foreign Staff
KIEV, Ukraine — A pair of Russian generals have been visiting Ukrainian military bases in Crimea and offering soldiers there fat pay and pension packages if they join the Russian army before a Friday deadline, when Russia has said its patience with a Ukrainian presence in the Black Sea peninsula will run out.
A Ukrainian captain who was among the officers who met with them at a base in Perevalne, Crimea, said in a phone interview that at each base the generals make a very simple point: The Russian military would love to welcome Ukrainian troops into its ranks.
The possibility is lost on no one, the captain said, that the alternative is a grim one: Russia has said that on Friday Ukrainian soldiers will be classified as bandits and terrorists and hunted by the vastly superior Russian military now on the peninsula. On Tuesday a Ukrainian soldier was killed and an officer injured when Russian troops and local paramilitaries stormed a base in Simferopol. On Wednesday, pro-Russian forces took control of the Ukrainian naval headquarters and raised the Russian flag. The Ukrainian commander was arrested and troops were left to wander off on their own.
The captain said he expects many of his compatriots to accept the Russian offer, especially those who consider Crimea home.
"The pay is five times that offered by Ukraine," he said. "The pensions are five times better, and will be offered 20 years sooner. We are told we would serve on the same military base. Defend the same soil, the homeland of many at these bases. Families living quite nearby the bases will be able to remain in their same homes."
The tale he tells matches Ukrainian news reports, though there is no government confirmation, from either Russia or Ukraine.
But the prospect of some, if not most, of Ukraine's Crimea-based military going over to the Russian side on Friday might be one reason the government in Kiev on Wednesday ordered its troops to withdraw, effective immediately. It was a surprising order, given that only Tuesday the government had told the troops to stand firm. It was not immediately clear how the soldiers reacted to the new order, and the captain's cellphone was not answered later Wednesday.
Word of the Russian effort to woo Ukraine's soldiers in Crimea came one day after Russian President Vladimir Putin signed treaties with Crimean leaders to annex the peninsula, which makes up 4.5 percent of Ukrainian territory. On Wednesday, Russian courts ruled that the treaties, which would create two new Russian republics, Crimea and Sevastopol, were legal. The Russian Parliament is expected to give its stamp of approval by Friday.
With tens of thousands of Russian troops already in Crimea, the Russians have been in control of the region since the end of February. While Putin has maintained that no Russian troops were there beyond what was allowed under Russia's rent agreement for its Black Sea Fleet base at Sevastopol, Ukrainian and Russian military officials have met many times and have been quite open about what was going on.
The arrival of the generals was the latest example of that, the captain said, and on a base where 60 percent of troops are native Crimean, and often of Russian heritage, their offer was viewed favorably by many.
"I cannot even bring myself to think of them as traitors for doing this," he said, speaking on the condition that his name not be disclosed for security reasons. He said he does not intend to take the Russian offer but understands why many, many others will.
"We have been given two options by the Russians, and no offers of help from Kiev," he said. "The choice is to stand with Ukraine, and commit suicide, or to join the Russian force and live a better life."
What that means: Come Friday he is the enemy of most of those he's served with, a service that includes time fighting in Iraq.
He said that many of the officers he has served with already had turned in or at least prepared letters to resign their commissions. The captain said he would not hide his disillusionment with the reaction from Kiev.
"But I know the Russians planned this well, they attacked when we were weakest," he said. "Our government is in no position to react to this crisis. The result is that the Russians have known what they intend every day of this past month, while Kiev still has not been able to come up with a counter-strategy."
How well thought out is the Russian plan: He said that for many, only personal honor had been holding them to their posts. The Russian offer takes that into account. They will not be asked to pledge allegiance to Russia if they think that would besmirch their honor, because to Russia, it is important their honor remain intact. Instead, they will pledge their loyalty to Crimea, their home.
The captain said the offers were set up to test any loyalty. For instance, 37-year-old officers were offered three-year contracts at $1,000 a month (in Crimea, $200 a month is a good wage) and told that at 40, they could receive $1,000-a-month pensions (again, Ukrainian pensions are less than $200 a month) and retire. In Ukraine, they could retire from the military at 40, but the pensions would start paying out at age 60, he said.
"Few people look forward to forced suicide," he said. "Ukrainians feel abandoned."
Photo: Sergei L. Loiko/Los Angeles Times/MCT