Ukraine And Pro-Russian Rebels Agree Ceasefire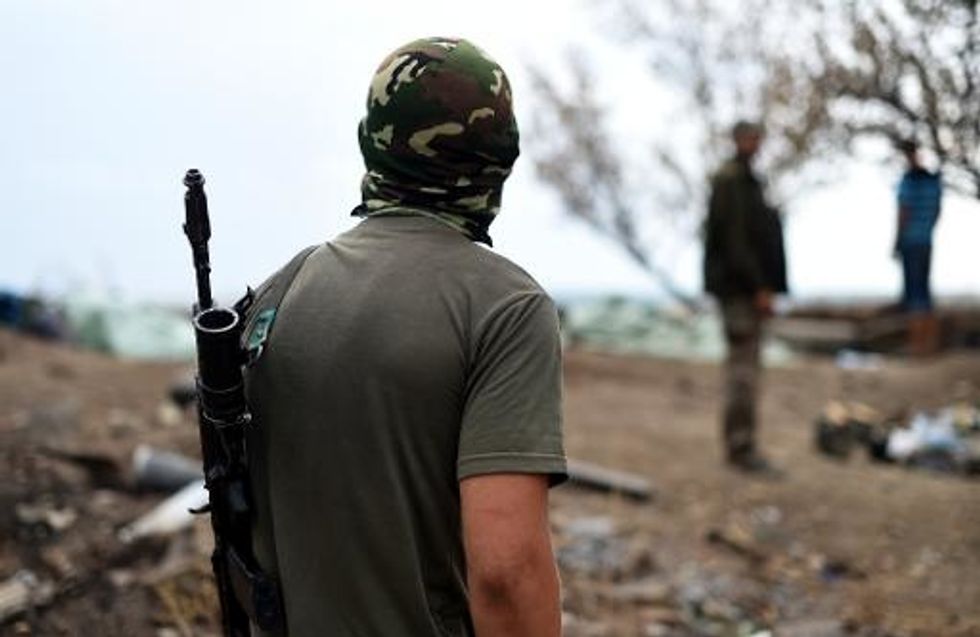 By Tatiana Kalinovskaya and Amelie Herenstein
Minsk (AFP) — Ukraine and pro-Russian rebels signed a ceasefire Friday in their five month conflict, which has plunged relations between Russia and the West into their worst crisis since the Cold War.
"A preliminary protocol to the ceasefire agreement has been signed in Minsk. This protocol should enter into force on Friday," Ukrainian President Petro Poroshenko wrote on his official Twitter account.
OSCE representatives mediating the talks in the Belarussian capital said the deal would take effect at 1500 GMT. Rebels confirmed this.
The deal hammered out in Minsk, Belarus, followed a lightning rebel counter-offensive in southeastern Ukraine that Western powers say was spearheaded by regular Russian troops, raising fears of a wider confrontation on Europe's eastern flank.
It was not immediately clear whether the truce would be enough to stave off a threatened new round of Western sanctions against Russia over claims — which Moscow denies — that it is stirring up war in the former Soviet state.
In the tense hours leading up to the deal, fighting raged on the edge of the Ukrainian port city of Mariupol, the latest flashpoint in a conflict that has claimed around 2,600 lives since mid-April and driven more than half a million people from their homes.
There are also numerous questions that remain unanswered over the longterm viability of a peace deal.
The ceasefire could leave the political status of Ukraine's economically-vital east uncertain and expose Poroshenko to charges from some in Ukraine that he has surrendered to Russian pressure.
Rebel leaders who have been battling Kiev's rule since April — soon after Russian troops seized control of the Crimea region in Ukraine — also say they remain set on their goal of splitting from Kiev's rule.
Another stumbling block to resolving the conflict is that Kiev insists on Russian troops withdrawing from Ukrainian territory, while Moscow denies it has any troops in the country.
"The peace plan must include a ceasefire, the withdrawal of the Russian army, bandits and terrorists, and the re-establishment of the border," Prime Minister Arseniy Yatsenyuk told a cabinet meeting.
Yatsenyuk also said the deal would have to be supported by the United States and European Union as Kiev could "not manage with Russia on our own."
– Rapid reaction force –
According to a seven-point ceasefire plan unveiled by Russian President Vladimir Putin earlier this week after telephone talks with Poroshenko, both sides must halt "offensive operations," while government troops must retreat from much of the eastern industrial regions of Donetsk and Lugansk.
The deal came as NATO leaders reaffirmed unanimous backing for Ukraine at a two-day summit which has focused largely on Russia's new expansionist threat.
They agreed to set up a rapid reaction force as part of efforts to reassure allies rattled by the Ukrainian crisis and rising Islamic extremism.
EU and U.S. officials had earlier said that further sanctions would be announced in response to a major escalation of Moscow's military support for the rebels.
But British Foreign Secretary Philip Hammond said that the West could "look at lifting sanctions off" if the truce is sustained.
Poroshenko had vowed after his May election to crush the rebellion. That plan appeared to be on the brink of success until late last month when rebels — or what NATO reports were at least 1,000 Russian soldiers with tanks — began to deal a series of bloody defeats to Ukrainian forces.
The Kremlin accuses the Western military alliance of concocting the evidence of Russian troop movements in order to expand its own presence along Russia's western frontier.
On the ground, "the situation is quite tense," said a fighter with the pro-Kiev volunteer Azov Battalion who identified himself only as "Zhivchick." He said there had been attacks by rebels on several checkpoints early Friday.
– 'Safe zone' –
AFP correspondents also reported overnight shelling that killed five civilians in the main rebel bastion of Donetsk, a city that government forces had all but encircled until being beaten back by separatists last week
The deal could leave the rebels — fighting what they claim is anti-Russian discrimination by Poroshenko and his more nationalist government — in effective control of an economically important region that accounts for one-sixth of Ukraine's population and a whopping quarter percent of its exports.
The Kremlin account of the ceasefire plan said it requires both sides to halt offensive actions and for "Ukrainian armed forces units to withdraw to a distance that would make it impossible to fire on populated areas."
The blueprint also establishes a "safe zone" that one rebel negotiator said should enable the militias to hold on to territories stretching to the very edges of the two separatist districts.
It also calls for a prisoner swap and for observers from the OSCE European security group to monitor the porous border.
This story has been updated.
AFP Photo/Francisco Leong
Interested in world news? Sign up for our daily email newsletter!