Ukraine, Russia Talks Begin As Kiev Holds 'Russian' Soldiers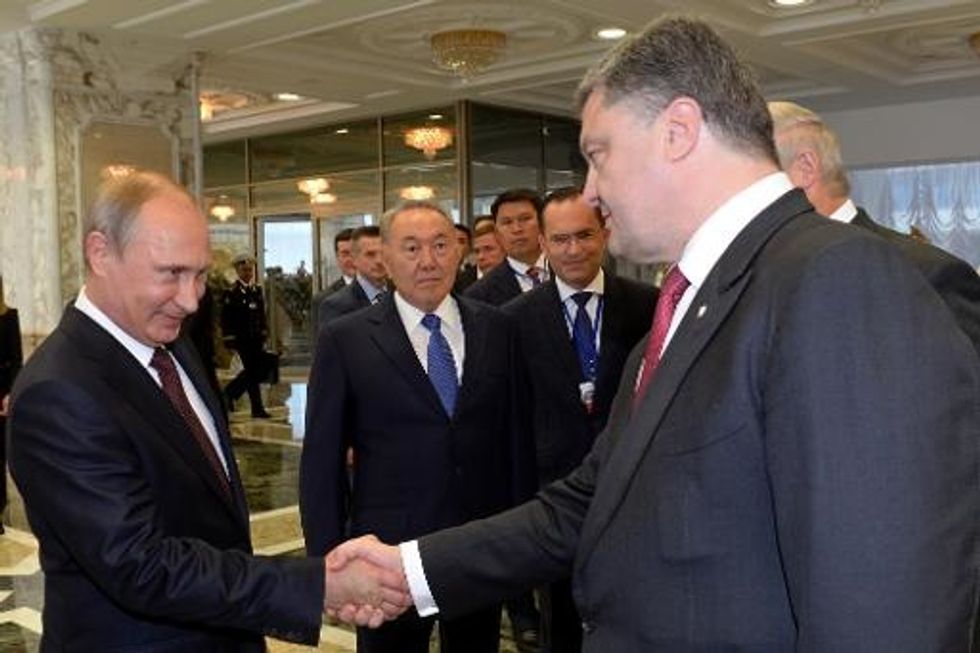 By Anna Smolchenko with Nicolas Gaudichet in Novoazovsk, Ukraine
Minsk (AFP) — The leaders of Russia and Ukraine held key talks Tuesday on the brutal conflict between Kiev and pro-Moscow rebels after the Kremlin admitted for the first time its troops had entered Ukrainian territory.
Ukrainian President Petro Poroshenko shook hands with his Russian counterpart Vladimir Putin, but there were few hopes of a breakthrough to defuse fighting some fear could trigger all-out war between Kiev and its former Soviet master Moscow.
Fears the conflict could intensify mounted when Ukraine on Monday released footage purporting to show 10 Russian soldiers it had captured on its territory.
A Moscow military source claimed the soldiers had crossed into Ukraine "by accident".
"In Minsk at this meeting the fate of the world and Europe is being decided," Poroshenko said in Russian as the roundtable with Putin kicked off alongside top EU officials and the leaders of Kazakhstan and Belarus.
Putin, however, barely mentioned the brutal fighting that has killed some 2,200 people in the east of Ukraine in his opening remarks, focusing instead on the damage Kiev's recent agreement with the EU could have on Russia's economy.
On the ground, battled raged in east Ukraine, with local authorities in the main rebel bastion of Donetsk said three civilians were killed in shelling overnight as the army pummels insurgent fighters.
But in Minsk, Kremlin strongman Putin strode confidently into the marble-lined meeting room ahead of EU foreign policy chief Catherine Ashton and a grim-faced Poroshenko.
Ashton called for the talks to be held in "the best possible spirit" but, in a sign of how high tensions are, it remained unclear if Poroshenko would meet one-on-one with Putin.
Kazakhstan leader Nursultan Nazarbayev urged both men to speak directly to each other or risk threatening the stability of the "entire world."
– Soldiers captured –
Pressure soared after Kiev's security service said on Sunday that paratroopers from Russia's 98th airborne division had been captured by Ukrainian forces about 30 miles southeast of the main rebel stronghold of Donetsk.
Ukrainian media on Tuesday aired footage purporting to show captured Russian soldiers telling an interrogator that they crossed into Ukraine in armored convoys.
A Russian defense ministry source on Tuesday said soldiers had been "taking part in patrolling a section of the Russian-Ukrainian border".
"They crossed it most likely by accident, on an unequipped, unmarked section," Russian news agencies quoted the source as saying.
It was impossible to verify the footage or what condition the men were held in.
Kiev has long accused Moscow of stoking the separatist insurgency raging in its east — charges the Kremlin has repeatedly denied.
"Officially, they are at exercises in various corners of Russia. In reality, they are participating in military aggression against Ukraine," Defense Minister Valeriy Geletey said on his Facebook page.
But on the ground there appeared no end in sight to the four months of conflict that has plunged relations between Russia and the West to levels not seen since the end of the Cold War in 1991.
– Peace talks? –
Ukraine's forces accused Russian troops of trying to open a "new front" after an armored convoy crossed onto government-held territory Monday in the south of Donetsk region.
AFP journalists reported shelling in Novoazovsk, a town on the coast of the Azov sea, and had to briefly take shelter in the basement of the City Hall together with the mayor.
Kiev also accused Russian army helicopters of launching a ferocious missile attack on a Ukrainian border position further to the north, killing four border guards and bringing the death toll to 12 soldiers in the past 24 hours.
The rebels previously announced the launch of a counter-offensive after losing swathes of territory to a push by government forces.
Officials from the EU and Russian-led Customs Union were set to discuss the crisis and trade issues after Ukraine's new pro-Western leaders signed a landmark deal with the European Union in June that riled Russia.
The refusal by Kiev's former president Viktor Yanukovych to ink the EU deal last year in favor of Moscow's economic bloc sparked the protests that eventually led to his ouster and set off a chain of events that saw Russia annex Ukraine's Crimea region and the pro-Moscow insurgency.
As Ukraine's political transition continues, Poroshenko on Monday announced long-awaited early parliamentary elections for October 26.
The Kremlin also ratcheted up the pressure by announcing plans to send another aid convoy into eastern Ukraine "this week."
Russia unilaterally sent about 230 lorries carrying what it claimed was 1,800 tonnes of humanitarian aid to the rebel-held city of Lugansk on Friday after accusing Kiev of intentionally delaying the mission.
Kiev condemned the move as a "direct invasion."
AFP Photo/Segei Bondarenko
Interested in world news? Sign up for our daily email newsletter!