Uncle Joe, Let It Go
@JamieStiehm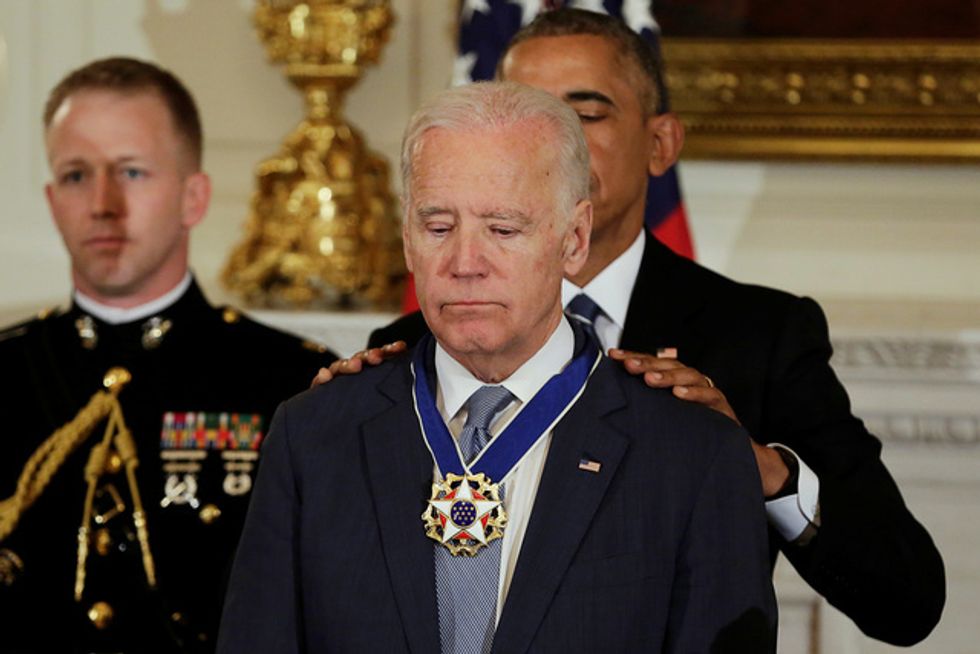 Reprinted with permission from Creators.
Everybody loves Joe.
In certain circles in Washington and Hollywood, you hear a lot about the virtues of Joe Biden running for president in 2020. Chris Matthews, the MSNBC pundit, and Donna Brazile, the former Democratic National Committee chair, as well as actor George Clooney, have been counted as supporters of Biden.
In addition, Newsweek made Biden a media darling, with a big fat kiss piece on how he can beat Donald Trump — if only his party will let him. And Biden himself will soon join the chorus with an upcoming book tour to promote a new memoir, "Promise Me, Dad," the heartbreaking story of his son Beau Biden's death in 2015, at 46, from brain cancer. The tour cuts through several political battleground states.
The younger Biden was Delaware's state attorney general who served in Iraq. He had a bright future, but fate had other plans. Biden had devastating personal loss serve as bookends to his political career: Back in 1972, his first wife and baby daughter died in a car crash. Biden's tragedy invited sympathy when he entered the Senate shortly afterward. Indeed, he is one of Washington's best-loved characters. That luck-of-the-Irish grin has lit up many stuffy gatherings.
But Washington doesn't always know best. Biden's perch is so high here that it's hard to speak hard home truths about him. First, he's 75. Imagine the hubris to think he could become president at 78. Trump is the oldest American president so far, sworn in at 70. If Biden pursues this vain dream, he's shamelessly stealing from the future.
A rising star, Senator Kirsten Gillibrand, D-N.Y., is an expert on sexual harassment in the military. She was the first to call for Senator Al Franken, D-Minn., to resign over allegations of sexual harassment. Touted as a presidential prospect, she'd have a field day ripping Biden's sloppy handling of the Hill-Thomas confirmation hearing. Believe me, Biden does not want to cross a younger generation on this riptide issue. None of his supporters have a good answer to that; they prefer to forget.
The phrase that's haunted me over years: "You get the benefit of the doubt, Judge. You get the benefit of the doubt." As chairman, Biden stated Thomas would be subject to common criminal standards — for the highest court in the land. One senator, Robert C. Byrd, D-W.Va., responded that the American people deserve the benefit of the doubt. Biden did not even call witnesses to support Hill's story. Thomas narrowly won confirmation, 52-48.
Biden said recently he owed Hill an apology for the grave injustice. Well, she's listed in the Brandeis University telephone book. Is Hill still waiting on that call?
Third, in the Senate, the genial Biden made a lot of friends, but he didn't get a lot of work done. Consider a man who was a senator for 36 years, who chaired two major committees, but only had a slender record of major legislation: the Violence Against Women Act was his most impressive achievement. Another thing he did was hire and nurture outstanding young men — Antony Blinken and Ronald Klain, who both went on to the White House.
But here's what he did for Barack Obama, a service that the cool, cerebral president needed to warm up the White House. For eight years, Biden made a cold, glittering presidency seem more human and down-to-earth.
The man from the small state of Delaware should call it a good day.
To find out more about Jamie Stiehm and read features by other Creators Syndicate writers and cartoonists, visit creators.com