Under Obama, More Appointments Go Unfilled
@theodoricmeyer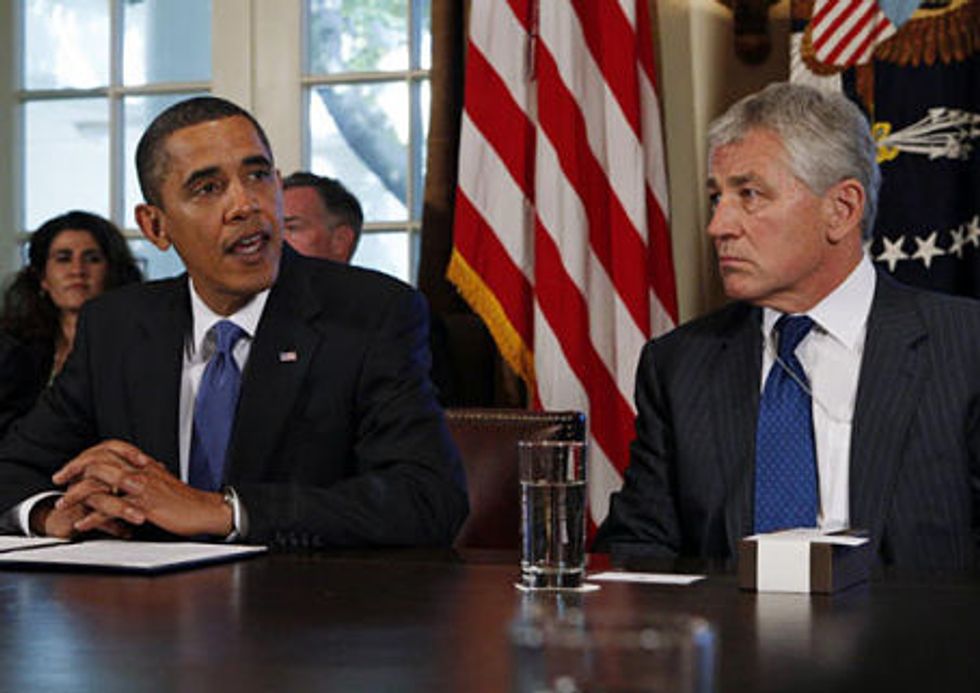 by Theodoric Meyer, ProPublica.
The Centers for Medicare and Medicaid Services haven't had a Senate-confirmed administrator since 2006. The Federal Labor Relations Authority has had only a single member since January and can't issue decisions. And the Election Assistance Commission hasn't had any commissioners at all since 2011.
All presidential administrations have vacancies. But an analysis of appointments data by ProPublica shows that President Obama hasn't kept up with his predecessors in filling them. A greater share of presidentially appointed positions that require Senate confirmation were sitting vacant at the end of Obama's first term than at the end of Bill Clinton's or George W. Bush's first terms.
At least 68 of the positions remain vacant, including 43 that have been vacant for more than a year.
The vacancies have been spread across dozens of different departments and agencies, with some hit harder than others.  At the Department of the Interior, for instance, six of its 18 appointed positions were vacant at the end of Obama's first term. The department had three vacancies midway through Clinton's presidency and only one midway through Bush's.
The lack of appointed leaders can create problems. Too many vacancies can put agencies "in stand-down, waiting for policymakers to show up," said Terry Sullivan, a political science professor at the University of North Carolina who has studied appointments.
Acting heads of agencies "don't make any big decisions," said Cal Mackenzie, a professor of government at Colby College who has studied appointments since the 1970s. "Your authority is not going to be recognized in the same way a Senate-confirmed appointee is going to be recognized."
Overall, more than 13 percent of presidentially appointed positions hadn't been filled at the end of Obama's first term, compared with around 10 percent for Bush and 11 percent for Clinton. While the uptick compared with the Bush administration may sound small, it translates into dozens more vacant positions.
The data comes from the Plum Book, a directory of federal appointees released every four years. (We started looking at the data after it was flagged by the New York Times' Derek Willis.) The data doesn't include the vast majority of judicial appointments, for which vacancies have also risen under Obama.
The White House's Office of Presidential Personnel didn't respond to a request for comment.
So who's to blame for the unfilled positions?
"I think President Obama bears some responsibility and the Senate bears some responsibility," said Anne Joseph O'Connell, a law professor at the University of California, Berkeley, whose research shows that Obama filled fewer positions in departments and executive agencies in his first year in the White House than any of the last four presidents.
Obama has been slower to make appointments, she said, and the Senate slower to confirm them.
Republicans have increasingly created roadblocks for nominees.
For instance, Senate Republicans blocked Obama's nominees to the Election Assistance Commission — an agency charged with aiding voting that House Republicans voted to get rid of in 2011.
And Chuck Hagel this month became the only the third cabinet nominee to face a filibuster. (It was Democrats, however, who first toughened up the confirmation process, under Republican presidents in the 1970s and 1980s.  And it was Democrats who filibustered the first two cabinet nominees.)
At the same time, the number of positions the president must appoint has swelled. Obama signed a bill in August that removed the Senate confirmation requirement from some 166 positions, but the president still must fill over 1,000 appointed positions — a task that can prove overwhelming.
Clay Johnson, a Republican who headed the Presidential Personnel Office as director under George W. Bush, said there simply are not enough White House staff to select and vet nominees, especially in the early days of an administration. Senate clashes over appointments, in his view, are less of a problem.
"There is little dispute that the current nominations process has grown too cumbersome and complicated, in some cases discouraging qualified individuals from seeking leadership positions," Rep. Jason Chaffetz, a Utah Republican, said on the House floor when the bill passed.
Despite the recent efforts to reform appointments, the growing fierceness of Senate confirmation battles has fueled worries that it might get harder to find qualified nominees willing to endure them.
Consider William Boarman, whom Obama tapped to lead the Government Printing Office in 2010.
Boarman, a former printer, had headed the printing, publishing and media workers section of the Communications Workers of America union when he was nominated. He had advised the White House on choosing the next public printer — as the head of the GPO is known — before they offered him the nomination. He cleared the Senate Rules and Administration Committee unanimously in July 2010.
"I thought it was going to a cakewalk," he said of the confirmation process.
But Boarman's nomination failed to come up for a vote. (Roll Call reported that a senator had placed a hold on it.) Obama circumvented the delay by giving Boarman a recess appointment while the Senate was away in December, allowing him to take the post while the administration nominated him a second time.
As public printer, Boarman took steps to modernize the agency and cut its costs. He slashed bonuses — "which were being paid pretty liberally when I got there," he said — offered buyouts to workers and introduced the GPO's first e-books.
Boarman's recess appointment lasted only until the end of Congress's current session, however.
Obama had nominated Boarman again in January, 2011, but his nomination continued to languish in the Senate. As Roll Call first reported, Sens. Orrin Hatch of Utah and Johnny Isakson of Georgia, both Republicans, were holding up Boarman's nomination because they were unhappy that a nominee to the National Labor Relations Board had not been confirmed by the Senate.
Boarman's nomination never came up for a vote. He turned on C-SPAN on Dec. 17, the last day he could be confirmed, and found out he was out of a job.
The GPO is now run by the acting public printer, Davita Vance-Cooks, whom Boarman had hired after he arrived. But he said he doesn't think an acting head can lead as effectively as a Senate-confirmed one.
"When you're a political appointee," Boarman said, "you feel that you're empowered" to make the kind of changes that Boarman made when he arrived. "I don't think you can do that as an acting," he added.
Boarman, who left his well-paid union position to serve as public printer and is now retired, said he worried that the arduous confirmation process would make it hard to find good candidates: "If this continues to happen — and I have no reason to believe that it won't — people aren't going to serve."
ProPublica's Cora Currier contributed reporting to this story.