Under Pressure From McAuliffe, Cuccinelli Renounces Government Shutdown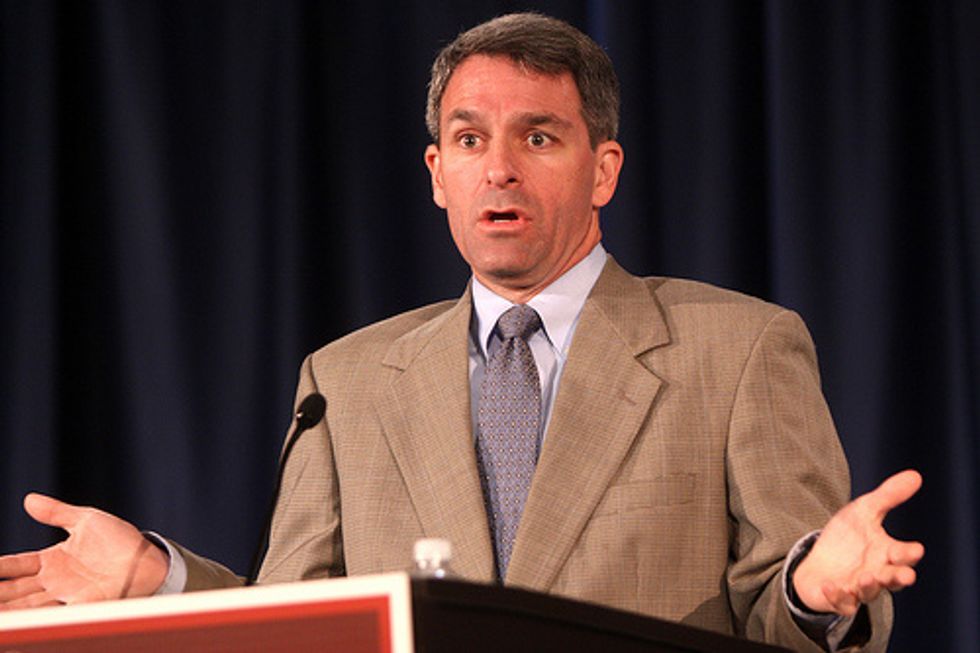 Abandoning his ambiguous position on the current government shutdown, Virginia Republican gubernatorial candidate Ken Cuccinelli clearly renounced the government shutdown on Thursday.
Referring to defunding the Affordable Care Act, which he still supports, Cuccinelli told reporters: "Strangling government to do this is not an appropriate course to go," adding, "Holding one part of government hostage to another part, I don't think is a proper way to govern."
Previously, Cuccinelli had not made his stance clear. When asked about his position on the shutdown as a political tactic, Cuccinelli said in a debate at the end of September: "I don't want the federal government to shut down. Well, I'd like to see Obamacare pulled out of federal law, but, you know, we've gotta keep moving forward and make compromises to get the budget going."
Cuccinelli's ambiguous statements came under fire by his opponent, Democrat Terry McAuliffe. "Ken Cuccinelli's refusal to condemn his Tea Party allies for shutting down the federal government to drive their shared extreme ideological agenda shows that he's willing to put Virginia's economy and communities at risk," McAuliffe spokesman Josh Schwerin told the Washington Times.
The McAuliffe campaign's attack on Cuccinelli's position seems to have taken root in Virginia, a state with hundreds of thousands of workers who may be affected by the government shutdown. While most polls show a tight race that has yet to be decided, a recent Hampton University poll shows McAuliffe still enjoys a 5 point lead over Cuccinelli.
In one part of the state especially, Cuccinelli's declaration may be too little, too late.
McAuliffe has a commanding lead in the Washington D.C. suburbs of northern Virginia, which is home to more than 65,000 federal employees. In counties such as Arlington, Fairfax, and Prince William, McAuliffe leads Cuccinelli by a margin of 50 percent to 29 percent. Northern Virginia is typically a Democratic stronghold, which makes Cuccinelli's chances for gaining votes in the region particularly difficult.
Cuccinelli, however, has kept the gender gap to a relatively small margin. While women skew toward McAuliffe by 47 to 32 percent, the candidates are virtually tied among white women voters: 41 percent support McAuliffe and 40 percent support Cuccinelli. McAuliffe, according to pollsters, has not received the strong support among women that previous Democratic candidates have.
Interestingly, a growing number of Virginia voters are not prepared to vote for either of the two: Robert Sarvis, the Libertarian candidate, now enjoys 8 percent support, according to the poll.
Photo: Gage Skidmore via Flickr