Under Pressure, Trump Vows To Release Ukraine Call Transcript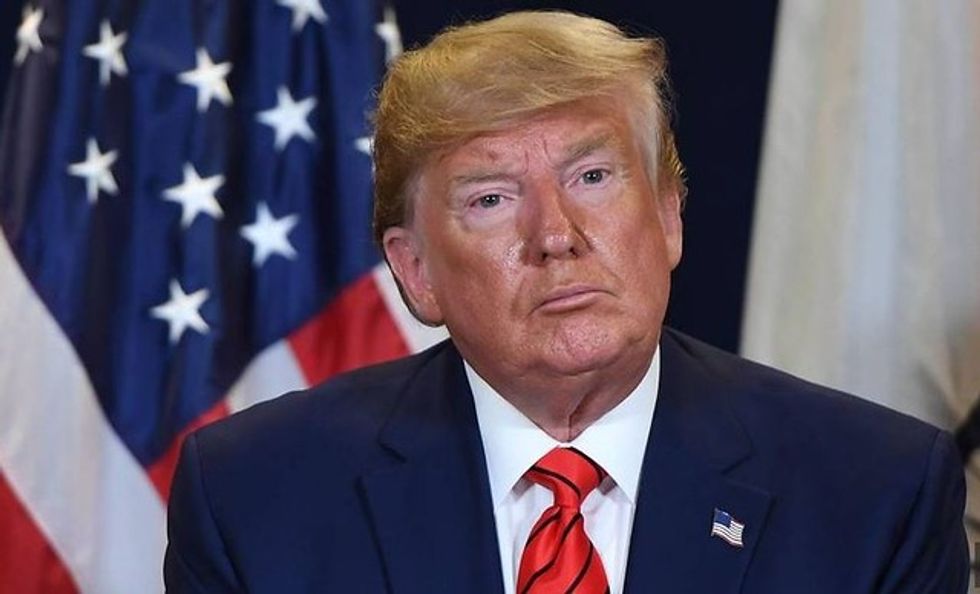 Amid a torrent of Democrats calling for an impeachment inquiry, Donald Trump caved on Tuesday and announced he would release the transcript of his June phone call with Ukrainian President Volodymyr Zelensky.
Hours after his speech to the United Nations General Assembly, Trump wrote on Twitter that he has "authorized the release tomorrow of the complete, fully declassified and unredacted transcript of my phone conversation with President Zelensky of Ukraine," adding that the phone call was "totally appropriate."
In a second tweet, Trump added, "No pressure and, unlike Joe Biden and his son, NO quid pro quo! This is nothing more than a continuation of the Greatest and most Destructive Witch Hunt of all time!"
Over the past week, Democrats have increasingly called for an impeachment inquiry into Trump amid allegations Trump pressured Zelensky to investigate former Vice President Joe Biden as a way to influence the 2020 election. Days prior to the phone call with Zelensky, Trump ordered his administration to withhold $400 million in aid to Ukraine.
It is against the law to solicit dirt on a political opponent from a foreign national.
According to media reports, Trump pressured Ukraine to investigate whether Biden, in 2016, used his office to shut down a corruption probe into a Ukrainian energy company. Biden's son, Hunter Biden, was on the board of directors of the energy company at the time. Multiple investigations have found no evidence of wrongdoing by Biden or his son.
The issue was uncovered when a whistleblower within the intelligence community alerted officials to Trump's actions. The Trump administration was required to turn over the full whistleblower complaint to Congress but has thus far refused to do so. Some Democrats are already saying that simply releasing the transcript is not enough, demanding the full whistleblower file, as required by law.
On Tuesday afternoon, Speaker Nancy Pelosi is meeting with the Democratic Caucus, and there is speculation that she will emerge from the meeting and support an impeachment inquiry into Trump's wrongdoing.
Published with permission of The American Independent.