Under Trump, Health Officials Inventing Fake Data To Undermine Obamacare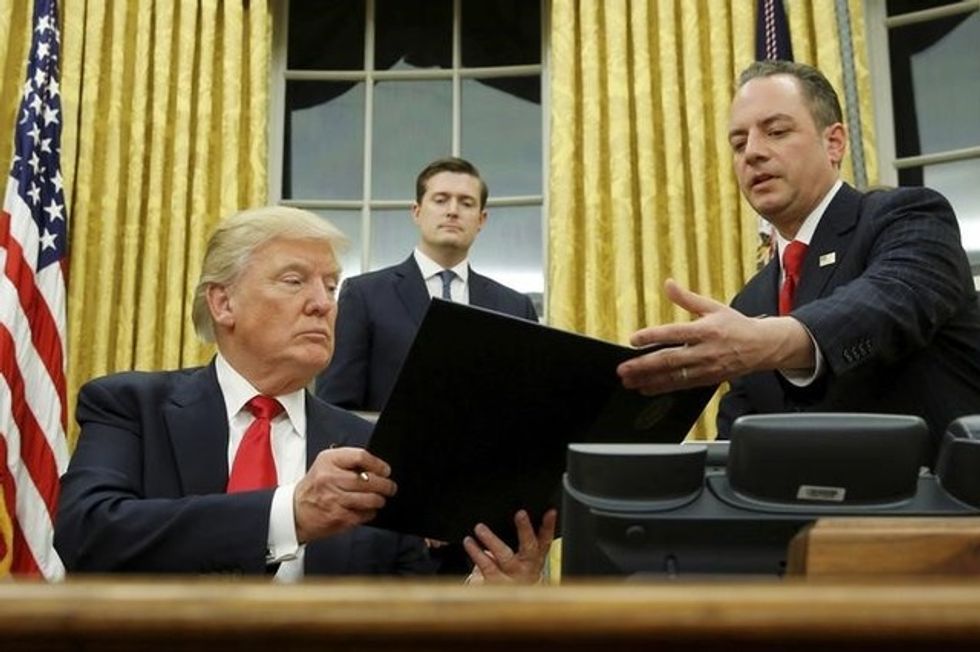 Reprinted with permission from Shareblue.
Trump administration officials running a key office within the health department have been caught manipulating studies and reports in an effort to undermine Obamacare, support the administration's anti-refugee stance, and push an anti-abortion agenda.
According to a new Politico report, staff say "the political pressures to tailor facts to fit Trump's message have been unprecedented."
The office of the assistant secretary for planning and evaluation (ASPE) within the Health and Human Services (HHS) department traditionally works to track the effects of health care programs and to help inform the public on health care issues.
But under the Trump administration, the office has been repeatedly caught publishing false data.
In one instance, Trump's ASPE generated a report alleging that a majority of states saw premiums and costs double under Obamacare in 2017. Politifact rated the claim "false" after a Republican senator cited it in a Facebook post. The fact-checkers took note of serious methodological errors in the analysis and called it "flawed."
In another study, Trump's ASPE claimed millions of people would get health coverage if Obamacare was repealed. As Politico noted, the finding was "at odds with nearly every independent analysis."
The Trump administration even doctored a report made by consultants at McKinsey & Co. in hopes of scoring a political victory. A source told Politico, "They used numbers and graphs from McKinsey and slapped their own labels on it" to help Republicans in Congress attack the health care law.
A report that found a benefit to having refugees in the country, who pay taxes once they are in the United States, was quashed. Instead HHS issued a three-page report that alleged refugees use more resources than the average American. The report echoes the Trump administration's attacks on refugees and immigrants reflecting Trump's own racism.
A staffer revealed that "political leadership were adamant that all the references to LGBT health issues should be taken out" of ASPE's strategic plan. In addition, language was added to HHS literature for the first time to reflect the view of anti-abortion activists that life begins "at conception."
Millions of people visit the HHS website every month, with over 387 million visits recorded in the last 90 days. Additionally, ASPE reports are cited by Trump, members of Congress, and in news reports seen and heard by millions of people.
Between 2015 and 2017, the office produced 43 reports on Obamacare's impact on rural hospitals, women's health and other sectors in American health care.
That output has dramatically dropped, with only three reports on health care coverage since Trump assumed the presidency.
A former senior official who worked under both Democratic and Republican administrations called the change in how the office operates "heartbreaking," and said it is "just another example of how we're moving to a post-fact era."
Richard Frank, a health economist who ran ASPE under Obama, said the "attack on the integrity and the culture of the office" was "disturbing." He described the Trump-era politicization of the office's work a " departure to an office that has a 50-year history to it."
Trump infamously said in a recent speech, "What you're seeing and what you're reading is not what's happening." At his command, a vital government agency whose work affects millions of people is proving him right for all the wrong reasons.
Published with permission of The American Independent.