Under Trump, Two Million More Without Health Coverage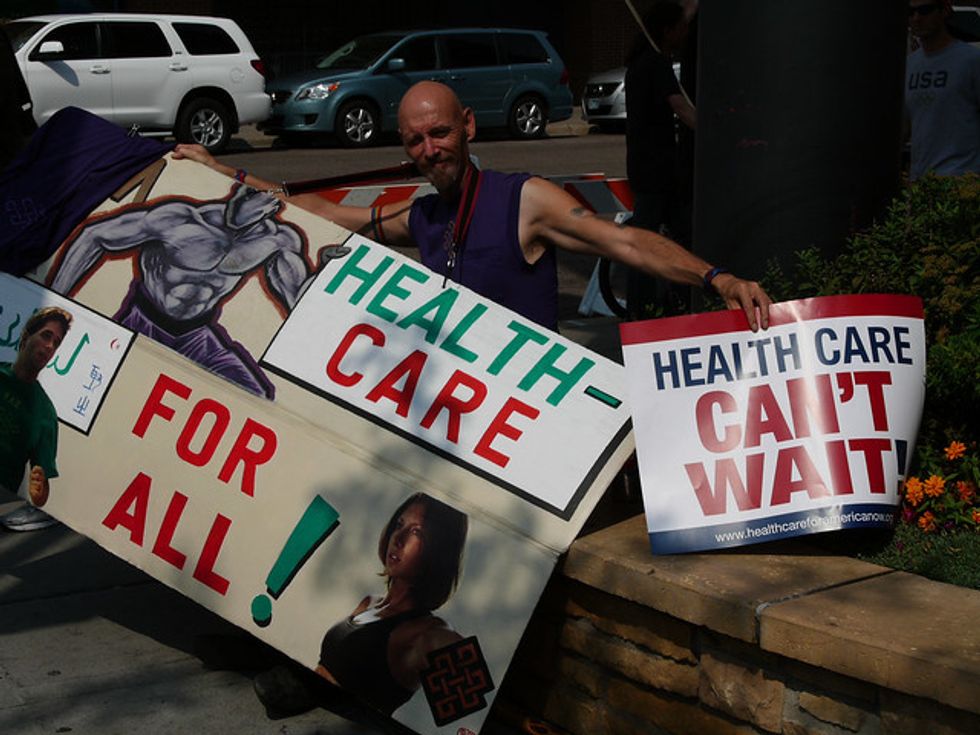 The number of Americans without health insurance increased by almost 2 million, from 25.6 million in 2017 to 27.5 million in 2018, according to data released Tuesday by the Census Bureau.
The percentage of Americans without health insurance increased from 7.9 percent to 8.5 percent, the first such increase recorded since the Affordable Care Act was fully implemented, according to the New York Times.
Experts told the Times that Donald Trump's efforts to undermine the ACA played a role in fewer Americans having health insurance.
In the past, Trump has sought to sabotage the ACA by drastically cutting back efforts to help qualified individuals sign up for health care through the federal marketplace. President Obama's administration spent $62.5 million on this effort, and the Trump administration cut that funding to only $10 million. The Trump administration also cut almost the entire advertising budget allotted for educating Americans on their options for getting health insurance.
"The latest Census numbers prove once again that the Trump-GOP sabotage agenda continues to wreak havoc on American health care and prevent Americans from getting the coverage they need," Leslie Dach, chair of Protect Our Care, a health care advocacy group, said in a statement after the news broke.
"With their ongoing lawsuit to overturn the health care law, sabotage of open enrollment and promotion of junk insurance plans, Republicans have purposefully created chaos and uncertainty in our health care system. As a result of their sabotage, nearly 2 million more Americans were uninsured last year," Dach said.
Trump and Republican officials in several states are now engaged in a lawsuit to completely repeal the ACA. If Republicans are successful in their efforts, 20 million Americans will lose their health care. Further, millions of Americans with preexisting conditions could be forced to pay more for health care.
"By undermining the ACA at every turn, Trump has achieved his goal of leaving more Americans without access to quality, affordable health insurance," Rep. Judy Chu (D-MD) told Shareblue.
Under the ACA, health insurance companies cannot deny health insurance to people with preexisting conditions, nor charge those individuals more for health care. Trump's efforts to get rid of the ACA are "exactly the opposite" of protecting people with preexisting conditions, according to Politifact. Republicans have vowed to destroy the ACA if they regain power after the 2020 election.
"Rather than taking care to faithfully execute the laws, Donald Trump has done everything in his power to sabotage and demolish the Affordable Care Act," Rep. Jamie Raskin (D-MD), told Shareblue Media. "The GOP would like to give the ACA the guillotine and are trying to destroy it in court. In the meantime, they are putting it into a bureaucratic straitjacket and two million more Americans face the medical uncertainties of life without insurance. Another public health scandal brought to you by Donald Trump and Mitch McConnell."
Published with permission of The American Independent.