Underlying Causes Of Ferguson Need To Be Addressed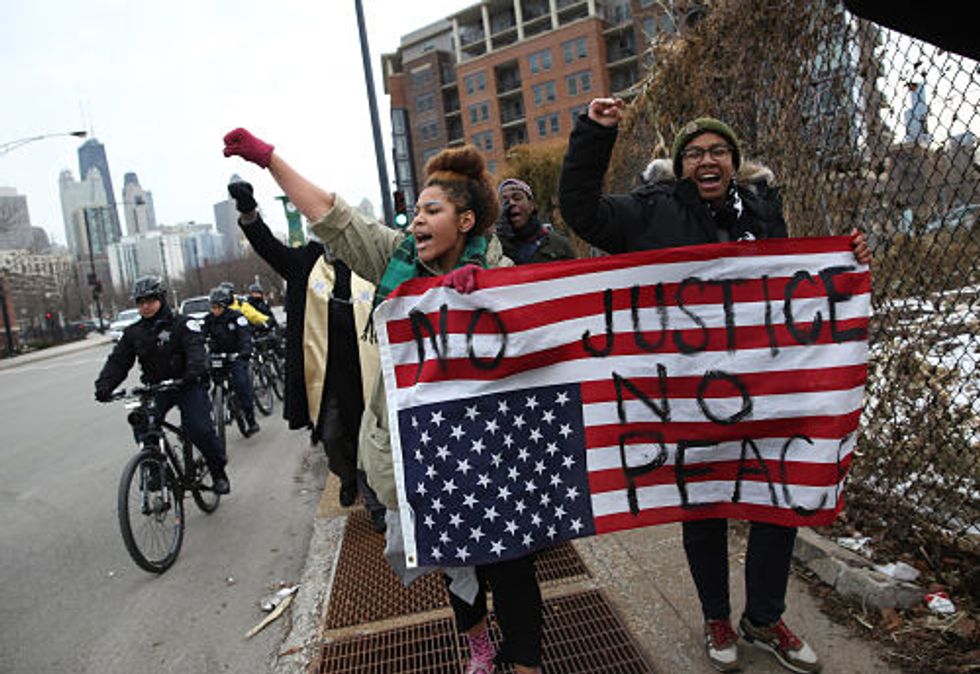 Missouri is the Show-Me State.
It says so right on our license plates. We Missourians like to think this slogan captures our strength of character, our down-to-earth sensibility and skeptical savvy.
Very different qualities have been on display lately. Missouri has become synonymous with violence and misgovernment in the mayhem that has spiraled since the shooting death of Michael Brown in August.
We're a national embarrassment. In the days following Brown's shooting, protesters marched peacefully — and some looted — and police met them with excessive and militarized force.
After the St. Louis County prosecutor announced last week that charges would not be brought against Darren Wilson, the police officer who killed Brown, again protesters marched peacefully — not just in Ferguson, Missouri but across the nation — while others looted, rioted and set buildings aflame. This time there were actual soldiers on the streets of Ferguson to face down residents.
The killing of Michael Brown has become a politically divisive issue. In some ways it is a Rorschach test for racial and political points of view. Some regard Brown as one more casualty at the hands of a racist police force that demonizes all young black men as thugs. Others see him as a genuine thug who died in a scuffle that easily could have left a policeman dead instead.
In this charged atmosphere, nobody expected the grand jury's decision to satisfy both sides — and it didn't. The quality of the evidence it was shown, it has to be said, was not good. Accounts were contradictory, and in the end the jurors seem to have relied on Wilson's account most of all.
The mass media coverage, especially the 24/7 cable TV treatment, has played Ferguson for all the drama it can provide. Eventually, the media will tire of the Ferguson story, yet the resentments will remain, as will the conditions that inspired them.
Nobody believes that Michael Brown will be the last unarmed black man to be shot down by a policeman with dubious cause. This happens everywhere in the United States. That's why, in the days following the grand jury's decision not to indict, protests and mass demonstrations were held in Atlanta, Chicago, Boston, New York, Denver, Los Angeles and many other cities.
People of every race were among the protesters marching peacefully in solidarity with similar peaceful protesters in Ferguson. Not with the rioters, not with the lawless, but with the far greater numbers that have gathered, peacefully, every day since Brown died in early August.
The object of their frustration is policing that does more to agitate communities than to protect them. People have seen too many instances of questionable encounters between police and people winding up severely hurt or dead.
This is not a new storyline.
What's new is that many of the protest events were not led by the usual suspects—civil rights leaders, politicians and media-versed clergy. It was young people, 20-somethings often either still in college or recently graduated, who organized protests by tapping networks cultivated previously through social media.
What comes next is crucial. Mass demonstrations serve a purpose, but organizing for change is what solves problems.
The first step in Ferguson ought to be a massive voter-registration drive. This was attempted but wasn't successful in the initial days after the shooting. The appeal should be simple. Don't like the elected officials you have? OK, vote them out. Feel that you're not represented on the city council or in the ranks of the police? Standing in the street yelling won't accomplish it. You need to make change happen, and voting is the first step.
The political situation in Ferguson is toxic. Like a lot of smaller towns in America, it generates a disproportionate amount of its revenue through fines. Despite a recent decision to eliminate some fines, the city still puts police in the structural role of the Biblical tax collector, stopping and ticketing citizens for relatively minor infractions, and issuing arrest warrants when they don't or can't pay their fines. It also so happens that a disproportionate number of tickets are given to black residents. This heavy hand, squeezing citizens for their hard-earned money, is not just or healthy for the body politic. But it's hard to see how it will be reformed unless the majority in Ferguson first exerts its power and throws the bums out.
Everyday misgovernment does not inspire the outrage that a police killing does. But the resentment it causes year after year adds to the explosive charge when the spark is supplied. Ferguson may have flamed out. It could very well wind up a footnote, a trivia question for future generations. Or perhaps something else may happen. Maybe once all the cameras are gone, local residents, working with national civil rights organizations and others, will do the hard work of taking government back for the people.
Ferguson might then become a laboratory of democracy … and show the rest of the country how to do it.
Mary Sanchez is an opinion-page columnist for The Kansas City Star. Readers may write to her at: Kansas City Star, 1729 Grand Blvd., Kansas City, Mo. 64108-1413, or via email at msanchez@kcstar.com.
Photo: Dozens of protesters in solidarity with Michael Brown march north on Clybourn Ave., chanting anti-police and anti-corporate slogans, during a Black Friday demonstration that started at Water Tower then proceeded northwest to the North Ave. shopping stores near Clybourn, Friday Nov. 28,  2014 in Chicago. (Abel Uribe/Chicago Tribune/TNS)